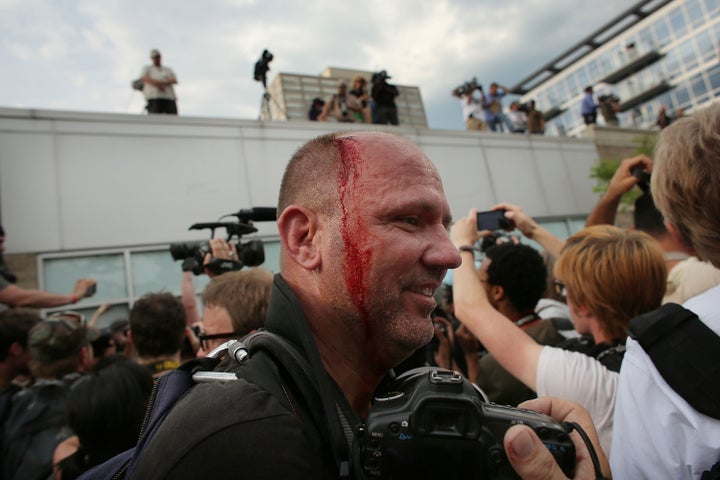 As thousands of anti-NATO protesters met thousands of police officers in the streets, photographers found themselves repeated targets of the CPD.
On Sunday, Getty photographer Scott Olson was bloodied after being hit with a police baton. A picture of Olson with blood streaming from his head rocketed around the Internet. The National Press Photographers Association also highlighted the arrest of Joshua Lott, a freelance photographer with Getty.
Tracey Pollock, a photographer with the Minnesota-based outfit The UpTake, posted video on Saturday that showed police waving their bicycles around to keep protesters back. At the end of the video, a police officer appears to shove Pollock's camera out of control. A report on the site said that the officer proceeded to push her over some bicycles, and that she was bruised as a result.
Another photographer, Paul Weiskel, posted video that showed an officer forcefully shoving a bicycle into his stomach.
NBC Chicago reported on Monday that a group of independent journalists had also been detained at 2 AM by police officers. In the video, police can be heard telling the group to show them their "f---ing hands." Some of the reporters were handcuffed, and their hard drives and cameras were smashed.
Click here for more coverage of journalists at the NATO summit.