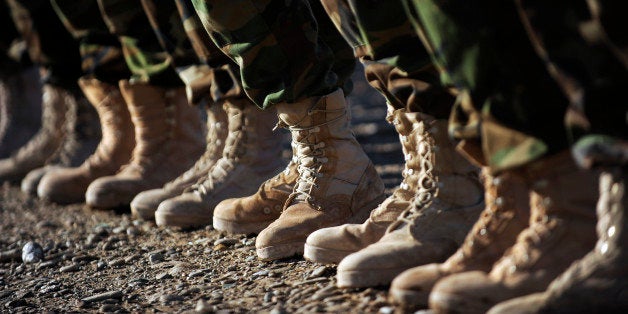 It was no surprise that the many crises facing NATO would distract them from a real conversation about Afghanistan at their summit in Wales, though it should have focused their minds.
Instead, NATO Secretary General Anders Fogh Rasmussen congratulated troop contributing nations on completing their combat mission, saying "We have done what we pledged to do."
Meanwhile, in Afghanistan, the two presidential candidates remain locked in a bitter dispute over who won and what the loser will get, with Taliban fighters exploiting political divisions and NATO's reduced presence by launching ever-larger offensive attacks.
At the end of this year, NATO ends its combat presence, leaving behind only a small training and assistance mission. It will then reduce financial support for the Afghan National Security Forces, which will kick in around the same time as a massive drop in foreign assistance -- a 50 percent cut by the U.S. is already approved.
By continuing with a timetable that is externally driven, regardless of internal conditions, and with an economic squeeze from aid cuts looming, NATO is sending the wrong signals to the Afghan people and to the Taliban, and imperiling security.
Amid the muted self-congratulation at the NATO summit, privately many know their work is not done. The drawdown of training and financial support is necessary, but it needs to happen at a responsible speed, so that the security and rights gains can be consolidated. This would require a candid assessment of current security conditions: the last thing NATO leaders wanted to do in Wales.
The fact is the conflict in Afghanistan has regained intensity: overall attacks have increased. In recent months we've seen a stark impact of NATO's diminished air presence: in many areas the Taliban are now able to move in their hundreds to stage attacks, where previously they mostly relied on improvised explosive devices.
Today civilian casualties are at near-record levels, according to the UN. There are also reports the Afghan Taliban are being bolstered by Pakistani Taliban and other militant groups who prefer to fight in Afghanistan while the Pakistani army wages a military operation in their safe havens in Waziristan.
The Afghan security forces (ANSF) have not crumbled as some predicted, nor is Kabul about to fall, but the ANSF are being killed in large numbers, and a number of districts in several provinces are vulnerable to Taliban takeovers.
Meanwhile, in the United States, the debate remains centered on troop numbers, which are set to fall to around 15,000, including around 9,800 non-combat U.S. troops.
Less attention is given to the fact that funding for the ANSF will soon be cut sharply: the US and other NATO members have offered $4.1 billion a year to cover the costs of 228,000 army and police. This entails shrinking the Afghan security forces by more than a third. There are no clear plans for how such demobilization would take place. The Afghan government says it needs $6 billion to maintain its security forces; a recent report commissioned by the U.S. Congress agreed, recommending that the current Afghan force levels should be supported until 2018.
As NATO considers these funding cuts and exit plans, one of their greatest challenges remains unmet: the Afghan security forces don't just need to be capable of withstanding an insurgency, they need to be accountable to the Afghan people. Just as the early mistakes and abuses by the international military inflamed the insurgency, Afghan security forces continue to drive some communities away from their government. Despite widespread reporting of these abuses, including executions, electrocutions, and holes being drilled in people's heads, the government has mostly failed to respond. Two Afghan security officials recently stated publicly that they have a 'kill not capture' policy for Taliban.
Senior U.S. officials have consistently made their support for such notorious officials very public, so it was welcome news this week that the White House has asked the Afghan government to investigate 15 incidents where illegal executions took place, seven of them this year. The U.S. has warned that if such abuse continues, assistance for the Afghan units responsible could be cut, under the requirements of the Leahy law, which bars U.S. funding from going to abusive security forces. The new Afghan government will need to act quickly to prevent this, and rebuild trust by prioritizing accountability. The smaller the NATO presence, the lower the chance of reform.
There are still many reasons to be optimistic about Afghanistan, but they could evaporate if these challenges aren't faced up to. The summit should have been the forum for a realistic review of NATO's ability to help protect Afghanistan's long-term security, even if it means admitting uncomfortable facts.
In the background looms Iraq. While comparisons can be overstated, since these are two very different contexts; NATO leaders must be asking themselves whether the Iraqi crisis should make them rethink how quickly they withdraw their support for Afghanistan.
This would mean ensuring a more responsible reduction of financial and training support for the ANSF, and prioritizing accountability and protecting human rights.
Those that are betting against NATO and the Afghan people's chosen future expect that impatience and other international crises will lead NATO's leaders to abandon its commitments. NATO leaders can still prove those wagers wrong.