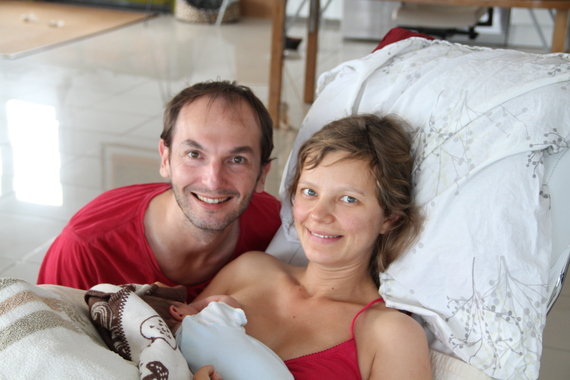 The main myth about giving birth is that birth is painful and dangerous so you have to be drugged and put in the hospital in order to give birth. Women have given birth for centuries and millennia and I have met many Asian women who still prefer to give birth at home. Maybe it is the hardest experiene many women experience but we all can do it and I wanted to experience that to its fullest whatever it takes without drugs and interventions.
I gave birth to Thomas at home in the birthing pool with an experienced midwife and my husband. Thomas was born 5 days after the due date from the doctors but I wasn't worried because it's natural that babies can be born 2 weeks before or after the date and it is still fine if the baby and the mother are healthy. For centuries there was not a big deal around a date.We played quiet Tibetan music from Nawang Khechog. My midwife was very experienced with home birth and had great results, delivering even twins at home so I felt completely safe. My birth experience was a strong experience of extreme peak performance where I was completely with my body and my baby. I felt that my baby was with me. At the beginning of the contractions, when they were getting 2 minutes apart and I went to the bath, I felt the tiny hand of Thomas doing a rhythm in my womb. This was the rhythm he was doing when happy after I would eat strawberries and mangoes. And he repeated this rhythm just 1 hour before the birth when I could already feel the end of his head coming out.
I went to gynecologist 3 times for a check-up at the beginning, in the middle and at the end of my pregnancy, to ensure that everything was ok and that he was a boy. I didn't want to go more frequently because the USG is not so healthy for the baby and is not needed too many times. My midwife was far better in describing my baby's position and parameters at the end of pregnancy than any electronic device and the baby felt much more relaxed being touched by the loving hands of me, his father and the midwife. In addition, I think that doctors can be very scary sometimes. They tell you only what can go wrong and how you can protect yourself from that with medical interventions and drugs. For me pregnancy is not a disease so I didn't want to spend too much time with the doctors and in hospitals. I prefer to relax with my baby inside on the sofa. The deep relaxation I was practising before giving birth was the best way to make my baby and me sleep so well during my whole pregnancy and after Thomas was born. Thomas just knew when to sleep and how to relax with me sleeping, both of us together.
Even if you want to give birth in the hospital, don't arrive to hospital too soon because if it takes you too long to open your body enough to push, they will perform a ceasarean on you. Tthat's why I didn't want to go to hospital because it's too much medical intervention that they will try to force on you when you are really vulnerable. My good friend was convinced to give birth naturally in hospital but when she was already there the doctor said that she is too thigh for such a big baby and it will take ages to give birth so she accepted first painkillers and then the Cesarean section. Afterwards she discovered that there was no medical reason nor any abnormality in her physionomy to have an operation so it was just easier for the doctor. Find a midwive or a doula even you give birth in the hospital so she will help you to choose the right moment to go to hospital and support you with dealing with the doctors.
Moreover you don't need to learn how to breathe during birth becuase you will know what to do. Instead learn deep relaxation which will help you to go over contractions with ease and with patience. Even if you would feel that you cannot stand more contractions, when you relax you will just trust the process. With trust you will open more and more, make the impossible possible. Don't focus on pain and on all the negative beliefs your doctors try to tell you, just trust the beauty of giving birthand all will be well. And you will go from one contraction to the other, like riding the waves. Remember, that this is the bigger opening you can experience. With opening your womb and vagina, you open your heart for the baby. It's the biggest opening a human can experience and I was very sentimental the next two weeks after birth, crying with each romantic song and being always amazed that this big beautiful baby could just come out from me.
Watch here my experience with delivery:

Summary
1.You don't need drugs during giving birth. It's a beautiful process which can be missed if you are intoxicated
2.Giving birth in a hospital doesn't have to be an obvious choice. Staying at home with your loved ones and of course professional help, might relax you and allow to fully experience the act of birth
3.If you choose to give birth in a hospital, get a midwife or a doula who would help you not only with the birth itself but also to deal with the doctors and complicated hospital procedures
4.Practice deep relaxation
5.Trust this most natural process, try not to think about the pain
6.Open yourself fully - you are opening your heart for your baby who is entering the world

References:
1. Eva Abraham-Van de Mark Succesfull Home Birth and Midwifery, The Dutch Model; Het Spinhuis, 1996
2. Grantly Dick-Read, Childbirth Without Fear, Polinger in Print, 2006
3. Ina May GaskinIna May's Guide to Childbirth, Ebury Publishing, 2010
4. Ina May Gaskin Birth Matters, A midwife's manifesta; Pinter & Martin, 2011
5.Michel OdentBirth and breastfeeding, Clairview, 2003
6. Sarah Buckley Gentle Birth, Gentle Mothering, Celestial Arts, 2009
Related