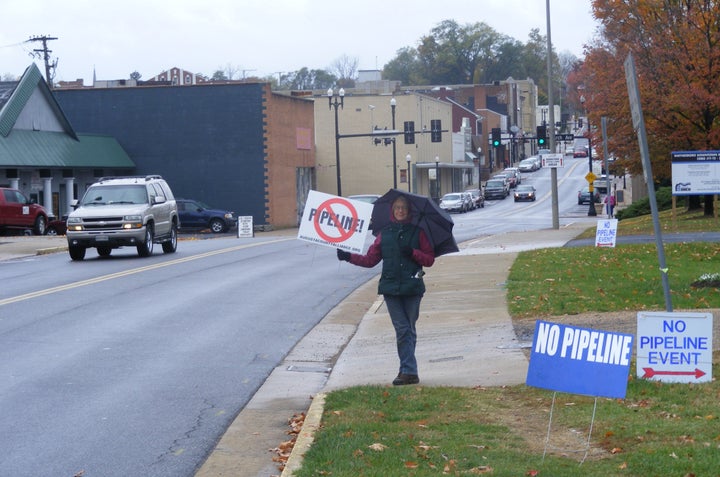 Amid intensifying fights over new natural gas pipelines in Virginia, New Jersey and New England, the gas industry is ramping up its defense with a new front group meant to appeal to East Coasters, who have mostly avoided the fights over oil and gas development that have rocked Western states.
Your Energy launched quietly in Virginia last month, ahead of a November gubernatorial election that is shaping up to be a "referendum on pipelines," as one local newspaper put it.
The group, which is funded by the American Gas Association, debuted as a co-sponsor of a conference at the Virginia Chamber of Commerce on May 24. Jim Cheng, who served as secretary of commerce under then-Virginia Gov. Bob McDonnell (R) and is not on the group's payroll, spoke on its behalf.
"I am here today assisting a new organization, called Your Energy Virginia, that was created to raise the energy IQ of Virginians about the many benefits of natural gas," said Cheng, according to audio obtained by HuffPost. "And to try to follow on these radical and uniformed elements within your communities that try to intimidate or shut down pro-energy supporters."
As the name implies, Your Energy paints itself as a grassroots organization, something akin to the Sierra Club or the American Civil Liberties Union, but for folks who support natural gas. Its Virginia chapter's website features promotional materials about the economic and environmental benefits of natural gas and prompts visitors to join by submitting their names, email addresses and ZIP codes. The only indication that Your Energy is a public relations campaign paid for by a major industry association appears on the privacy policy page.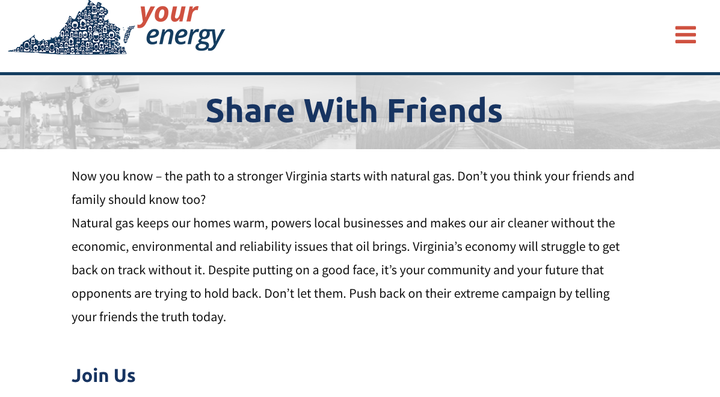 The website is much clearer about Your Energy's adversaries: The group vows to stand up to "anti-energy opponents, often out-of-state extremists," that are "spreading misinformation and fear to stop natural gas and energy infrastructure."
This is just the Virginia arm of a national-level Your Energy America campaign that the American Gas Association is rolling out this year. There's an active website in Connecticut as well, and domain names have been registered in Ohio and New Jersey. Dave McCurdy, the American Gas Association president and chief executive, said his group plans to expand to more states, including on the West Coast, by the end of the year.
"The whole principle behind Your Energy is that we reject the false choice of an opposition movement that believes keeping natural resources in the ground is the only solution to climate change," McCurdy told HuffPost. "That's not just a false choice; it's a dangerous choice."
Gas companies have faced fierce opposition to new pipelines in places like Colorado, Utah and Oklahoma over the past decade. In 2014, the Western Energy Alliance hosted a lobbyist nicknamed "Dr. Evil" who encouraged the industry to wage "endless war" against environmentalists, smearing them as "radical," "extremist" and conspiracy-minded clods. In the last few years, those fights have moved eastward as companies move to build up pipeline infrastructure in such states as Connecticut, Maryland and New Jersey, with mixed results. Virginia, the nation's 12th-most populous state, has become a hotbed for pipeline disputes as companies seek to build two new conduits across the state.
The politics surrounding natural gas can get dicey. It is a fossil fuel, and the biggest industry players are the same corporations that produce oil, a fuel with a much higher emissions footprint. The drilling technique that made natural gas cheap and abundant in the U.S. ― hydraulic fracturing, or fracking ― involves blasting water laced with chemicals and sand deep underground to split bedrock and release gas. Traces of those chemicals have been found in groundwater, and fracking operations have been linked to earthquakes in Oklahoma, Pennsylvania and Canada. Drilling sites regularly leak methane, a major component in natural gas and a powerful greenhouse gas that traps roughly 30 times more heat in the atmosphere than carbon dioxide.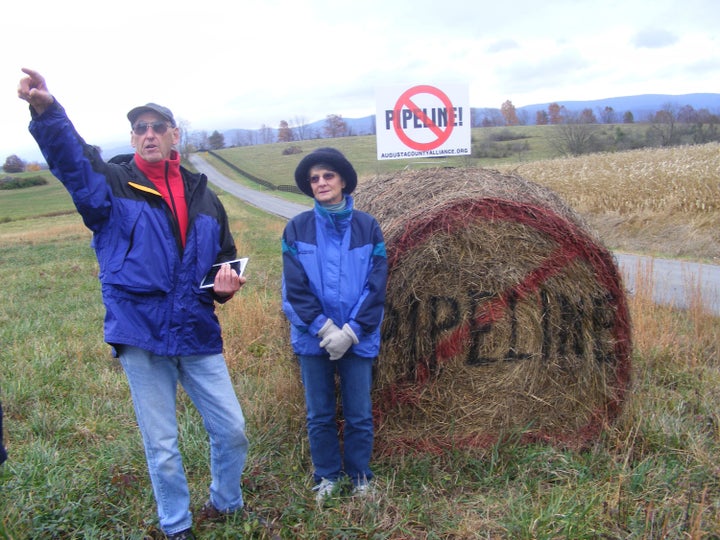 But burning natural gas releases much lower amounts of greenhouse gases than burning other fossil fuels. As utilities have replaced coal with natural gas, U.S. emissions have dropped by double digits. The natural gas industry is also a growing source of jobs, employing nearly 115,000 people in the U.S. last year at an average salary of $78,890, according to the Bureau of Labor Statistics.
Activists in both parties pick and choose which benefits and drawbacks they highlight. Climate-hawk Democrats condemn the emission of planet-warming gases, while Republicans highlight its role in creating jobs and making the U.S. less dependent on foreign energy. President Donald Trump's aggressive push for fossil fuels may further stoke partisan divides in energy politics, pitting fossil fuels, particularly coal, against renewables like wind and solar. McCurdy, a former Democratic congressman from Oklahoma, said he wants to position the American Gas Association, a 99-year-old group that includes many of the country's biggest utilities, in the middle.
"We're the mainstream guys," he said. "That's the problem these days. These extreme kind of candidates and positions they take just inflame a small base to get publicity."
The rhetoric coming from Your Energy echoes a playbook that's already been used in the West. "What seems to be happening on the East Coast, and what happened in Colorado, is they said these people that are complaining about air quality and pollution issues caused by the oil and gas companies are outsiders, they're radicals, and they're not like you," said Jesse Coleman, a researcher on fracking politics for Greenpeace USA.
"It's crucial for the companies behind these front groups to portray normal community activism as somehow abhorrent or portray it as something other than what it is," Coleman added. "You can't really win when your opposition just wants to keep their kids healthy, so you have to make them into some sort of bogeyman."
With Virginia heading into a gubernatorial primary on Tuesday, the battle there over two proposed natural gas pipelines has taken center stage. The Atlantic Coast Pipeline, owned by the powerful utility Dominion Energy, would stretch 600 miles from West Virginia, through Virginia, to North Carolina. The Mountain Valley Pipeline would carry gas 303 miles from northwest West Virginia to southern Virginia. Unlike the famously controversial Keystone XL and the Dakota Access pipelines, which convey tar sands and shale oil, the proposed pipelines across Virginia would carry compressed natural gas, which is less dense than air and usually dissipates into the atmosphere if the pipe springs a leak.
Nearly all of the state's Republican gubernatorial candidates support the conduits ― except Corey Stewart, chairman of the Prince William County Board of Supervisors, who has raised concerns that pipeline builders could use eminent domain to "trample on people's property rights."
The debate has split the Democratic candidates. Lt. Gov. Ralph Northam has remained steadfastly neutral on the pipelines, insisting only that they be subject to environmental review. His progressive opponent, former Rep. Tom Perriello, is fiercely opposed to both pipelines and boasts of being the only candidate in the race to refuse donations from Dominion, by far the largest energy interest in the state. Gov. Terry McAuliffe (D), who is barred by state law from seeking re-election this year, supports the pipelines.
"You can't really win when your opposition just wants to keep their kids healthy, so you have to make them into some sort of bogeyman."
Dominion's grip on Virginia politics is its own issue. In February, state lawmakers voted down a bill that would have prohibited the utility giant, long considered a kingmaker in the state, from donating to public officials. Roughly 60 candidates in Virginia, most of them Democrats, have pledged to refuse money from Dominion anyway, signaling a seismic shift in political fundraising there.
The company has been a member of the American Gas Association since at least 2009, according to corporate disclosure forms. McCurdy declined to describe how big a role Dominion may be playing in Your Energy; a Dominion spokesman did not return a call requesting comment.
To Ernie Reed, a 66-year-old anti-pipeline activist in Nelson County, Virginia, the launch of Your Energy marks another front in a battle he's been fighting for years. In May 2014, Dominion sent him a letter asking to survey his property to make way for the Atlantic Coast Pipeline. If Your Energy wants to paint him as an extremist outsider, he wishes them luck.
"I've been paying taxes in Virginia since 1979," said Reed, the president of the conservation group Wild Virginia. "Any claim that the people opposing these pipelines are uninformed is as far off the mark as it could possibly be."
The former schoolteacher said the "unprecedented" amount of time and money that energy companies are spending to promote the benefits of pipelines to local residents serves only to show that they have the weaker case.
Stephanie Weber, the Virginia director for the Chesapeake Climate Action Network, said she's seen a shift in public opinion about pipelines in recent years amid the high-profile protests over the Keystone and Dakota Access pipelines.
"There will always be the faction of people who say, 'We need the energy, this creates jobs,' and there's no amount of research that will sway them," Weber told HuffPost. "But increasingly we have more and more ― and I would say even a majority at this point ― who really understand that the energy infrastructure is being basically thrust down our throats for the benefit of corporations."
As a Virginia resident for 16 years, she said she's no stranger to energy companies' bullying tactics against what she called "true Virginians" ― people fighting to protect land that has been in their family for more than 100 years.
"They're seeing corporations say, 'This is mine, and mine for a profit,' and having land values along the pipeline plummet so folks who may even want to sell can't get their money's worth," Weber said. "This is a scare tactic that pits the corporation against the people, and it just is sad."
CORRECTION: An earlier version of this story misstated the type of fuel carried by the Dakota Access and proposed Keystone XL pipelines as "tar sands oil." The Keystone XL would carry tar sands oil, but the Dakota Access pipeline carries shale oil from North Dakota's Bakken Formation.
Support HuffPost
The Stakes Have Never Been Higher
Before You Go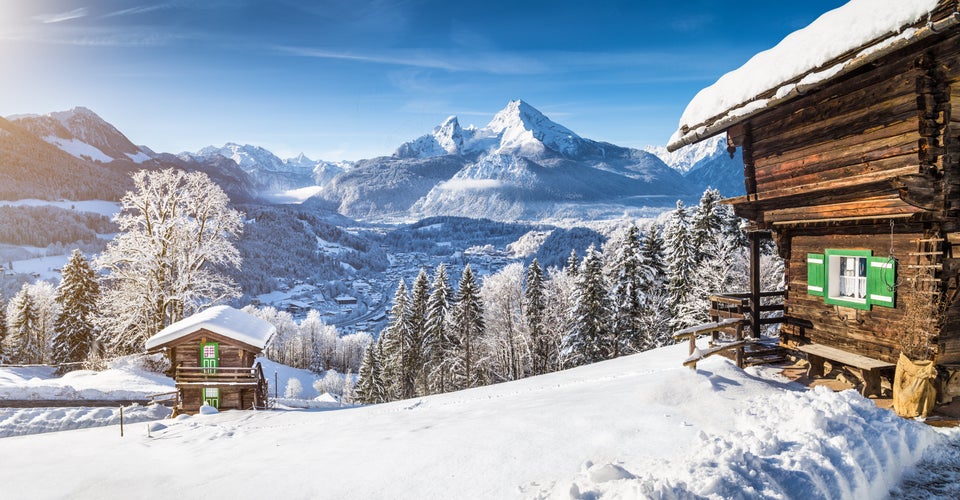 4 Surprising Places At Risk From Climate Change
Popular in the Community