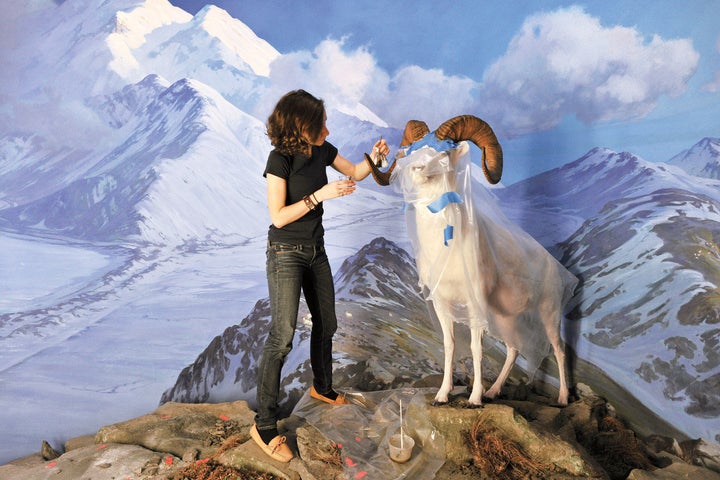 The American Museum of Natural History has just completed a major renovation of one of its signature diorama halls, the Hall of North American Mammals. Ross D. E. MacPhee, the hall's curator and a mammalogist at the Museum, explains why these spectacular natural history dioramas can't be beat by television or the Internet: They literally bring nature inside -- not only inside the building, but inside the mind's eye.
A diorama scene can be modeled on literally anything, from Abe Lincoln presenting the Gettysburg Address to great battles of WWII to imaginary landscapes on Jupiter's moons or real ones on Earth's surface. Dioramas of the sort found in natural history museums typically present a habitat grouping -- a landscape suggested by an intricately painted backdrop, with taxidermied or otherwise preserved animals and plants in the foreground, all boxed into an alcove behind plate-glass.
But wait a minute. These "scenes" sound awfully static and old hat, sort of like larger or more elegant versions of 3-D postcards, but just as artificial. In any case, haven't movies, TV, and YouTube completely superseded diorama presentations?
Yes and no. There is no denying the power of modern media to present reality -- or something very much like it -- as well as to inform or entertain us or simply to provide viewing pleasure. But there is one thing that a screen can't -- or can't yet -- overcome, which is the fact that the reality being presented is only one pixel deep.
Dioramas, on the other hand, can come as close to imitating real life as the dioramist's art permits, with full dimensionality in a believable setting. Great dioramas are really a form of theater, telling you a visual story that can be amplified, but never replaced, by text or voice. They force your imagination to work, so that missing dimensions like movement and the elapse of time are provided instead by the mind's eye. For at least one brief moment you "see through" (the root meaning of the word diorama), as though you were actually there, directly witnessing an event or a moment that could have, really could have, existed somewhere in the real world.
Recently, the museum was able to undertake a thorough rejuvenation of its North American mammals hall, which was initially opened more than a half century ago. Although the dioramas had been created with great skill by some of the most accomplished wildlife artists and craftsman then at work, they had aged, in some cases not well. Over the years, UV from the artificial lights used to illuminate the scenes had partially bleached the skins of many of the taxidermied mounts. Some background paintings had peeled or separated from their backings, and New York City grime had inevitably worked its way in.
Much has changed in the last five decades, not only in the ways in which we understand and value biodiversity, but also in how museums communicate with their publics.
For example, in the old hall, messages concerning the importance of animal and landscape conservation were essentially nonexistent. Text panels were long on detailed lists of species presented within the dioramas, but rather short on the kinds of information and concerns museum-goers expect to see nowadays.
To turn this hall into a showcase of mammalian diversity, the AMNH's exhibitions department, together with a host of outside experts and numerous volunteers, labored to give the hall and its contents a thorough cleaning and upgrade. The results are beyond remarkable.
In the new hall, every scene is crystal clear; the postures and appearance of the animals, caught in freeze-frame, are as accurate as science and art can make them. Every one of the 43 diorama presentations is accompanied by a completely rewritten and reconceived text panel. Most importantly, the feeling of being an on-the-spot witness to our natural heritage remains, but now with a much greater sense of urgency and involvement.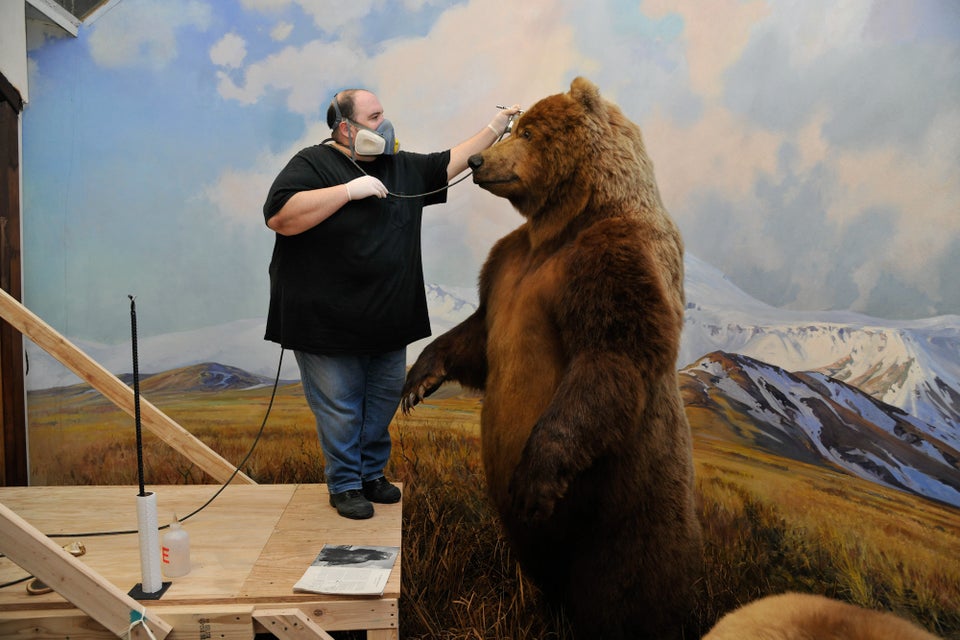 American Museum of Natural History Restoration
Related
Popular in the Community