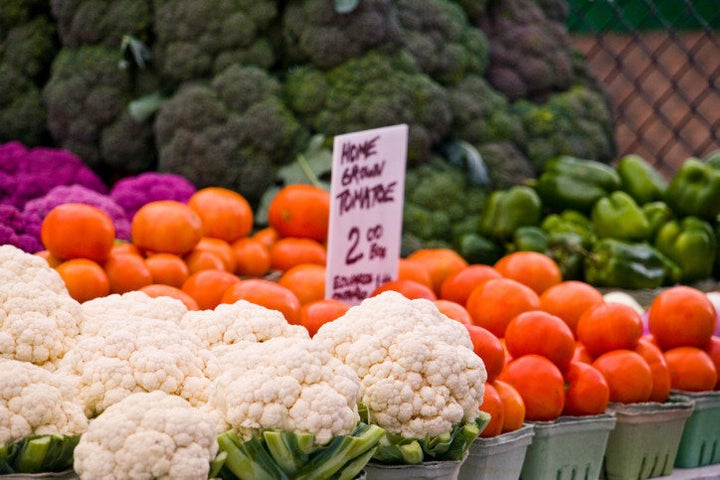 These days, one of the most surprising things I get asked about in relation to nutrition and health is whether or not to eat fruits and vegetables. It sounds crazy, I know, but with so much concern about pesticides and organics, a lot of people are confused and scared to eat the natural foods they need. Some of my clients feel it's better to take supplements than to eat fruits and veggies because they are so scared of what chemicals may have been added to the crops.
As a registered dietitian, it's most upsetting to see so much fear and confusion around what should be our most trusted, wholesome source of nutrients. America, for all its wealth and research, remains confused about how and what to eat.
I don't write this article to fan the flames of the argument. Certainly, I understand that emotions on both sides run high. What I have learned that's valuable to everyone, I think, is that there exists a middle ground between pesticide crops and certified organics: that is, fruits and vegetables that are seasonal, pesticide-free and locally grown by farmers. There is such a thing as "clean" crop that is 100 percent natural in terms of no pesticides, but still absent an organic label. This comes as a surprise to many as we seem to think now that everything not marked organic is chemically tainted.
Finding pesticide-free non-organics is a great way to spend less money and enjoy natural produce. The only downside -- if you consider it one -- is that you have to eat seasonally, meaning you have to stop expecting ripe tomatoes and avocados in February in many parts of the country. In addition, many areas, urban and rural, have farmers markets. When organic or pesticide-free produce is a concern, direct communication with the farmer is often the best way to navigate your available selection.
Farmers markets provide a great opportunity to learn exactly how and where your food is produced and to sample items prior to purchasing. This option will also reduce cost, as well as be pesticide-free. Regardless of the kind of produce you buy, please buy it. I believe the benefits that come from consuming fruits and vegetables will outweigh the hazards of conventional farming.
According to Josephine Quiocho, a permaculture designer and garden consultant for the Glide Foundation's edible rooftop garden, Graze the Roof in San Francisco, you should "ask your farmer if their produce is organic and, if not, if they use any pesticides. You may be pleasantly surprised that they claim the unlabeled apple to be just as sweet, fresh and unadulterated as the one labeled organic!"
Quiocho points out that, "Due to the timely process and costly fees of organic certification, many farms, including those that may already practice organic standards, may be awaiting certification or may opt to forego the application process. Some farms may also avoid pesticides, but use synthetic fertilizers, which are against organic standards"
I took her advice and went to my farmers market at the San Francisco Civic Center to get some answers. According to the Ortiz Brothers farmers, "When you say organic you have to pay for the paperwork. You have a lot of papers and you pay, pay, pay." At Hooverville Orchards, Jenny and Bruce Smith told me, "We don't spray our fruit at all. We don't like to. We don't know what's in it, or what it does to our fruit. We just let nature do to them what it does best." The same is true at Cipponeri Farm, though Marissa, their representative, says they do use fertilizer. She says, "We are a tree fruit farm. Our fruit is very safe as it is not low to the ground. It is my belief that vegetables would be safe as well."
Mainly what I've learned is, farmers often don't become certified organic because it's a costly, long process. So if you're concerned about what goes into your fruits and vegetables, but you can't justify paying what labeled organics cost, remember: there's always the option of fresh, local, seasonal, pesticide-free crops -- just the way nature intended! You can find your local farmers market by zip code.
Manuel Villacorta is a registered dietitian in private practice in San Francisco, California. He is a national media spokesperson for the American Dietetic Association and the founder of Eating Free
Support HuffPost
A No-B.S. Guide To Life
Related
Popular in the Community