We have a pretty dysfunctional relationship with the planet. We lap up its resources to provide us what we need or crave, yet many people feel disconnected from the natural world.
It's this disconnect that Canadian conservationist photojournalist Neil Ever Osborne wants to address. He has spent the last 15 years traveling to some of the world's most untouched places ― in countries from Canada to Ecuador ― to capture images of a natural world desperately in need of protection.
His aim is to make the environment more accessible by pulling out a common thread in all his pictures: the idea of a quest to find a home, a place to exist and thrive.
"There is lots of doom and gloom surrounding the conversation about the environment," Osborne said, "but there are still some special places left. My hope is that these images ... a road slashed through a forest, a venerable grizzly bear in its sanctuary, depict our shared yet threatened home with honesty and optimism."
Keep scrolling to see some of his images and commentary.
1. A green sea turtle in Costa Rica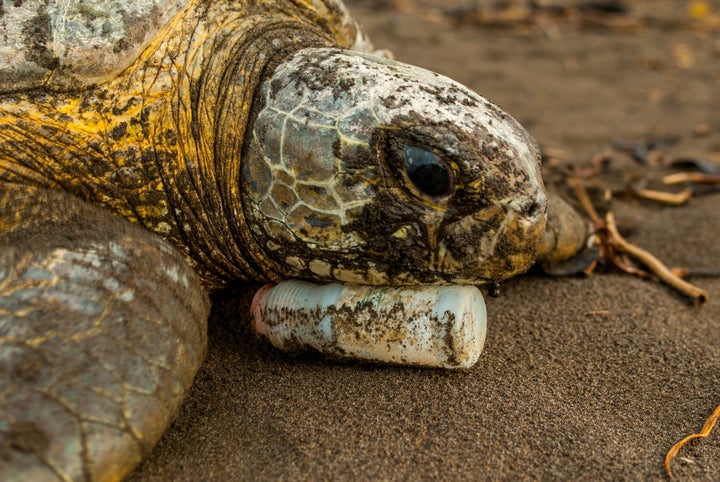 "Plastic is so omnipresent in our oceans that our beaches become littered with it after it washes up on shore. As a sea turtle stops to rest during her journey back to sea after nesting, she lies on a plastic bottle, a sign of our polluted and sick home."
2. A road slices through a forest in British Columbia, Canada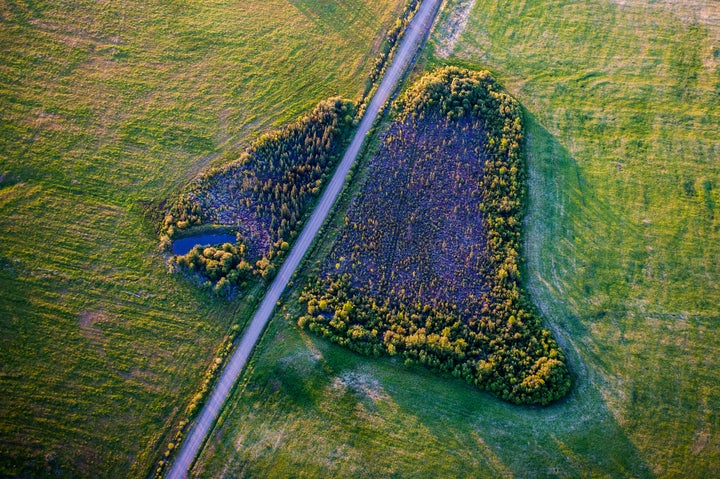 "Our home is divided and fragmented, and as a consequence nature is disconnected. As humanity becomes more and more disconnected with nature we lose the interest in protecting what protects us."
3. Macaws in Ecuador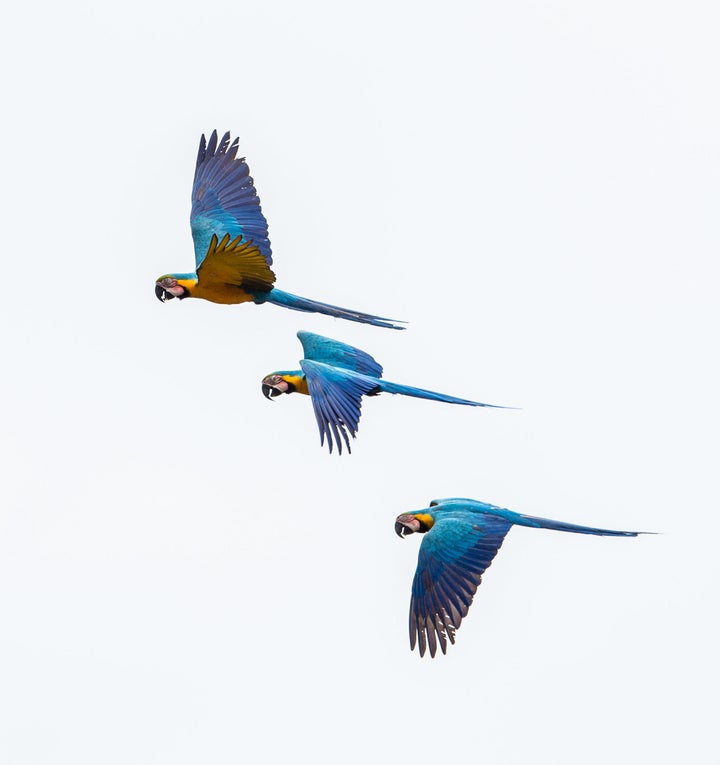 "High above one of the most biologically diverse places on the planet, blue and yellow macaws soar above the canopy of Yasuni National Park, Ecuador. Impending pressure from oil and gas threaten the bird's home, a treasure in the Ecuadorian Amazon, leaving us to question how humanity will manage the last great stands of towering forests."
4. A girl in Kayapó Territory, Brazilian Amazon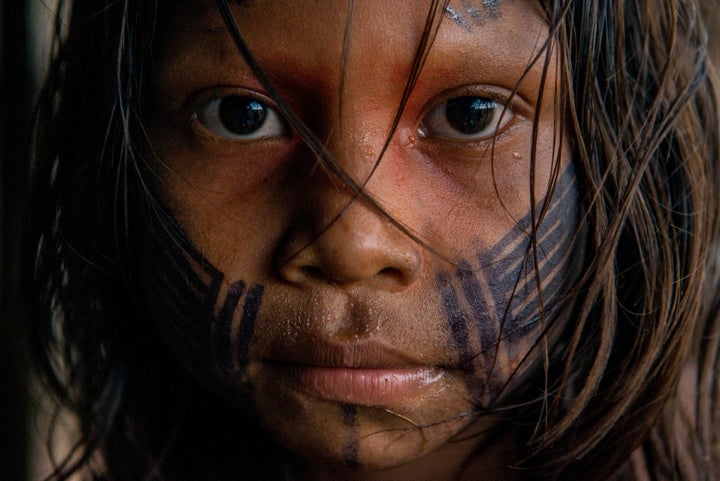 "Her eyes say, 'This is my home.' The Kayapó peoples of the Brazilian Amazon defend one of the largest remaining contiguous blocks of rainforest in the world."
5. A northern elephant seal in California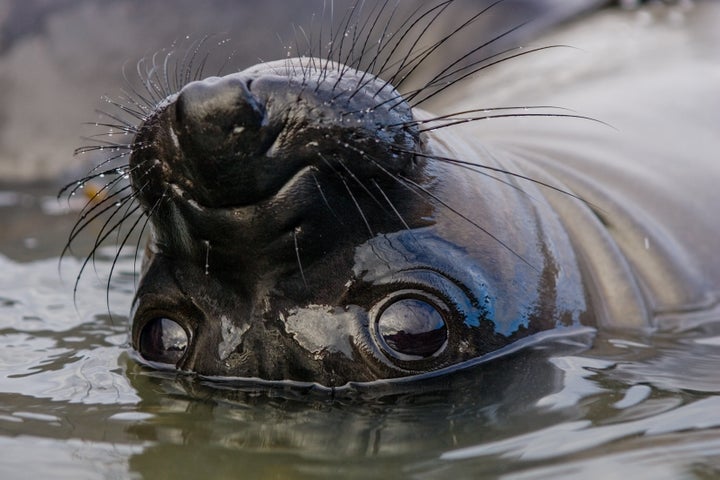 "Northern elephant seal pups play in emphemeral tide pools, yet to be affected by the stress they will endure as an adult."
6. A grizzly bear in British Columbia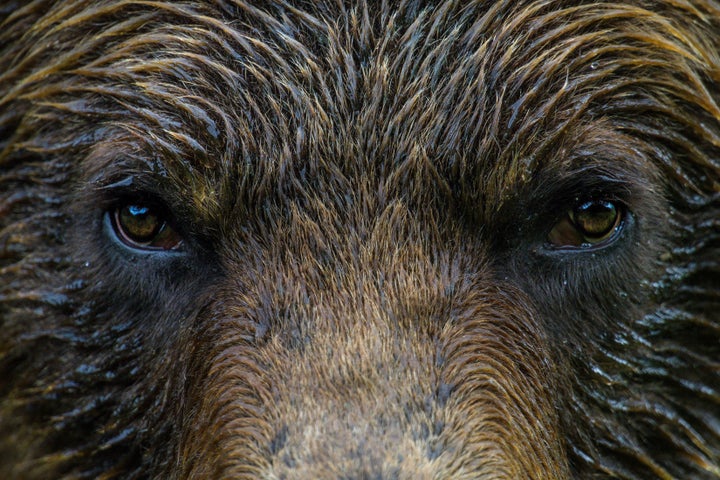 "Nestled within the majestic fjords and mountains of the Pacific Northwest in British Columbia, Canada, grizzly bears find home in a protected area known as the Khutzeymateen, Canada's only grizzly bear sanctuary. Here, man and nature coexist in harmony and we learn how ecotourism can play an active role in the conservation of this iconic species."
• Neil Ever Osborne's fine art exhibit, HOME, is running through May 31 at Berenson Fine Art in Toronto.
For more content and to be part of the 'This New World' community, follow our Facebook page.

HuffPost's 'This New World' series is funded by Partners for a New Economy and the Kendeda Fund. All content is editorially independent, with no influence or input from the foundations. If you have an idea or tip for the editorial series, send an email to thisnewworld@huffpost.com.
Related
Popular in the Community