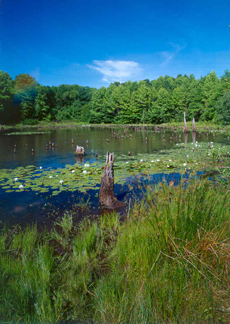 Dominated by soft rush (Juncus effusus) and fragrant water lily (Nymphaea odorata) is Lily Pond, an example of an intact urban ecosystem, located in Blue Heron Park, Staten Island.
"Skyscraper national park." Kurt Vonnegut's description supports the widely held view that New York City is a paean to the built environment. This collective image includes towering edifices, taxied roadways and neon billboards. The last thing one would expect in this milieu is nature. Yet sprinkled throughout the five boroughs are approximately 28,000 acres of city parkland. Discounting ball fields and swing sets, nearly half of these have significant areas of flora and fauna. They harbor the city's true treasures: freshwater wetlands, salt marshes, beaches, and forests. Ensconced within these ecosystems are more than 40% of New York State's rare and endangered plant species.
Still, it isn't easy being green in the Big Apple. Over the past century, 75% of the city's woodlands, wetlands and meadows have been destroyed. The persistent pressure of urbanization and its concomitant ailments has driven many of the city's native plants to the brink of extirpation. We have already lost 43% of our flora including such treasures as the yellow fringed orchid (Platanthera ciliaris) and swamp pink (Helonias bullata).
Recent floras of the five boroughs relate a disturbing tale. Of 1,357 native plants ever recorded, only 778 species remain. Somewhat resilient were trees and shrubs. This may be attributed to the protection afforded by their tough outer bark. Over time, as suitable habitat shrinks and these trees and shrubs are unable to recolonize, they too will pass.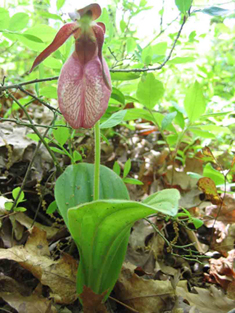 Pink ladyslipper (Cypripedium acaule) is one of the few orchid species that has managed to survive in NYC. But for how much longer?
Plants that disappeared more quickly were less resilient, non-woody ground layer vegetation, like ferns, wildflowers, and grasses. Annuals and biennials, with their short life cycles, were also in decline. Flora of wetlands and open meadows were also hit hard. These herbaceous plants, the foundation of plant species diversity, appear to be acutely vulnerable to anthropogenic disturbances. The latter is especially germane on an archipelago teeming with eight million humans. In Manhattan and Brooklyn, exotic plants already outnumber the surviving native species.
Retention of most of our native plants is not reason enough to pull out the party hats. The bad news is that the majority occur infrequently, with many known from only one location. Some plant groups have been utterly decimated. Sadly, the orchid family illustrates this point well. Once upon a time, there were 30 species of orchids in our fair city. Today only six species remain, consisting of only eleven populations. There is one other orchid; the exotic broad-leaved helleborine (Epipactis helleborine). Visiting from Europe, this species is found in more and more parks every year.

Trailing arbutus (Epigaea repens), once common on Staten Island, now extinct in New York City. This picture was taken in the Delaware Water Gap in Pennsylvania.
Staten Island is New York City's Xanadu, a place where many plant species have taken refuge. With bucolic vistas and 10% of its land preserved, the island bolsters the city's native plant numbers. Yet its greenery still suffers the slings and arrows of human existence. Since 1990, Staten Island has lost more than 30% of its indigenous flora including nodding trillium (Trillium cernuum) and wood lily (Lilium philadelphicum var. philadelphicum). Scarier still, no plant or habitat type was invulnerable to the onslaught of urbanization. And ecologically, Richmond County is a microcosm for the rest of the planet -- a store of biological diversity struggling against high human population densities. Most of these species cannot be grown or transplanted successfully. Habitat protection is the only hope for their future.
"God might have made a more beautiful place than Staten Island, but He didn't."
- George W. Curtis, 19th c. author and SI resident
Calling all HuffPost superfans!
Sign up for membership to become a founding member and help shape HuffPost's next chapter