"I like things that are different. That is what fascinates me about abstract art; the mystery of it. For the most part I think I know what I am looking at as I go about my daily routine, and that is reassuring." This is how Hubert Phipps introduces his art.
To Phipps, "the most powerful art is that which connects within me before I even start or analyze it through thought. It is not anything I can understand or describe by thinking but something that when I look at it I am filled with awe and wonderment. This is what I experience when I stand in the presence of the great works of art that have come before."
Phipps has shape-shifted in his professional life - he spent years as a professional automobile racer, and then became a pilot of helicopters and airplanes. His interest in art, nurtured in childhood, when he made illustrative drawings of animal life, took a back seat to his successes with auto-racing. It was not until he was in his 40s, and met Graham Nickson, Dean of the New York Studio School and originator of the Drawing Marathon, that Phipps returned to art.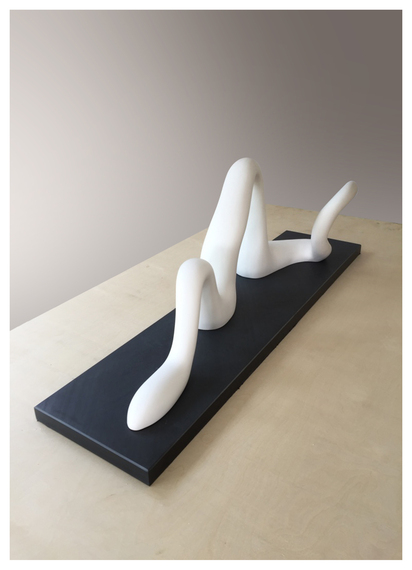 New York Studio School, birthplace of the Whitney Museum of Contemporary Art, is currently showing the work of Mr. Phipps. This is the artist's first solo exhibition in New York.
Mr. Nickson explains the work of Mr. Phipps: "The 'ancients' had deep respect for the ground (dirt, earth), and also the displacement of form (mountains, boulders) and its imprint on the environment. The 'moderns' envisioned speed and the invention of the wheel, creating curves from their imagination. The fracture and rendition of movement and speed still permeates the work of Hubert Phipps, years after his champion car racing history. Sleek, curvaceous, beautiful surfaces and the evidence of laps completed all contribute to his risk-taking competition of trying to make mass encompassed by space. In Phipps' world, serpentine form becomes both body (corpus) and route (pathway). The driver is the road. His motor-forms attract a search for the mythic."
"Mr. Phipps rather than remaining in one particular realm, plays with all of the elements: earth, air, fire, water," notes art curator Jennifer Samet. Accordingly, multiple works are shown, including "Lava Flow" (2016), in which he creates a totem of flame. "Serpent" (2016), that evokes lowlier creatures, and more specifically, the sensation of crawling through the earth. Other pieces, like "Waterworks" (2016) and "Paradise" (2015) can be placed within the genre of landscape.
The exhibition is open daily through September 25th. The New York School Studio is located on 8 West 8th Street, between Sixth Avenue/Avenue of the Americas and Fifth Avenue in New York City.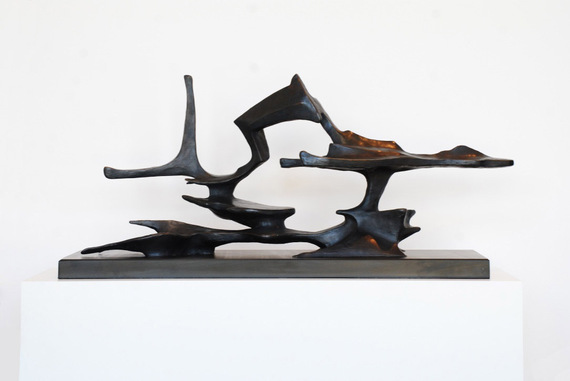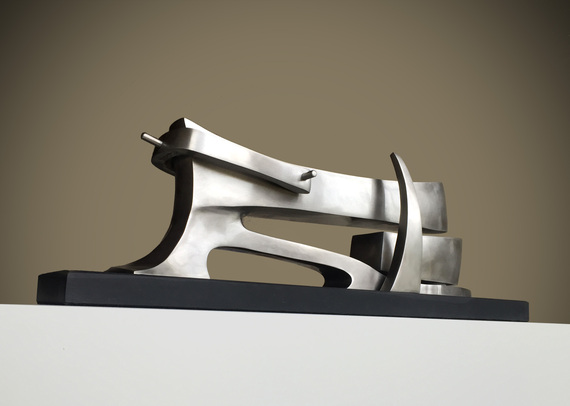 Images courtesy of the artist
Calling all HuffPost superfans!
Sign up for membership to become a founding member and help shape HuffPost's next chapter