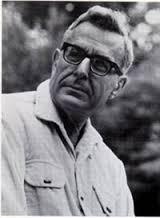 As I reflect on the now surprising longevity of the World Ocean Blog and our weekly audio program, the World Ocean Radio, my thoughts have turned to various individuals along the way who have shaped my personal interest and thinking about Nature and the ocean.
One name, sadly not so well remembered, is Loren Eiseley. Born in 1907 in Lincoln, Nebraska, as far as possible from our American coasts, Eiseley was the son of an itinerant Shakespearean actor and an amateur artist. He spent his childhood on the Midwestern plains where his sense of place and interest in the land was surely formed. Eiseley eventually trained as an anthropologist, then as an paleontologist, and spent most of his academic career at the University of Pennsylvania, where he was Benjamin Franklin Professor of Anthropology and the History of Science, Curator of Early Man at the University Art Museum, and Provost. Awarded some 36 honorary degrees, Eiseley was a serious researcher, teacher and scholar.
But he was also a remarkable essayist and poet. Eiseley was one of those most unusual academics who are both scientist and humanist, and he could reveal his knowledge and himself directly and effectively whether through a fossil hunt, an academic paper, or through his literary writings and poems. He was a remarkable man and I feel privileged for our brief encounter and conversation. He died in 1977.
The Editor of The Bloomsbury Review wrote after his death, "There can be no question that Loren Eiseley maintains a place of eminence among nature writers. His extended explorations of human life and mind, set against the backdrop of our own and other universes are like those to be found in every book of nature writing currently available... We now routinely expect our nature writers to leap across the chasm between science, natural history, and poetry with grace and ease... His writing delivered science to non-scientists in the lyrical language of earthly metaphor, irony, simile, and narrative..."
Among his many books I would particularly recommend: The Immense Journey, Darwin's Century, The Firmament of Time, The Mind as Nature, and The Unexpected Universe. For additional information and readings, visit the Loren Eiseley Society at www.eiseley.org/. When from time to time I pull these books from the shelf, I inevitably find reflections that speak inspirationally to me.
Here are excerpts that pertain to the ocean world:

" The starfish cannot return to the sea by themselves.
But there's more starfish on this beach than you can ever save. Surely you can't expect to make a difference. . . . They will end up washed back on the shore again. What difference does it make?
The boy throws a single starfish into the ocean.
It makes a difference to that one."
"You have probably never experienced in yourself the meandering roots of a whole watershed or felt your outstretched fingers touching, by some clairvoyant extension, the brooks of snow-line glaciers at the same time you were flowing toward the Gulf over the eroded debris of worn-down mountains."
"It has ever been my lot, though formally myself a teacher, to be taught surely by none. There are times when I have thought to read lessons in the sky, or in books, or from the behavior of my fellows, but in the end my perceptions have frequently been inadequate or betrayed. Nevertheless, I venture to say that of what man may be I have caught a fugitive glimpse, not among multitudes of men, but along an endless wave-beaten coast at dawn. As always, there is this apparent break, this rift in nature, before the insight comes. The terrible question has to translate itself into an even more terrifying freedom."
a difficult re-entry
The nature of the human predicament
is how nature is to be reentered; how man,
the relatively unthinking and proud creator of the second world --
the world of culture --
may revivify and restore the first world
which cherished and brought him into being.
For what, increasingly, is required of man
is that he pursue the paradox of return.
Yet man does not wish to retrace his steps
down to the margins of the reeds and peer within,
lest by some magic he be permanently recaptured.
Instead, men prefer to hide
in cities of their own devising.
Calling all HuffPost superfans!
Sign up for membership to become a founding member and help shape HuffPost's next chapter