Parisian Street Artist LUDO brought "Nature's Revenge" to the US this month and his eye-popping surreal wheat-pasted creations are now on walls in New York, Chicago and Los Angeles. By combining weaponry with insects and plants into hybrids, LUDO is using this ongoing series to draw attention to how we are messing with nature in ways we never have in an unquestioning way and at our own peril.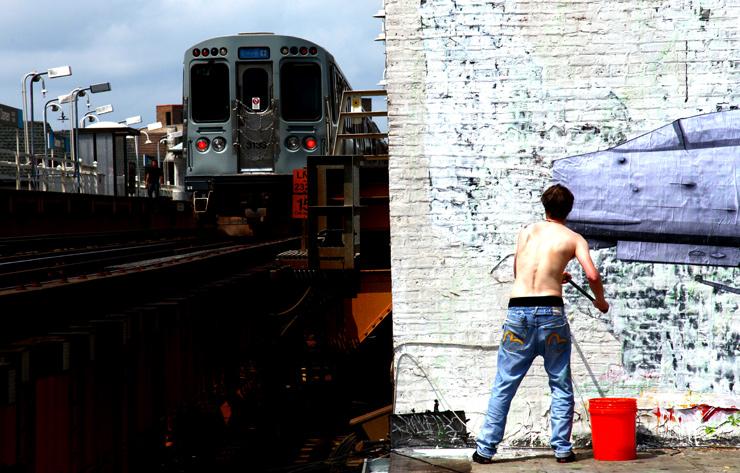 LUDO in Chicago (photo © Jaime Rojo)
From biotech to nanotech to robotics to remote controlled drones, the face of war is sold with branding and a sizzling "wow" factor, accompanied by vague assurances that these developments are necessary to protect us good guys from the bad ones. From the perspective of this ongoing "Nature's Revenge" series, our romance with all things shiny and futuristic is quickly morphing out of our control and it's likely to come back and bite us, or worse.(continued after the images)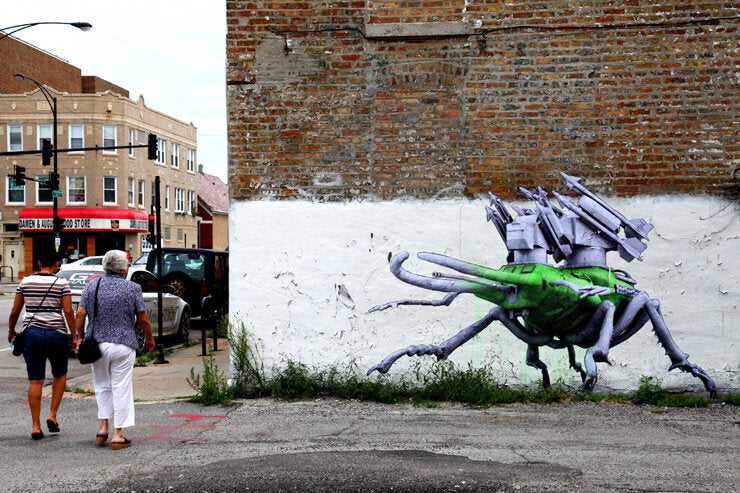 LUDO in NY, Chicago, and LA with More of
Using a reliably greyscale, white, and acid green palette, LUDO's high-tech hybrids are alternately frightening and amusing, and even super cool. While a Freddy Kruger facemask is obviously symbolic, it's pairing with a mechanical daisy is unnerving. The wheat paste of a tarantular top-loaded missile delivery device is laughable until you see the video of unstoppable multi-limbed all terrain "big dog" robots being developed to do the same thing. Even the bunch of grape skulls seems sort of blunt until you think of what we're now learning about irradiation, pesticides, and genetically modified foods. Taken as a whole LUDO's work is one of the more message-driven on the street today and is another example of the new narrative-driven story telling we continue to witness in Street Art. Luckily, it's also visually compelling.
In LA Ludo installed work with Daniel Lahoda for LA FreeWalls, C.A.V.E. Gallery, and with curation by BSA. Special thanks to Daniel for his total support, hospitality, and vision.In Chicago special thanks to Nick and Seth from Pawn Works Gallery and to Brock for making this happen and for providing the wheels and the good company.
Related
Popular in the Community