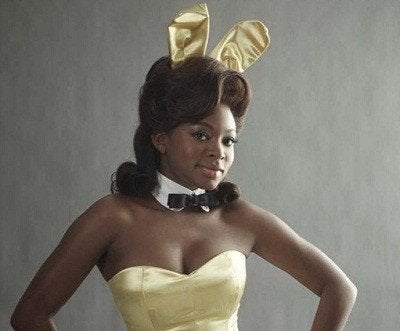 September 19 marks the debut of NBC's new drama, "The Playboy Club." The show, set in 1960s Chicago, showcases the legendary fantasy club and its beautiful employees in its earliest days. One of the show's stars, Naturi Naughton, portrays the role of Brenda, a stunning Playboy bunny with the ambition of making it big in entertainment.
Black Voices had the opportunity of catching up with the former 3LW singer and "Notorious" actor -- a native of East Orange, New Jersey who studied political science at Seton Hall University -- as she discussed filming the show, the idea of posing for Playboy magazine, rumors around the next X-Men flick, and her return to the music business, among other things.
Can you talk about your role as Brenda in "The Playboy Club"?
My character, by the name of Brenda, she's one of the first black bunnies at the club in Chicago. It's 1961, she's very ambitious, she's a very strong, opinionated young woman. And I think she's a fun, spirited girl, too. She has a good time. She doesn't let some of the negative energy affect her, but she's also very smart and she knows what's happening in the world. And she's not willing to let that stop her from dealing with the Civil Rights and so many things that affect her as being an African American in the '60s. She's very strong and willing to go for her dreams.
What attracted you to the role?
When I first read the script, "The Playboy Club" was so intriguing because it was about the first Playboy Club that opened. It was nostalgic, it was going back to the fun times in the '60s. The hair, the makeup and the bunny suit, of course -- I was really attracted to the bunny suit. I mean, it looks amazing. I was like, 'Oh, I'd love to be able to rock that.' Little did I know how tight it would be and how hard it is to wear that for hours on end. But also, with my role, she was different than just a regular girl of the '60s. I think that she had something special. Brenda, she's a go-getter and she feels like she can change the world. I was attracted to her sassiness, her confidence and sexiness. All of that is attractive and I couldn't wait to play this role, so I really was excited when I got the part.
Speaking of the bunny suit, was there any specific diet or workout regime that you had to commit to while filming the show?
They [the producers] didn't put us on anything. It was more self-imposed and doing everything in moderation and making sure that I was eating right and taking care of my body, which I do anyway. But knowing that I had to get into a corset, a tight, constricting bunny suit, I knew that I better keep it tight, gotta keep it right. So I work out and go to the gym, but I still enjoy my soul food and snacks. But I'm a pretty petite young woman, and I just do everything in moderation and make sure that I just keep everything together. Fortunately when I put on my bunny suit, it fits perfectly. I love the way it gives me curves and everything like that. These women of the '60s, they were real women and I wanted to represent that.
How was it to star alongside Jenifer Lewis?
Jenifer Lewis is a true pleasure. I love her, and I love working with her. I worked with her before: she played my mom in "Hairspray" on Broadway. So we've known each other for a few years now and she's like a second mom or an auntie. She makes me feel so proud to be a part of this, and I'm happy to have her on this show as well. And I learned so much from her, not just about this show or this role, but I've learned from her just in general, 'cause she's been in this business for such a long time and she's overcome so many different things that she inspires me to continue with my career. And hopefully I can say I've been an actress and been in this business for 30 years. But the chemistry is great. Jenifer is a blast! She's a 'keep it real, say what's on your mind' type of woman. And she keeps us laughing, she keeps the energy up and I enjoy working with her. I'm happy that we got a chance to reunite again on this project.
Who would you consider to be your favorite playmate of all-time?
I don't know all of them, but actually my character was based on some of the truths of what was happening in the '60s. The first black centerfold, which is what my character is aspiring to be, was a lady by the name of Jennifer Jackson in 1965. I saw her in the magazine and she was a beautiful pinup, a beautiful black woman who was classy and just looked sexy but elegant. I would definitely give her props, especially for breaking down the barriers so that a black woman can be seen in that way. So I think she's one that stands out in my mind right now.
What is your reaction to fans asking if you would ever pose for Playboy?
As far as me doing Playboy, I don't want to confuse the lines for fans. I'm playing a Playboy bunny -- that's different from being in Playboy as Naturi Naughton. I'm a character. But I'm not saying that I wouldn't do a fun thing with the magazine if it was something respectful and tasteful. I mean hey, you never know. And at the end of the day, if it was done in a very tasteful way that I feel comfortable -- and it would have to be in character. But I definitely try to make sure that people distinguish me as Naturi Naughton from the character and being a role, just like when I played Lil Kim. It doesn't mean that I am going to do everything that my character does as Lil Kim. I love embracing my sexuality, and being sexy and looking good. Every girl wants to feel gorgeous and that's wonderful, but I definitely would always want to maintain my values and just respecting myself.
In terms of your scenes, were there any similarities or difficulties in preparing for a film scene, as compared to television?
We actually just finished filming an episode, which was directed by Kenny Ortega, who is an awesome, awesome director, I must say. I'm so grateful that I had the opportunity of working with him. I had a big performance number in this episode, a fun dance, up-tempo performance number where I got to sing and dance. It's a lot of preparation that goes into doing a musical number on television or a musical number on screen, and I'm all for it. I'm always up and excited for it, because this is one of the things that I love to do. But it's different preparing on a show, because we're not shooting a movie. We don't have 30 days to do it, you have to shoot a episode in nine days. So that's where it gets a little challenging. When I did films like "Fame," you may have two days to shoot a musical number, as opposed to on our show we had half of a day to get it all done. Then you gotta knock out the whole episode in nine days, but with a film, sometimes you have six to eight weeks. I think it's just more focusing in and just make sure that you get it and really making sure that you use your time wisely because it goes by.
Do you have any immediate plans on returning to the music industry?
Not right now. All of my fans have been asking me about it and I definitely am going to. Singing is my passion and something that I still love to do and I'm always going to want to do it. I haven't been in the record business for a while, but I've still been singing and performing. Whether it be on stage on Broadway, or whether it be in a musical remake like "Fame," or even in this show. But I anticipate in the upcoming year, hopefully in 2012, that I can have the time to focus on my music because I am still writing songs. I love to be able to express myself and get it out through a song. It's actually very therapeutic for me. So fans, just be patient, I'm coming for you in due time. I just want to make sure that I focus. Acting is so important to me as well. And I want to make sure that I give my heart and soul to this project right now.
Within in recent months there have been rumors that you'll be in the next installment of the X-Men franchise. Do you mind clarifying your involvement with the film?
Well, there's still some loose ends to tie up. I'm grateful just for the interest and the talk about it. I can't really go into it in a deep way right now, but I can say that it's exciting to have so many possible opportunities on the forefront. I'm excited to continue with my movie career, but I have to see where it all lands. But God willing, I can do a film like that and we'll see what happens. As of right now, I'm just focused on my show ["The Playboy Club"].
Do you have any other upcoming projects coming out, aside from "The Playboy Club"?
I have an independent film that I hope to be out next year called "Highland Park." I shot that in Detroit last year with Kimberley Elise and Rockmond Dunbar, Danny Glover. It's a fun independent film that I hope you all get a chance to see soon, and I think you will. So look out for "Highland Park," it's actually a real place in Detroit. But the most exciting thing that I have coming up is "The Playboy Club." I've been working my behind off over here and just putting in work, long hours. And I feel really proud of what's coming out in the end result. And I can't wait for the fans and the people who know me, who supported my career, to watch. It means a lot to me to have so many people rooting for me and supporting me.
Popular in the Community