According to a newly-released study, 55 percent of older Americans who live in states that license naturopathic physicians (NDs) would consider seeking care from such a provider. Because naturopathic physicians are not currently eligible to participate in Medicare, most seniors are unable to obtain care from a naturopathic physician despite the interest and desire.

As a licensed naturopathic physician in Connecticut, I will never forget the first time I treated an older patient. It was 1986, I was in my 20s, fresh out of naturopathic medical school. Before me sat a woman of 98 with long, flowing white hair and bright eyes that lit up the room. The fine wrinkles around her mouth broke into an easy smile when I walked into the room. Perhaps she was amused at how young they were letting people practice medicine, and a woman to boot! Her 80-year-old daughter, who had brought her in to see me, confirmed her mother's medical history, and after a relevant physical exam, I began to create a plan for the patient's complaints. As I sat in awe of these two older women and the grace, gentleness, and good humor with which they related to one another and the world, I had found yet another reason to love my job.

In 1900, average life expectancy in the U.S. was 47 years. By 2009, that number had increased by about 67 percent to the age of 78.6. In 2012, according to the U.S. Census, more than 43 million people were aged 65 or above, about 13.7 percent of the U.S. population. Living longer than we used to, we are experiencing more of the effects of aging and general wear-and-tear than did previous generations. For this reason, health care issues have become increasingly central to many in our aging population. And many of them want natural medicine options as part of their health care choices.
The study cited above was conducted by an independent market research firm Infosurv, sponsored by the AANP. Infoserv queried 384 individuals 65 years of age and older who live in states that license naturopathic physicians. The survey provides a margin of error of +/- 5 percentage points.
The study found a high level of interest in natural approaches to treat illness. Seventy-five percent of Medicare beneficiaries prefer that their providers use natural therapies first, such as change in diet or the recommendation of appropriate supplements, before prescribing pharmaceuticals or surgery.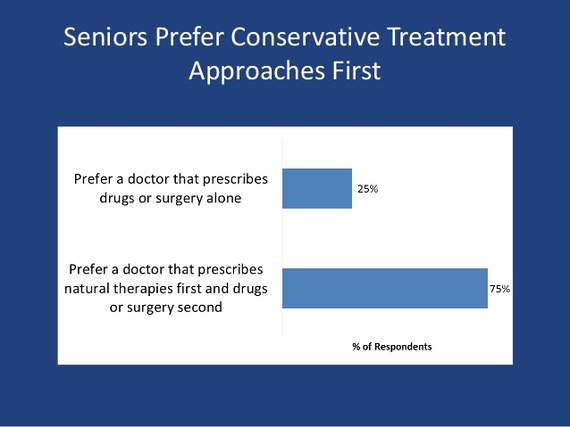 This may well reflect growing concerns about the side effects profiles of prescription drugs, since the survey showed 42 percent of seniors taking prescription drugs have concerns about potential side effects.
The survey also revealed that fewer than one in four older Americans would consider visiting a naturopathic physician if they had to pay out of pocket, yet nearly 100 percent would likely visit a naturopathic physician if such office calls were paid for by Medicare.
"The study is a wake-up call to policy makers," offered Jud Richland, CEO of the American Association of Naturopathic Physicians (AANP). "Seniors are saying loud and clear that they want Medicare to provide access to holistic care providers such as licensed naturopathic physicians. Millions of Americans have paid Medicare taxes all their working lives, but when the time comes to participate in Medicare, they find that the services they want aren't available."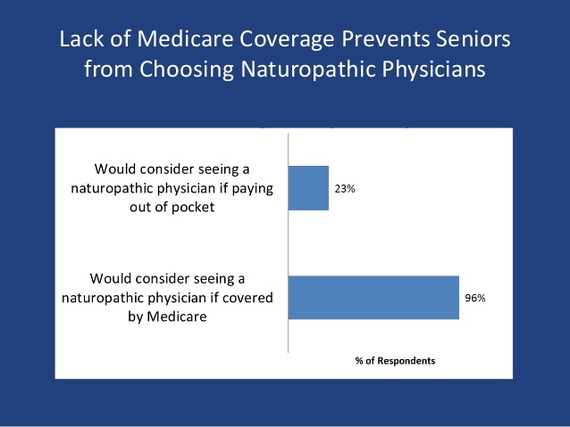 There are a number of states currently in legislative efforts to license NDs which makes good sense from both a public health and an economic point of view. There is also a national effort to have NDs covered under Medicare. Older Americans as well as all people deserve the right to choose the kind of doctor they want to see, and many would like the opportunity to work with a naturopathic doctor side by side with other state of the art medical care providers where their private or public insurance will cover both services and recommended treatment plans.
Related