The pediment of The Cathedral Church Of St. Paul in Boston has stood empty for 190 years, as the builders of the impressive Greek Revival structure ran out of money during the initial construction phase. It was finally completed in May of 2013, but since then it's come under fire for its unusual design, which features a backlit nautilus sculpture.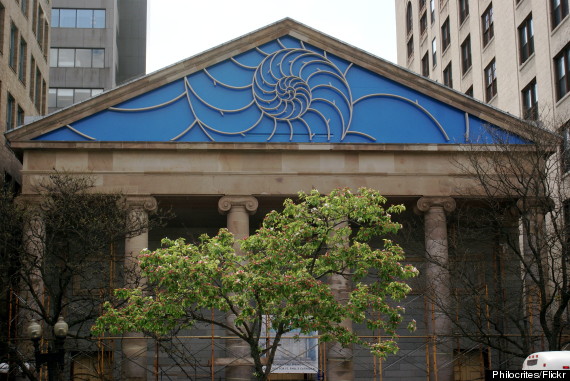 Though the original plans for the Episcopal church called for a classical relief of St. Paul preaching to King Agrippa, the current design is absent of traditional Christian iconography, featuring instead the clean lines of a seashell's interior which allude to Oliver Wendell Holme's poem "The Chambered Nautilus," writes The Living Church in a review.
Reverend and Dean of St. Paul's, Jep Streit, told Radio Boston that the nautilus was "the perfect metaphor for a spiritual journey." He elaborated, "The nautilus is evocative of so much more than the church. It creates its shell by outgrowing each previous compartment. It's always moving into a new, bigger space, and it can never go back."
Father Tim Schenck, an Episcopal priest, explained in a post on his Clergy Family Confidential blog why he finds the choice of a nautilus as a spiritual symbol to be "contrived" and "empty." He wrote, "I'm still not sure why Paul was pushed aside for a seashell."
His post was in response to a video that was recently put online by the Episcopal Diocese of Massachusetts that explained the story of how the nautilus pediment design came to be. In it, the artist Donald Lipski explained that "I was trying to think of a symbol or an image that would be spiritual but not be religious."
Tim argues that "A Christian cathedral by its very nature is and must be 'religious.'" Commenter Suzanne Wade agreed, writing "Thank you for articulating so well my own sense of unease with the sculpture. I had a liturgy professor that used to say that if you have to explain the symbol, it's not working. Symbols are supposed to express meaning without words, but the nautilus on the cathedral makes no sense without 10 minutes of explanation." She continued, "When I read Jep Streit's quote in the Boston Globe when it was installed, I cringed at the suggestion that we needed to avoid Christian symbols. We seem embarrassed to suggest that as Christians, we might proclaim Christ crucified."
Streit addressed these concerns in a guest blog, commenting:
After two millennia the cross is now an unmistakable symbol of Christianity, it's something everyone expects to see on a church. But isn't God the One who surpasses our expectations, not the One who just meets them? Isaiah proclaimed, "Behold, I am doing a new thing." Is it unfaithful to imagine a new symbol for our faith? It may not be immediately clear exactly what a nautilus atop a cathedral means, but that ambiguity can invite thinking and conversation, much more than if we had done something less provocative, as evidenced by all the responses to Tim's blog.
The church is a designated National Historic Landmark and is listed on the National Register of Historic Places. National Park Service official Bonnie Halda told The Huffington Post that as the Church is privately owned, no special permission was required prior to construction. She wrote, "Listing of private property as a National Historic Landmark or on the National Register does not prohibit under federal law or regulations any actions which may otherwise be taken by the property owner with respect to the property."
Other complaints about the nautilus deal with the blue backlighting which illuminates the sculpture after dark. Schenck jokes that he now tells "everyone I now refer to it as St. Paul's Fish House & Raw Bar since it looks more like the entrance to a fancy seafood restaurant than a cathedral." Father Jody Howard, a priest in Tennessee, agreed, commenting, "I sort of like the plain nautilus on the blue background. I'd especially like it if it were temporary… But the backlighting? It has Joe's Crab Shack written all over it..."
Related
Before You Go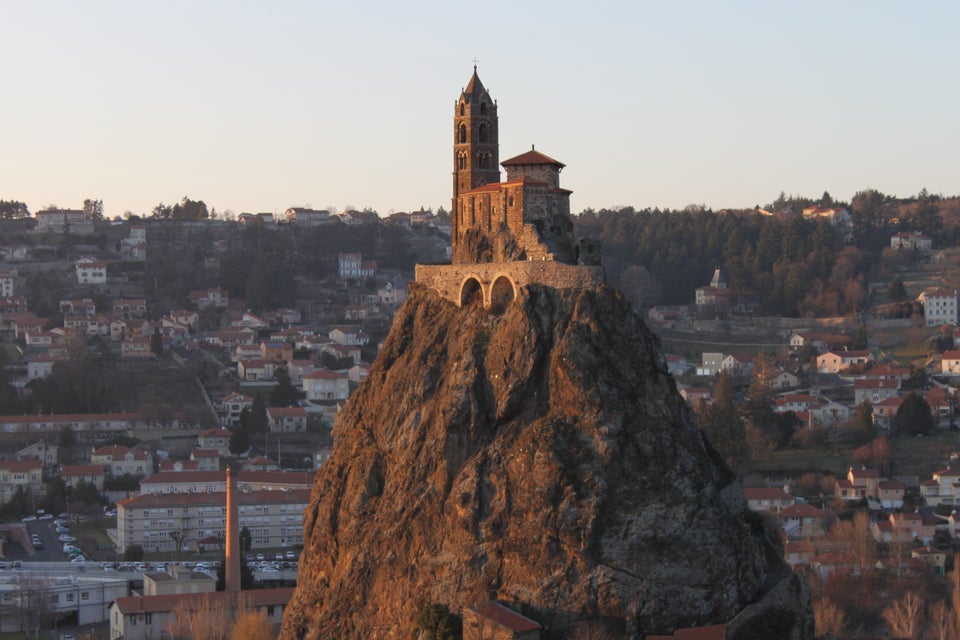 The World's 50 Most Unusual Churches
Popular in the Community