The Navajo Nation has reported more confirmed cases of COVID-19 per capita than almost every U.S. state, behind only New York and New Jersey, records show.
As of Monday, the American Indian nation had recorded 813 infections and 28 deaths linked to the coronavirus on its reservation, which spans roughly 27,000 square miles across portions of Arizona, New Mexico and Utah.
There are roughly 332,000 members enrolled in the Navajo Nation in the U.S., according to 2010 census data. About 173,667 people live on the reservation, including Navajos and people of other races, making the number of confirmed cases on the reservation about 468 per 100,000 people.
By comparison, New York and New Jersey have recorded 998 cases and 727 cases per 100,000 people, respectively, as of Tuesday. The state with the third-highest number of confirmed infections per capita is Louisiana, which has 451.
The number of confirmed COVID-19 cases on the Navajo Nation reservation ― the largest American Indian reservation in the country ― surged 367% in two weeks, jumping from 174 on March 31 to 813 on Monday.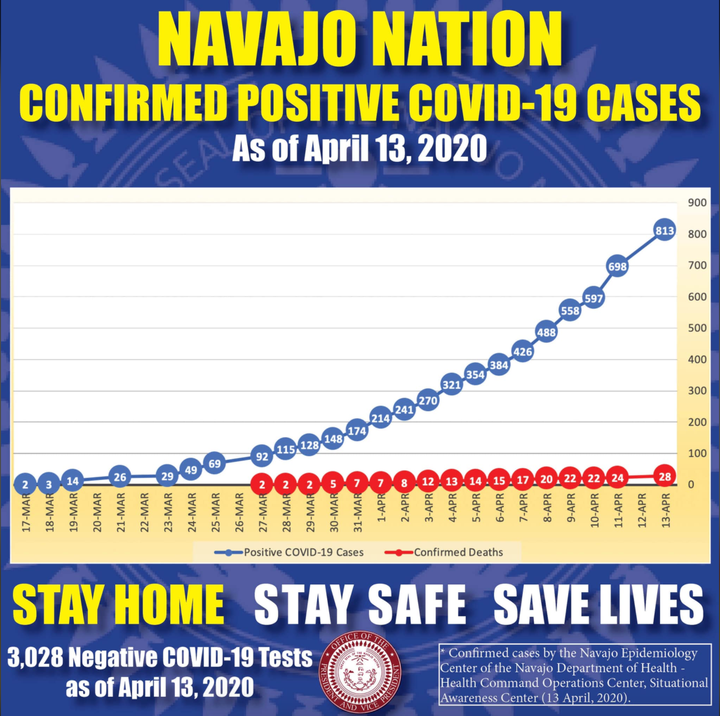 During a live online town hall Thursday, Navajo Nation President Jonathan Nez and Vice President Myron Lizer announced they are under self-quarantine after coming in contact with a first responder who later tested positive for the virus.
"The upcoming weeks are going to be very challenging, and we need everyone to support one another," Lizer said Monday in a statement. "This is an opportunity to show the world [how] strong we are as Diné people and to demonstrate our resilience once again."
Experts have warned that Native populations are particularly vulnerable to COVID-19 given their high rates of diabetes, heart disease and other underlying conditions. What's more, an estimated 40% of homes in Navajo Nation are without running water, making essential hygiene practices during a pandemic extremely challenging.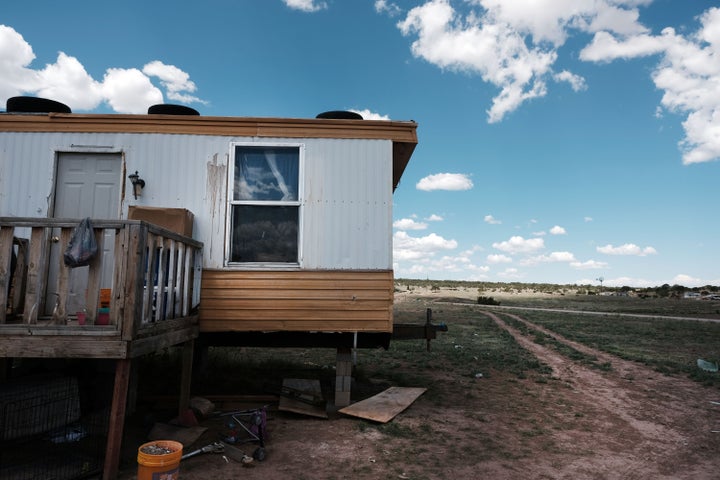 New Mexico Gov. Michelle Lujan Grisham (D) reportedly warned President Donald Trump during a phone call last month that COVID-19 could "wipe out" some tribal nations.
"We're seeing incredible spikes in the Navajo Nation," Grisham said. "This is going to be an issue where we're going to have to figure that out and think about maybe testing and surveillance opportunities."
The Navajo Nation declared a public health state of emergency on March 11. All residents have been ordered to stay at home unless they are deemed essential workers or need to seek medical care or obtain provisions. A daily curfew has been in effect from 8 p.m. to 5 a.m. since March 29.
Last weekend, Navajo officials imposed a 57-hour curfew as an additional measure to help curb the spread of the virus.
"Stay home ― it's the best place to be," Nez said Thursday during the online town hall. "We love you. That's why we're saying this to you. We can flatten this curve. We can overcome this virus that has plagued our nation."
A HuffPost Guide To Coronavirus
Related
Popular in the Community