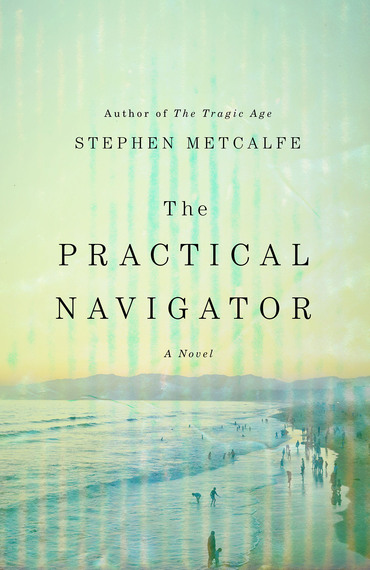 "My dad was in the maritime industry, so I was always acutely aware of the sea," says Stephen Metcalfe, author of the beautiful new novel, "The Practical Navigator." The encyclopedic American Practical Navigator, first published in 1802, is today considered a nautical institution, and a simple line from it sets the tone on page one: "Navigation is the process of charting a course from one place to another."
"That's the perfect analogy for life," Metcalfe laughs warmly. "We are all constantly trying to navigate through different proverbial weather. Looking for safe harbor. That theme just resonates with me so much."
As it will no doubt with many readers. Metcalfe's second novel (following 2014's "The Tragic Age") is a poignant tale about a Southern California building contractor (Michael Hodge) who is navigating life as the single parent of his autistic son, Jamie. That Hodge's mother has increasing dementia makes things even more complicated.
Metcalfe, who is also a playwright and well-known Hollywood screenwriter (he penned the production drafts of Pretty Woman, Dangerous Minds and many others)
tapped into some of his life to craft the father/son dynamic.
"I'm not a single parent, I've been married to an amazing woman for 25 years, buy our 19-year-old son is on the autistic spectrum which does give me a bit of unique perspective. Parents of special needs children never forget when they first get the diagnosis. When we learned about our son 15 years ago it was a lot to process and we had a lot of fears and uncertainty. I definitely used some of that experience in this story."
The rich and moving story also seems to benefit from Metcalfe's strength as a screenwriter. The dialogue has natural warmth to it and a deep sense of reality. Metcalfe's son in real life has no doubt benefited from the dedication of his parents. "We are so proud of him, Metcalfe told me. He recently swam the English Channel with a group of amazing people that do these projects with special needs kids. I know what he's capable of and when I wrote this book that helped me as well. All of a sudden I knew what this young character it was also capable of."
The audience for a story like this is of course quite broad. Hodges, a one time well-known surfer who is struggling as the owner of a small construction company, has a pathos and familiarity that is quite identifiable. When Jamie's mother (Hodge's one-time wife) Anita enters the picture, the scenarios become naturally more tense and taut.
But Metcalf believes the parents of special needs children may take a particular interest in the novel.
"Every special needs parent has a different story of coping mechanisms and potential solutions that they want for their child. In my novel I think they will find, within the story, a number of things they will be able to empathize with and hopefully pull something positive from."
"The Practical Navigator" presents a relatively new literary portrait in today's day and age, a caregiving father who selflessly navigates through many life challenges with the depth and maturity that is quite refreshing, and not just a little bit heroic.
There is still plenty of summer left and I highly recommend this for your reading list.
Calling all HuffPost superfans!
Sign up for membership to become a founding member and help shape HuffPost's next chapter