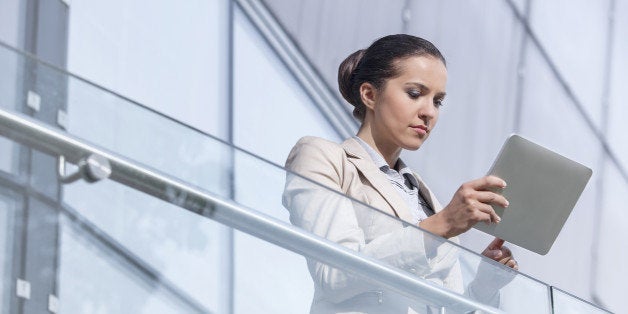 The modern workplace looks a lot different than it did 20, 10 or even five years ago. Employers are experimenting with open office plans, standing desks, salary transparency and even "nap rooms." Even the traditional eight-hour workday is disappearing, with many calling the concept of "working 9 to 5" an outdated one.
Nowadays, workers are checking in to work at all hours of the day and night. According to a recent CareerBuilder survey, one in two workers in the information technology, financial services, sales, and professional and business services sectors -- industries that historically keep traditional 9 to 5 work hours -- check or respond to work emails outside of work, and nearly two in five continue to work outside of office hours.
Thanks to the ubiquity of mobile technology, workers no longer need to physically be in the office to "clock in." And for those who need to be available outside of traditional American office hours as their employers expand operations internationally, working 9 to 5 is no longer practical.
Another factor contributing to the shift away from a traditional 40-hour work week is the increasingly competitive labor market. Employers are struggling to find workers with the complex skills they need (specifically those in STEM-related occupations) and competition for talent is tight. In effort to attract and retain in-demand talent, they are more willing to accommodate workers' demands for more flexibility in their schedules and more autonomy over their work.
As technology continues to evolve and companies become more global, keeping up with these changes will likely mean re-evaluating what it means to have a "traditional" workweek, for many companies.
But is all of this flexibility helping or hurting us?
The Downside of No More 9 to 5
Certainly, there are benefits to being able to work from anywhere at any time -- day or night. With the freedom to create one's own schedule comes the opportunity to build a better work/life balance, spend more time with loved ones or pursue outside interests or passion projects.
As the workday loses its traditional structure and becomes less defined, however, the boundaries between one's personal and professional life start to blur. Not knowing where or how to draw the line between the two can be a source of distress for some workers, creating an implied pressure to be "always on." As our research shows, this constant connectedness is already taking its toll on workers' mental wellness. Twenty-four percent of the workers in our study say the ever-present link to the office makes them feel as if their jobs are "24/7."
Nearly half of these workers say this feeling causes them more stress because they feel as if they have no downtime, while 44 percent don't feel like they have much work/life balance. One in five of these workers say this constant connectedness has caused a strain on their relationship with their significant other, and 17 percent say they are too distracted by work to enjoy leisure activities.
But even having downtime can be a source of anxiety. A separate CareerBuilder study found that more than a quarter of workers who have a Paid Time Off (PTO) program at their company still feel obligated to make up an excuse for taking a day off, indicating that there is guilt associated with taking time away from the office for themselves.
Perhaps workers do not want to give the impression they are not dedicated to their jobs, feel pressure from the boss or fear a professional setback -- from losing their job or getting passed over for a promotion to forgetting about an important project. Whatever the reason, these feelings of anxiety and guilty will only grow if not managed, potentially leading to low morale, burnout and lost productivity, which can take a toll on the organization as a whole.
How to Unplug from Work, Without the Guilt
There may be no way to stop those 3 a.m. emails from the boss, but there are ways to keep your professional life from interrupting and taking a toll on your personal one.
Set boundaries. Be candid with your boss and co-workers about when you will and won't be available, and stick to those times. Make it clear that you will respond to any non-urgent requests in a timely and respectful fashion, and that you will prioritize the most important projects and client matters.
Know what to prioritize. An email that comes in at 3 a.m. does not always require an answer at 3:02 a.m. Know the difference between what is urgent and what can wait.
Get comfortable with saying no. Contrary to what many of us believe, it's okay to say no every once in a while, especially if you have already reached the limit to what you can take on. There comes a point when saying "yes" will only set you back further on potentially more important projects.
This post is part of an editorial series produced by The Huffington Post as part of our monthlong "Work Well" initiative, which focuses on thriving in the workplace. The goal of the series -- which will feature blogs, reported features, videos, and more -- is to present creative solutions you can use to take care of yourself as you take care of business. The effort is also part of The Huffington Post's "What's Working" solutions-oriented journalism initiative. To see all the content in the "Work Well" series, visit here.
Calling all HuffPost superfans!
Sign up for membership to become a founding member and help shape HuffPost's next chapter