When it comes to being a brilliant, successful, confident, single woman in today's society, we are bound to be asked the question, "Why aren't you married yet?" This is exactly the question that Tricia Brouk and I bonded over when I reached out to interview her about overcoming the fear of public speaking.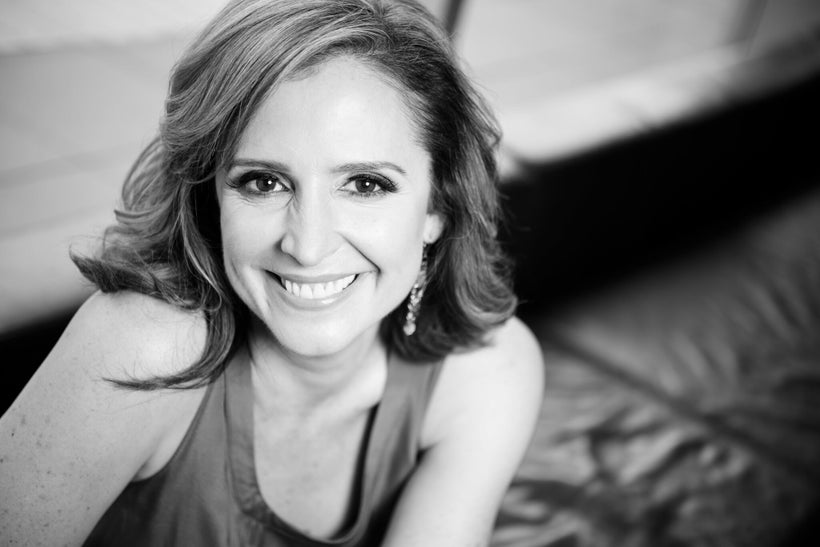 It can be easy for new entrepreneurs to look at someone with more experience and compare where they are right now to where someone else is 10+ years later. What was your life like when you started your first business?
I have been an entrepreneur for over 26 years. When I moved to New York City to pursue my career in dance I decided that I didn't want to wait tables because I don't think being a starving artist is sexy in the least.
I wanted to be a successful artist so I started a fitness company called Brouk Moves. My fitness company is still very successful. I have 15 trainers and over 25 clients in New York City and Brooklyn.
How would you define "success" when referring to your fitness business?
From the beginning, my fitness business was very successful. I had a solid group of clients, a solid group of trainers, which I still do, and that basically was how I made a living so that I could also pursue my creative entertainment business where I choreographed, directed, and wrote for film, television, and theater.
You are also a director and you are very ambitious and motivated. What was the biggest struggle you had to overcome as a woman stepping into such a big role as a female leader in your industry?
It's interesting, and I have been asked this question before, I tend to put myself in environments where I am supported. I don't go to environments where I feel like a second class citizen, and I know that exists and I work every day to try to counter that by supporting other female directors and by working on sets that have a lot of women on them.
I think it's a constant struggle because we are not being given the opportunity first to take a meeting so if we are not being given the opportunity to take a meeting as as a female director then we are not going to have the opportunity to actually book the job.
I also produce theater and I produce a web series so if we give anybody and everybody an opportunity to walk through that door (as producers) then the person who is most qualified should get the job, but if women aren't even given the opportunity to walk through the door, then that is what I think is the biggest problem.
I walk through doors where I am welcomed and I suggest that all women walk through doors where they are welcomed because when they walk in and they are prepared and they are amazing and their point of view is what is going to make the best sale, pitch, story teller, then they are going to book the job whether they are up against a man or not.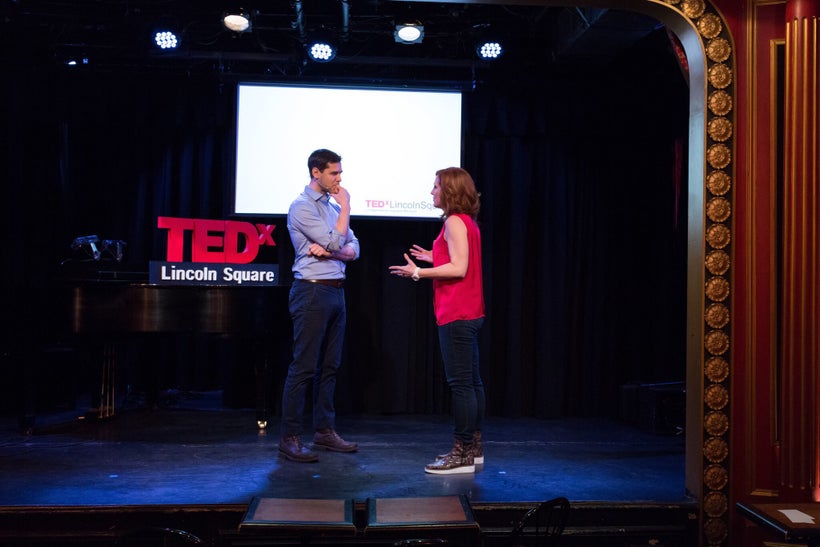 I love what you said about women supporting each other even when we know that these situations exist where we are not supported. I also think sometimes as women we hold ourselves back by waiting for permission or validation that our ideas are good, or permission to walk through the door before we decide to go for it. How do you know if a door is welcoming before you decide to go through?
I think the first thing we need to do as female entrepreneurs, as female leaders is to give ourselves permission. It has to start there. We have to give ourselves permission to succeed, to be leaders, to be authorities, and to be confident and to know that what we bring is of value to others and the moment we do that, we walk through a door and that will show. Whether they want to receive it has nothing to do with us. So if we can continuously remind ourselves, "I give myself permission to be awesome no matter what" then walking through the door can't hurt us.
You wear so many hats and you have accomplished so much, I can't imagine how you had time to date. Was it a priority for you to find a life partner?
When I met Joe, I was happily single, successful and not interested in a husband.
Exactly the right combination to attract people who want to be your husband.
I had my own money, I didn't want kids. I had amazing friends and a rent-stabilized apartment with my name on the lease. I didn't need a partner. And I certainly didn't want to be legally bound to someone for the rest of my life. Even business contracts have an out clause. None of them say "we are going to be producing partners until one of us dies". The notion of that was crazy to me, so I chose to stay unmarried. And note, that's different than being single.
You are married now though, at what point do you feel things changed for you in your relationship with Joe?
While Joe and I were dating, we were in a committed and monogamous relationship. As it became more serious, we still stayed separate. We did not live together, as I need my own space. There are some days when you want to spend the entire day alone, not sharing food, not asking what the other person wants to watch on TV and not caring if you work all day long with no break.
Three years into our dating, I was struck by the concern that if something were to happen to Joe and I wasn't in a legal contract with him, I couldn't help him or be with him at the hospital. Then it became even deeper, I believed I found my teammate in life and at that moment, I thought, "Okay, I want to be legally bound to this person." But, I also thought to myself, "I'm not changing my name and I'm not walking down an aisle toward anyone."
We proposed to each other. But it was important to Joe for me to walk down the aisle, so like any business, you negotiate and we did just that. We negotiated my not changing my name, and in return I walked toward him. Negotiating and compromising are what makes a successful relationship in business and in love.
Tell me more about the wedding and how you were able to honor your wishes of wanting to walk together.
The wedding was simple. We are both in showbiz and have been in fancy costumes on stages all over the world, a wedding was not a show to us. For me it was a place to take vows in front of our loved ones, so that when things go south, I can call up all the people who were there and ask why did I marry this person? I'm speaking for myself now. Joe may have different thoughts on this.
It was a business deal, it was a spiritual deal, it was a commitment I took and take very seriously. I've always been an independent creator and entrepreneur, so I thought it would be like any other moment it time when I directed a show successfully or increased sales and celebrated the win. I thought it would feel like an awesome accomplishment and a big win.
Did it end up feeling like a big win when everything was said and done?
Immediately after the wedding day, some of the questions that ran through my head were:
Who the fuck was I now?
How was I supposed to be in the world?
Did my sexuality cease to exist?
Being someone's wife felt like I was no longer Tricia, I was someone's wife.
Did he own me? I didn't want to work for anyone, so why would I want to be in a company of Mr. and Mrs.?
I didn't call Joe my husband for a solid year.
I cried involuntarily for the entire next day and even on our flight to Mexico.
On our honeymoon, I chose to read Elizabeth Gilbert's follow up to Eat, Pray Love, called Committed. It's a book about how what why and how she dealt with her relationship to Felipe, who she and he agreed to never get married under any circumstance.
I won't give it away as to why they marry, but it's really a candid look at marriage, divorce, commitment and the real work it takes to legally do forever with somebody.
How do you feel about your marriage now?
My most successful production to date is my marriage.
You didn't stop creating after you got married. Since then you have started another company, The Big Talk. When did you start this company and how did the idea come about?
I started The Big Talk in August 2016 because I realized people want to take the stage and share their message. And I can help them do that. It's been an organic expansion of my second business.
Petra Kolber (speaker, happiness consultant, entrepreneur, author) was asked to do TEDx Syracuse and she had been coming to shows I've directed and written for years and she asked me to direct her TEDx talk, "The Perfection Detox".
We began to work together and it was just like working with any actor on any show. What was different was that her message was so inspiring and so important that I felt like I was being given free inspiration every day at rehearsal. I just got to sit there and listen to this amazing woman talk to me about what it meant to be happy and give her notes.
So unlike actors where it's all about them, when a public speaker comes to me it is all about the message that the speaker wants to deliver and I loved that.
So Petra did TEDx Syracuse and it was a huge success and she came back to me and said, "You should really do this, you are so good at it."
What I realized through starting The Big Talk and having the opportunity to work with people who have such an important message was that it was much bigger than me and I didn't expect that. Not only do I get to help speakers share their message, but I also get to help speakers become who they are meant to be in the world on the stage and that was a gift I was not expecting. So I am so excited and honored that The Big Talk has left the station and I am on the train.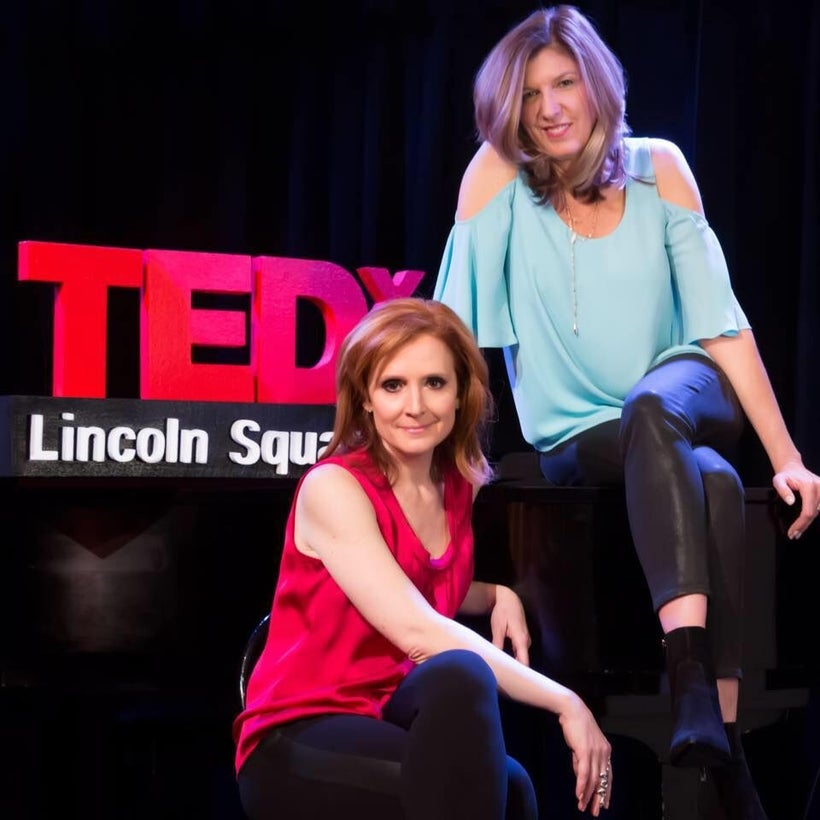 It sounds like you have always been very confident to be able to decide not to wait tables and to start a business right away so that you could pursue all of your passions. Was there ever a time where you worried about having your own voice heard?
Absolutely! I was dancer, I didn't have to talk, all I had to do was move. All I had to do was express my emotion and what I needed you to know about me through physicality. I didn't have to use my voice.
So the moment I began speaking and I began writing and I was unable to hide behind my physicality it was a complete shift for me and one that I loved because I am still physical, I am still working in the world of choreography, I still express myself through movement and I still express ideas through movement, but the moment I was able to actually speak the words it was a completely different experience and one that I loved because I could be more specific. And I do that on my podcast, The Big Talk. I use my voice, solely.
Movement vocabulary can be interpreted. but when I am saying something and I am very specific, it is exactly what I want you to hear. That is something I help speakers with as well. Sometimes when we are writing a big talk we think we are expressing ourselves in one way but it's not exactly what we are meaning to say. So I try to get my speakers to express what they need in the way that they want it to be heard and that is a very interesting thing. That is something we all want. We don't want to be misunderstood. So if we can communicate clearly through words and are understood exactly how we are meant to be heard then we have just won.
The Art of The Big Talk is starting July 24th. How did you come up with this idea for a group program?
People were coming to me with the struggle of how to come up with ideas. One of the things I do with my clients that I work with one on one is that I have an active listening session with them. What I do in that time is listen to what they think their idea is and what they want their idea to be. Then I reflect back to them what their idea actually is because sometimes it's hidden in either their business or it is hidden behind a fear of really telling me what is going on or it is hidden behind who they think they are as a speaker.
I realized that people need help identifying ideas and not being afraid to try on a million ideas for size because that could lead you down a road that could potentially give you an idea you weren't expecting and it can open up your world. So, I decided to create The Art of The Big Talk because I really approach identifying ideas and creating talks as I do in theater, film and television as a writer. I am an artist and I create through my soul, my heart, and the truth. As an artist my focus can be completely on creating and I try to let go of anything about sales or my own beliefs. One of the most important things to me is not allowing that idea stop us to the point of getting in our own way.
I created The Art of The Big Talk to give people an opportunity to work with me in this way without having to work with me one on one. People can do the work on their own schedule, it's much more affordable, and it gives people the same creative ideas so that they get to find their big idea and write a big talk.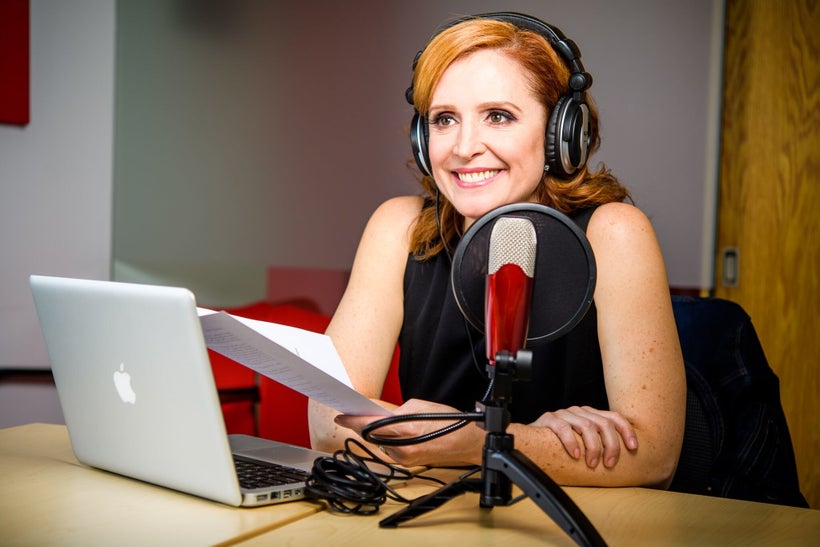 What types of speakers do you usually work with?
I work with speakers at all levels. The thing they have in common is that they have that big message they need to share. In Season 5 of The Big Talk podcast I am taking you behind the scenes as I work with four speakers from start to finish. This season of my podcast is completely different from previous seasons because you get to know the speakers personally and see how they overcome their fears, but also how their ideas evolve into the big talk they are about to give. The Big Talk: Journey to The Big Stage will launch July 25th on iTunes.
The last day to enroll in The Art of The Big Talk is July 24th. For more information on this program and other ways you can work with Tricia Brouk to prepare for your next big talk you can visit www.thebigtalknyc.com.
Calling all HuffPost superfans!
Sign up for membership to become a founding member and help shape HuffPost's next chapter
This post was published on the now-closed HuffPost Contributor platform. Contributors control their own work and posted freely to our site. If you need to flag this entry as abusive,
send us an email
.