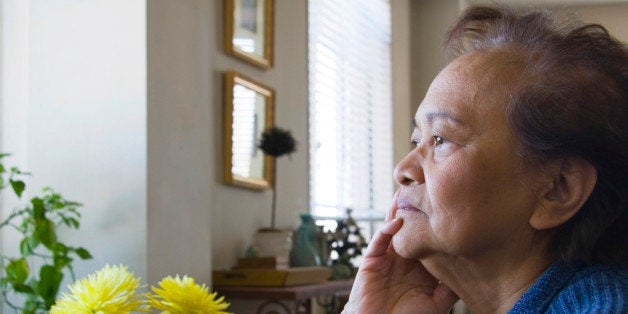 For those who have recently experienced the death of a loved one, the holiday season can be a painful reminder of what has been lost, and for some, a dreaded time of isolation amid seemingly incessant cheer. My colleagues and I at Visiting Nurse Service of New York Hospice and Palliative Care see this every year, as we help people who have lost loved ones navigate what can be one of the most difficult times of year.
Many people find it useful to plan ahead, scheduling personal time to be reflective and alone as well as time to be with others. Having these distinct commitments written on the calendar can help make the holidays feel manageable as opposed to monolithic. Also keep in mind that whatever you do this season does not need to be what you do from now on. Bereavement when a loved one dies can open the door for exploration of new traditions and opportunities.
Here are a few strategies that our counselors recommend for anyone looking for a little guidance in how to manage grief this holiday season:
Build community of your choice
Vince Corso, lead bereavement counselor at VNSNY, points out that the holiday season in all its marketing glory is often filled with unreal expectations for intimacy, closeness and joy for all. He counsels those who are coping with loss during the holiday season to recognize this false intimacy for what it is and surround yourself with a community of genuinely caring friends and relatives who understand your feelings and are willing to listen. This can also include bereavement support groups of people who are experiencing the same thing over the holidays.
While seeking solitude is certainly acceptable in a time of grieving, try to put yourself among people for at least one event during the holidays. If the right invitation is not forthcoming, make one of your own. Select one or a small group of people who have been the most supportive and invite them to join you in an event of your choosing, perhaps to accompany you to the gravesite over the holidays, take a walk on Christmas Day, or join you at church Christmas Eve.
Express your feelings
Tell others how you are and don't be afraid to talk about the person who has died. Being open will help you to work through the many changes you are experiencing and help foster community. Try not to feel pressure from the insistent sense of holiday cheer--the songs, lights, decorations and unbridled commerce. If you are honest in your conversation with friends and loved ones, you may find that others are experiencing complex feelings at the holidays, as well.
Create new rituals
Rituals are powerful bridges: from past to present, from individual to community, from recognizing loss to embracing life. The holiday season, of course, is full of rituals, but this year you may want to adapt them to your needs or create new ones that mark both love and loss. Spiritual counselor Sam Kasten suggests making a new ritual out of visiting a favorite place you shared with your loved one and marking the event in some way--whether lighting a candle, reading a poem or a piece of correspondence, or writing down your thoughts.
For example, after her husband died, Rhonda N. created a new ritual with her grandson Brian: spending Christmas Day serving meals at a soup kitchen together, celebrating the bond Brian and his grandfather shared for volunteering.
Take care of yourself
Take time to take care of yourself during what can be a stressful time of year, and seek outside help for your grief when necessary. If your anxiety over the holidays is too much to bear, seek professional assistance and/or a support group to share with others the additional stress of mourning during the holidays. Remember, seeking help is a sign of strength, not weakness. Maintain regular contact with your family physician; eat well and get plenty of rest. Be aware of the danger of developing a dependence on medication or alcohol.
Allow yourself moments of recovery
Paul R. lost his wife over Thanksgiving last year. The following Christmas was a blur, and he was prepared for a difficult holiday season this year, too. To his surprise--and budding guilt--he found himself singing and dancing as he decorated the Christmas tree with his young granddaughters. Recovery is a normal part of bereavement. Don't feel shame or guilt if you find an hour or a day has gone by without thinking of your loved one, or if you find moments of enjoyment among family and friends this holiday season.
Vince reminds us that survivors come through the grief process forever changed, but most do come through. "Seasons come and go, but our losses remain with us," he says. "Recovery does not mean forgetting or going on as if wholly cured. It does mean that acute pain caused by the loss is now a bearable ache and that our commitment to go on despite significant loss in our life will bear the fruit of love and laughter once more."
This post is part of Common Grief, a Healthy Living editorial initiative. Grief is an inevitable part of life, but that doesn't make navigating it any easier. The deep sorrow that accompanies the death of a loved one, the end of a marriage or even moving far away from home, is real. But while grief is universal, we all grieve differently. So we started Common Grief to help learn from each other. Let's talk about living with loss. If you have a story you'd like to share, email us at strongertogether@huffingtonpost.com.
Popular in the Community