Low-Cost Carriers (LCC) now have their own terminal at Tokyo's Narita International Airport, Terminal 3. As you might expect, it's a bit more spartan than other areas of Narita with a real utilitarian look. Might as well get used to the pared down amenities before you board the flight, right?
Terminal 3 is a compact little place with just enough shops - both mundane and trendy - and a good food court full of affordable choices. As of this writing, there is no Starbucks. I know this matters to people, so be prepared!
Terminal 3 is a long walk from Terminal 2 - over 600 meters. The access concourse is covered, but outdoors. If you are arriving in the cold or hot season, be prepared to feel the weather! Making a connection at Narita? Getting to or from Terminal 3 can easily take twenty minutes or more. Give yourself a lot of extra time.
Here's a quick look at what to expect.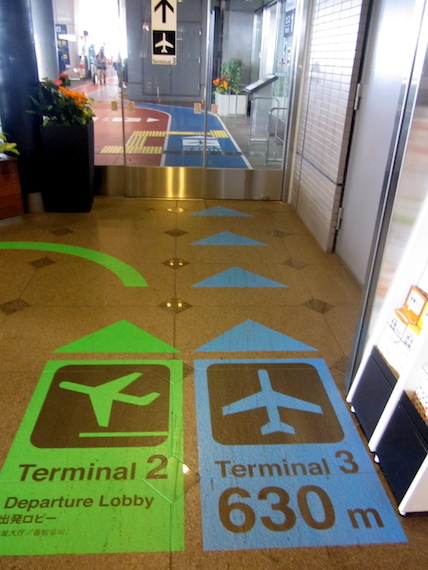 It's a long walk between Terminal 2 and 3. Photo by Gail Nakada.
Access: Many travelers arrive by train from Tokyo on the Narita Express or Keisei lines. Get out at Terminal 2. Once you exit the ticket machine, follow the large blue triangles saying 'Terminal 3'. They will lead you to an escalator. Take it up to ground level and continue following the clearly marked blue path along the concourse to the entrance.
Should you arrive by the 'Airport Limousine' or other bus service, check and see if your bus stops at Terminal 3, many of them do (though it's still a bit of a walk). If not, get out at Terminal 2 and follow the blue path marked along the sidewalk.
Carrying a lot of luggage? Carts are free at Narita and you can use them from the ground floor almost to the entrance of Terminal 3 and vice versa. They are available once again as you ascend (or descend) the escalator on the terminal concourse, so load 'em up.
FYI, blue is for those going to Terminal 3. The red path takes travelers arriving at Terminal 3 to the main terminal.
If you arrive at Terminal 1 or need to get there from Terminal 2, there is a free shuttle to and from both. At Terminal 1, go to Bus Stop 6 on the arrivals level. The stop and route are clearly marked on the bright yellow bus and kiosk. At Terminal 2, go to either Bus Stop 8 or 18 on the arrivals level. (No. 8 is closest to the Terminal 3 concourse.)
A free shuttle also operates between Terminal 3 and Terminals 1 and 2, though it only comes about once every 15 minutes or so and the route can be roundabout. To get to Terminal 3 from Terminal 2, walking is the easiest way if you can manage it.
From Terminal 3, look for the shuttle bus sign a few meters ahead after you exit the building, on the covered path to Terminal 2. Go down the escalator and outside to the bus stop shed. You have to walk through an open area to reach the bus stop. If the weather is bad, you will get wet.
Carriers: As of this writing, Jetstar; Spring Japan; Vanilla Air; and Jeju Air are all in Terminal 3. Peach, another LCC, is actually located in the South Arrival Hall, Terminal 2. This situation could change, so be sure to check the airline's website.
Restaurants: All the restaurants are conveniently clustered around a food court and central seating area beyond check-in.
Hamburgers, sushi, Japanese soup and fried noodles, baked goods, coffee, and more are available at reasonable prices. The food court is open from 4 a.m. to 9 p.m.
After outbound passport control, there is a Caffebene cafe for a last minute caffeine break.
Shops:
Like the Food Court, shops are open daily from 4 a.m. to 9 p.m. A Lawson convenience store stands right outside the check-in area for those last minute needs. (Remember, if you are departing, you still have to go through security so don't stock up on drinks!)
There is no standard sort of 'souvenir shop' full of kitschy gifts in the departure lounge before security. After outbound passport control, however, there are several Duty-Free and souvenir shops under the FaSoLa chain.
Tokyo Shokuhinkan features a surprisingly complete selection of Tokyo's signature sweets, cookies, and crackers.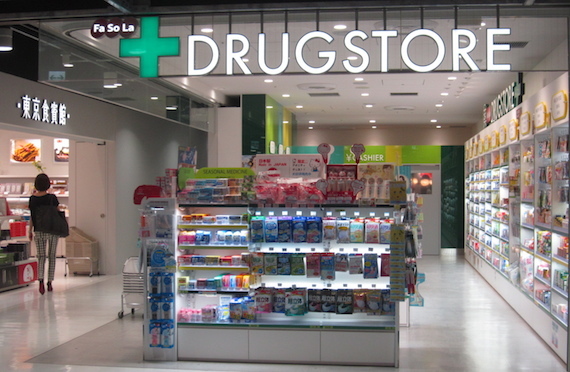 Photo by Gail Nakada.
The FaSoLa drugstore is opposite the food court and next to the sweet shop. Small but well stocked for emergencies.
A couple of other shops, including stands run by the LCC carriers, round out this area.
Below are some official links for the airport and Terminal 3 in English.
Terminal 3 English Website.
Narita Access Guide in English.
Narita Airport Official English Website.