The United States Navy just announced that after this 2008 racing season, they will no longer sponsor NASCAR's Number 88 Nationwide Series car, which is owned by Dale Earnhardt, Jr. and driven by Brad Keselowski. The sponsorship is probably worth between $3 and $4 million a year. (Jeff Gordon leads the pack in his Dupont Chevrolet).


The Navy seems to be getting their money's worth as these things are measured in motor racing; Keselowski is second place in points in the Nationwide Series halfway through the season and has a good shot at the winning the series' championship. Sponsors with teams and drivers producing that kind of record usually don't cancel their advertising.
The Pentagon is convinced that NASCAR delivers one of their most dependable pools of potential recruits; fresh meat, as it were. Many of NASCAR's top drivers and teams over the years have carried sponsorships from the Navy, Army, Air Force, Coast Guard, National Guard, Marines and, yes, even the US Border Patrol. The only one missing is Homeland Security. (This artwork depicts plans for NASCAR's opening-in-2010 Hall of Fame in Charlotte, North Carolina.)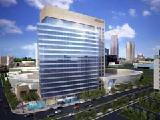 In the world of NASCAR, and for sports sponsorships in general, this cancellation is big, definitely unwelcome news. Even bigger are the implications for the many teams supported by the tens, perhaps hundreds of millions of dollars in total which flows every year from the US military to auto racing, with NASCAR generally their sport of choice. (This guy climbed Mt. Everest, and using a satellite phone from his base camp, called NASCAR headquarters; NASCAR delivered to him, by helicopter and just two days later, a NASCAR flag which he took to the top of the mountain.)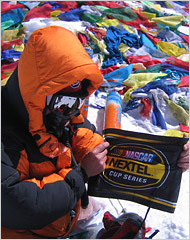 There's more than one irony at work here; most professional racers, in NASCAR and other series, because of the dedication their sports demand during their teenage years, have no military experience. Lewis Hamilton, the British driver who is leading (as I write this) in the championship points of what many consider the pinnacle of motor racing, the Formula One series, began racing go-karts, and not the kind most Americans think of when they hear the term, at the age of eight. These karts are fast, sophisticated racing machines, not of the old-lawn-mower-engine-on-a-home-built-chassis-type. At ten, he met Ron Dennis, head of the traditional powerhouse McLaren-Mercedes F1 team, and at 13 he signed contract with Dennis. Hamilton is also the first black race car driver to ever enjoy such worldwide prominence. NASCAR officials publicly claim they'd like to see minorities excel in their sport, but that's for another posting. We promise to get to that topic among many others in this racing series, from the dependably christian invocation and military pageantry before each race to NASCAR not having any drug policy and more.
The Nationwide Series, formerly the Busch Series (which was named for the heavy-spending beer), is NASCAR's AAA Division, the last rung on the ladder up before a driver is skilled enough to enter the top-flight Sprint Cup, where the big money and fan adulation is found. (Here's the NASCAR racing Camry. Toyota is now in all three of NASCAR's professional series, Sprint Cup, Nationwide Series and Sears Craftsman Truck Series, and they are nearly dominating each of those series.)

An occasionally competitive four-car Sprint Cup team will need somewhere in the neighborhood of $40 to $50 million a year in basic sponsorship dollars, spread out over the fewest number of sponsors as possible.Top-echelon Sprint Cup teams may have as many as 200 or more people working full-time in the spotless, high-tech facilities where the cars are built and maintained. That's in addition to the 30-or-more people who travel with the race cars via private plane or in one of the two-or-more gigantic team tractor-trailers emblazoned with the names of the drivers and sponsors. They go to more than 35 races over the course of the season, which starts in February with the Daytona 500 and ends in mid-November at a track outside Miami, FL. Many of the races and the entire season is entirely too long. Grist for yet another posting. (A happy family of NASCAR fans pose with several millions dollars-worth of race car and trailer; note the sponsorship.)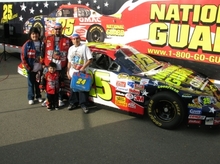 Roush Fenway Racing, one of the Sprint Cup's top teams, recently re-signed driver Carl Edwards to a three-year contract with insurance giant Aflac providing the financing for Edwards and other team costs. News reports say the deal is close to $78 million. Edwards, a talented driver, is a standard-issue All-American-type with a square jaw that gives Gary Cooper a run for his money. He does somersaults off his car when he wins, much to the consternation of his team owners, who don't want their golden goose injured. Edwards also flies his own jet from race to race and says things like, "That's real neat!" during interviews. Where do they find these guys? (Another NASCAR fan expresses his support for this hard liquor sponsor.)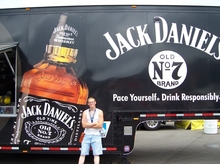 Calling all HuffPost superfans!
Sign up for membership to become a founding member and help shape HuffPost's next chapter