An Army hospital in Thailand provided my first encounter with military medicine and surgery. Air Force flight surgeons treated my family and me. I saw Navy medicine firsthand in Lebanon. Military medicine remains my primary source of health care. If anyone can combine two major medical centers in the national capital region (NCR) during wartime, it is the military.
Navy leadership at the National Naval Medical Center, Bethesda invited me to visit and tour the new medical center. We had a frank exchange of views concerning the new Walter Reed National Military Medical Center (WRNMMC). I stand corrected. Navy leadership does have skin in the game and is focused on patient care. The rub appears to be mission execution.
Clearly, congressional and Department of Defense (DoD) intent is to create a world-class medical center combining the best of the Walter Reed and Navy Bethesda medical centers. Congress created an unprecedented opportunity to institutionalize the knowledge responsible for reducing deaths of our wounded soldiers from 25 percent to less than 5 percent while resulting in the world-class treatment Congresswoman Giffords found in an Arizona emergency room.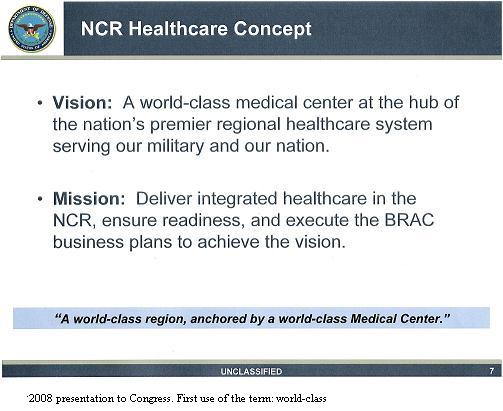 In study after study, DoD and outside reviews confirm that a combined military medical command is the most effective and least expensive means to provide health care to the vast military community. Navy leadership at Bethesda claims the new Walter Reed will be a Navy hospital. The Navy view appears to contradict 17 March 2011 testimony by Dr. Clifford Stanley, the Under Secretary of Defense for Personnel and Readiness, before the House Armed Services Committee:
"...The BRAC projects are only part of the larger transformation of Military Medicine in the NCR. The NCR contains a mix of nearly 40 Army, Navy, and Air Force Medical Treatment Facilities (MTFs), has almost 550,000 eligible beneficiaries, and runs on an annual operating budget of almost $1.5 Billion. Its most important patients are the casualties returning from the war and their families. The Department is taking the opportunity to substantially enhance and transform this multi-Service military healthcare market to provide effective and efficient world-class healthcare. The Joint Task Force National Capital Region Medical (JTF CapMed) is a standing JTF that was established to oversee the rationalization and realignment of medical infrastructure to achieve greater effectiveness and cost efficiency through the integrated delivery of healthcare..."
JTF CapMed agrees and disagrees with the Navy view:
"...Currently, NNMC [Navy Bethesda] is a Navy hospital under the operational control of JTF CAPMED. WRAMC [Walter Reed] and DACH are Army hospitals under the operational control of JTF CAPMED. From that perspective, it is correct to say that they are Service hospitals and will be so in the transition period surrounding BRAC.
The Comprehensive Master Plan, as reported to Congress, provides that WRNMMC [new Walter Reed] and FBCH [Fort Belvoir] will become Joint hospitals..." words in [ ] are my own
Each service possesses individual priorities and concentrations. A fully joint medical center creates the best opportunity for an optimized and economical health care system.
Currently, over 40 operating rooms serve our military in the national capital region. The new Walter Reed National Military Medical Center is relying upon just 13 new operating rooms after September 15 while awaiting construction of new operating rooms. Ten new operating rooms being constructed at Fort Belvoir may be ready on time to assist with wounded surgeries.
We are engaged in three military interventions and confronted with a very unstable environment in Northern Africa and the Middle East. At any moment, US military casualties may soar. The world-class facilities for treating many of our wounded are Walter Reed and Navy Bethesda soon to be combined into the new Walter Reed National Military Medical Center. It appears reckless to unnecessarily draw down and stress operating rooms and teams at a time when they could be stressed even further by increased casualties.
Because of limited operating rooms, non-wounded ill and injured are being directed onto the much more expensive public sector health care system. The military family is crucial to provide the patient load necessary to sustain a world-class medical center. The military is intensely loyal. It will be extremely difficult to reattract patients lost to other health care providers. The risks and costs of prematurely closing the old Walter Reed world-class operating rooms appear prohibitive without alternatives. According to "Buzz on BRAC: Bragg may be least of Chiarelli's worries", Henry Cuningham, fayobserver.com, 14 March 2011:
"We've got some areas that we've got to work that keep me up at night," said Gen. Peter Chiarelli, the Army vice chief of staff. "My biggest concern, of course, is the shutdown of Walter Reed (Army Medical Center). That's a tough one."
General Chiarelli's concern is well placed.
REAL LIFE. REAL NEWS. REAL VOICES.
Help us tell more of the stories that matter from voices that too often remain unheard.