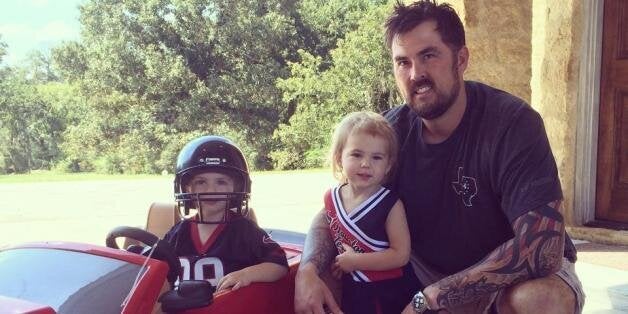 Retired Navy SEAL Marcus Luttrell became famous after his harrowing experience during Operation Red Wings in Afghanistan, which became the subject of the Oscar-nominated film "Lone Survivor." Recently, the military veteran has made headlines again for a Facebook status he posted about a very different topic -- fatherhood.
Luttrell is dad to 3-year-old son Axe and 2-year-old daughter Addie. In his now-viral Facebook post, he lists his demands for any future suitors that might want to date Addie when she grows up.
The requirements include doing yard work and interviewing with prison guards and MMA fighters. But perhaps the most controversial statement in the post is this: "Thinking about having a chastity belt made w/ a SEAL trident engraved on it and reads 'Ask father for key.' He's the 6'5 250lbs tattooed maniac that's chained to the wall. w/ the bad temper and foaming from the mouth that's sleeps under the tarp in the back yard w/ the fire ants and snakes."
Read the whole post here:
As of Monday afternoon, the post has been shared over 4,500 times and has almost 40,000 "likes." While many dads have chimed in on the comments thread to express how protective they are of their own daughters, some commenters have highlighted what they see as the more problematic aspects of the post. One man wrote, in part:
"This is one of the major problems within our society today...as the dad he can protect and advise is daughter all he wants but in the end...it isn't his choice or his life....it belongs to her," adding that, until society realizes that "we can't control a woman's choice, it is her's [sic] to make, we will continue to have gender issues in this country."
Another commenter echoed that sentiment. "I know this is how daddies feel about their little girls and the comments are very funny," she wrote. "But in reality, if you treat her the way you want these boys to treat her, she will make good choices. Give her the respect she needs to grow into a well adjusted, confident young woman. Love the sense of humor portrayed here though!"
When this "Feminist Father" tee went viral over the summer, people expressed similar thoughts about the kinds of "rules" that dads should keep in mind when it comes to their daughters' dating lives.
"It's her body and it is a wise father who recognizes that and educates her accordingly to make the best possible decisions," wrote one commenter.
Popular in the Community