Steely determination to further her assassinated father's mission and a distaste for sectarian politics puts Nayla Tueni in an odd position, since she's both general manager of Lebanon's Annahar daily and a member of parliament.
She's also an activist working with youth promoting the cause of freedom and stability for her tortured country, and makes no bones about it.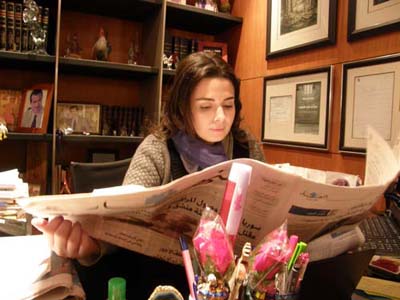 Nayla Tueni (Abu-Fadil)
"When you're a journalist, you're always in politics," she said. "Being a journalist is as important as being an MP since journalists here are freer than anywhere (in the Arab world), and through Annahar we can affect politics."
A woman in a senior position breaking the corporate glass ceiling without being the daughter, sister, or wife, of a leading media personality is almost impossible.
What does Tueni want to prove as a politician and how can she reconcile that with her job on the paper founded by her great grandfather? Is there conflict of interest?
"I'm not using my paper to further my political career. Annahar has principles that don't change," she insisted, adding that she doesn't use the media to market herself.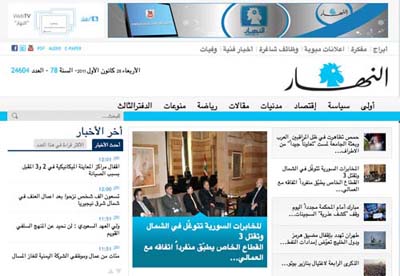 Annahar website screen shot
But she admits that Lebanese youth have been remiss in not voting in people who can effect change.
The turnoff for her is that laws to solve the country's chronic electricity shortages or issues on gender-based violence, for example, are frozen in parliament because of political stagnation, so she hasn't been very visible during legislative deliberations.
She also dislikes having bodyguards like other politicians and wants to maintain a normal lifestyle but complains that people don't let her be herself.
In 2009 she told the pan-Arab daily Asharq Al-Awsat she'd learned negotiating skills from her grandfather Michel El Murr, a veteran politician and former cabinet minister, and, steely determination and philosophy from her grandfather Ghassan Tueni, the dean of Lebanese journalists and a former diplomat, MP and cabinet minister.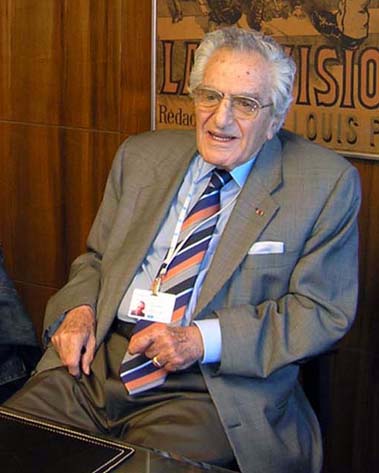 Dean of Lebanese journalists Ghassan Tueni (Abu-Fadil)
When elected that year at age 26 she was the youngest legislator in the Lebanese parliament.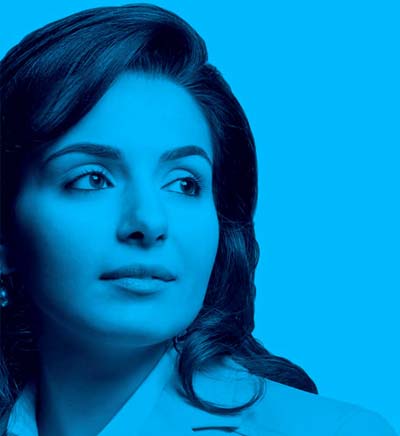 Nayla Tueni election poster
She was criticized for mimicking other political dynasties, where offspring replace their parents in office.
Tueni's father Gebran, a vocal critic of Syrian tutelage in Lebanon, was publisher of Annahar and a member of parliament when he was blown up in his car along with two companions on December 12, 2005.
Asked whether people expected too much from her because of who her father and grandfather are, she replied: "Yes, of course. But I'm neither. We each have our own individual stamp."
However, all three are on the same path in their love for Lebanon and defense of freedom, she noted.
Since her election to fill her father's Greek Orthodox seat, she's been criticized by constituents in the predominantly Christian electoral base for not being a typical politician, making the rounds of funerals, social occasions, and other time-consuming events.
The pro-Syrian Lebanese daily Assafir, another family-run paper, took a stab at Tueni suggesting her maternal uncle Elias El Murr -- also a former cabinet minister and son of Michel El Murr -- might fill her seat in the Ashrafieh district of Beirut at the next election given her sagging popularity among voters.
It reported she had reneged on her "March 14" principles, in reference to the popular anti-Syrian movement that followed the assassination of former prime minister Rafic Hariri on Valentine's Day in 2005, that mobilized her father and his supporters in mass demonstrations leading to the ouster of Syrian forces from Lebanon.
But Tueni is adamant she is the product of that revolution and has not wavered in her commitment to its principles, despite what detractors within that coalition, and in the opposing "March 8" bloc, may say.
More pointed, and to the horror of older sectarian wags, she committed the ultimate sin of marrying a Muslim, and a Shiite to boot.
But Tueni's argument has been: How can the Lebanese co-exist if interreligious and civil marriage are frowned upon?
She and her husband, TV show host Malek Maktabi, had to wed on the island of Cyprus in a civil ceremony since civil marriage is not permitted in Lebanon.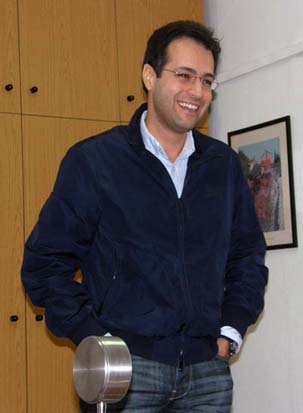 Tueni's husband Malek Maktabi (Abu-Fadil)
On the sixth anniversary of her father's assassination, Tueni wrote a front page editorial entitled "Steadfast...forever."
She stressed that his anti-Syrian regime stance had not dampened with his demise, and that his successors still carried the torch despite all challenges and threats.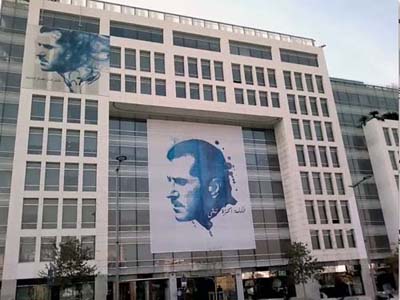 Annahar building with pictures marking 6th anniversary of
Gebran Tueni's assassination (Abu-Fadil)
A major challenge has been sustaining the print edition, growing the online version, adapting to mobile and multi-platform outlets and staying afloat.
I asked Tueni if Annahar was financially stable.
"We're not on solid ground yet, what with the (regional) situation around us," she said. "We've got 25%-30% of the ad market and we're trying our best."

In 2009 Annahar was restructured leading to the dismissal of 50 reporters, editors, and staffers. Tueni was accused of playing politics, of being unfair to those who had been loyal for decades, and of notifying them by registered mail (or through the media) rather than in person.
"That's not true. It wasn't politically motivated. We worked on many levels. We had to do this. The situation of all the media is precarious. We had to cut costs. We couldn't have 300 employees. Booz-Allen-Hamilton didn't select the names of those who left," she said in defense of the layoffs.
Annahar had hired consulting firm Booz-Allen-Hamilton to assess how to cut costs and still remain efficient. A reporter at Annahar who declined to be identified criticized the way staffers were fired, saying the evaluation of reporters' and editors' productivity didn't fit the Lebanese context.
Tueni defended the decision, saying the consulting company had used local experts to judge how to pare down the payroll.
One of those dismissed, former foreign editor and lead columnist Sahar Baasiri, wrote a letter to her colleagues in 2009 saying the institution that boasted about its modernity and liberalism, and in keeping with its image, could have restructured without resorting to mass and unfair layoffs.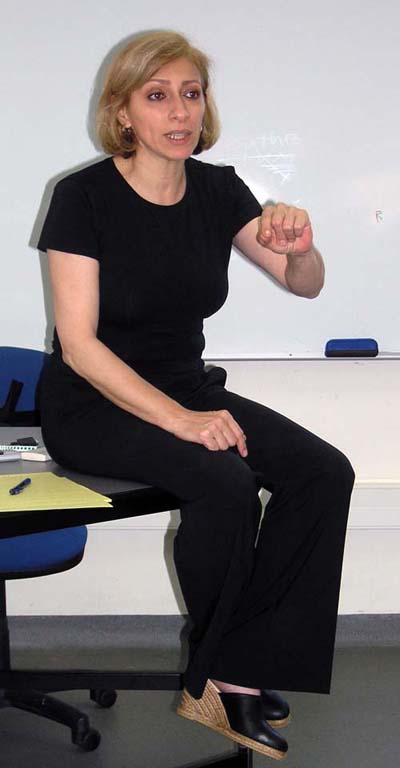 Former foreign editor/columnist Sahar Baasiri (Abu-Fadil)
"It could have renegotiated with those whose salaries it considered high to have them lowered, for example," she said, adding that editors and staffers could have been offered suitable buyouts.
Managing editor Ghassan Hajjar told Future TV in September 2009 when the ax fell: "We should have done it a few years ago, but what with all the assassinations, we didn't have the opportunity."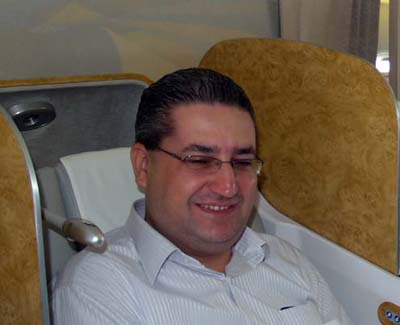 Annahar managing editor Ghassan Hajjar (Abu-Fadil)
Annahar lost publisher Gebran Tueni and another ardent Syria critic who wrote scathing columns, Samir Kassir, just months apart. Both were blown up in their cars.
Meanwhile, Nayla Tueni tries juggling her jobs, being a wife, and the mother of 20-month-old Gebran, named after her father.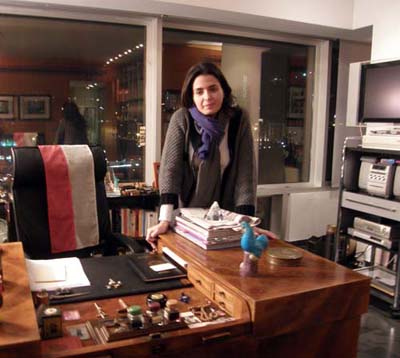 Tueni leans on her slain father's desk (Abu-Fadil)
She spends her free time with her son, who goes with her to the office and has a playroom adjacent to hers. She still enjoys photography but travels less, reads on her iPad, and watches DVDs whenever possible.

REAL LIFE. REAL NEWS. REAL VOICES.
Help us tell more of the stories that matter from voices that too often remain unheard.