A hidden room inside of a home in Argentina's capital has revealed a trove of disturbing Nazi artifacts, including Swastika-covered toys and medical tools.
The roughly 75 items were uncovered at an art collector's home during a raid by agents with the international police force, Interpol, on June 8, authorities said at a press conference on Monday.
During a search of the Buenos Aires property, authorities said the agents found a secret passageway behind a bookshelf that led to the room.
Authorities were shocked by the discovery at the press conference, Argentine Security Minister Patricia Bullrich said. "We are happy to be able to say that they are no longer circulating through sales or among collectors," she added.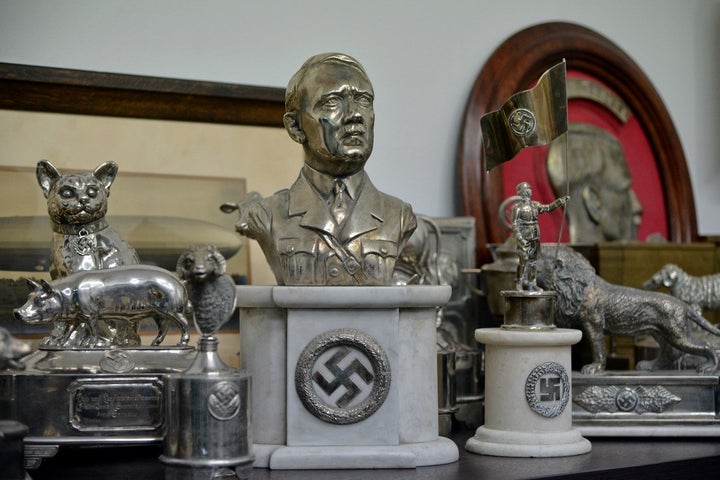 The many Swastika-decorated items recovered included a bust of Nazi leader Adolf Hitler, daggers, as well as an hourglass and a box of harmonicas. There were also medical tools to measure physical characteristics, such as head shape, and children's toys that featured Nazi flags and other imagery.
Photos accompanying some of the items also reportedly appeared to show Hitler holding them. One of the items pictured was a magnifying glass that was included in the home's secret stash, Nestor Roncaglia, head of Argentina's federal police, told The Associated Press.
"This is a way to commercialize them, showing that they were used by the horror, by the fuhrer. There are photos of him with the objects," Bullrich told the AP.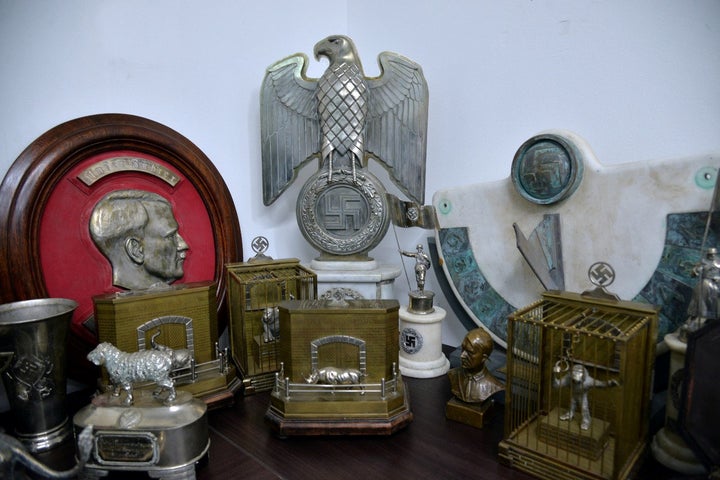 All of the items will be donated to the city's museum to remembering the Holocaust, Bullrich said.
Claudio Avruj, Argentina's minister of human rights and cultural pluralism, hoped that by removing the items from the market it will help abolish some of this dark era's lingering mementos that people try to profit from.
"These facts show that the Holocaust did not end with the passage of time because there are people who try to keep this policy of death, discrimination and hatred alive," he told Newsweek.
The home's collector has not been identified and remains free though is under investigation by a federal judge, authorities said.
The search of the home came after authorities connected the individual to artworks "of illicit origin in a gallery" in northern Buenos Aires, the AP reported.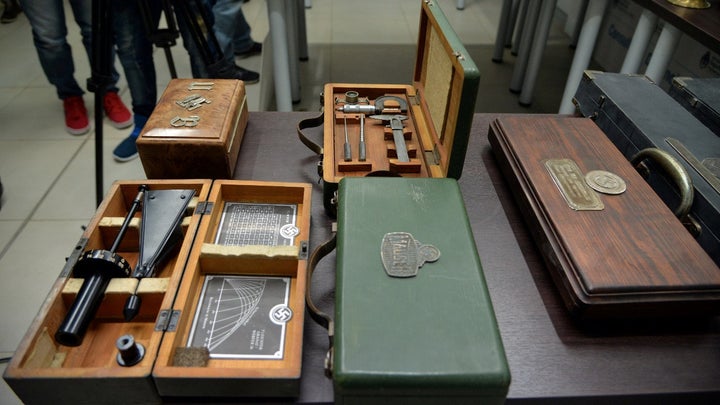 It's not yet known how the items came into the art collector's possession, though it's speculated that they were smuggled overseas by fugitive Germans who fled to South America at the end of World War II, The New York Times reported.
Two of the most high-ranking Nazi officials were tracked down in the country, including Adolf Eichmann, who was one of the architects of the Holocaust, and doctor Josef Mengele, who carried out genetic research on humans.
Eichmann who was captured by Israeli intelligence agents in Buenos Aires in 1960 and later executed, while Mengele also lived for some years in Buenos Aires.
Calling all HuffPost superfans!
Sign up for membership to become a founding member and help shape HuffPost's next chapter