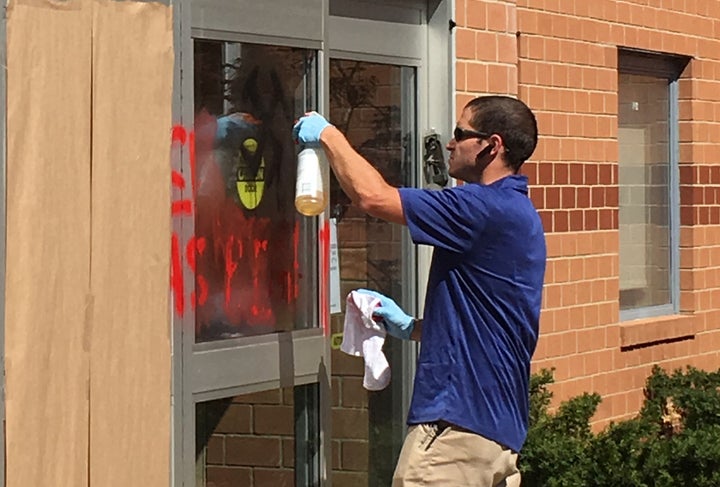 Authorities have arrested a suspect in connection with the anti-Semitic graffiti spray-painted on a Jewish community center and a church in northern Virginia earlier this week during Passover.
Dylan M. Mahone, 20, of Annandale, Virginia, has been charged with two counts of felony destruction of property, according to a Fairfax County Police Department statement released on Thursday.
Mahone is accused of defacing the Jewish Community Center of Northern Virginia, in Fairfax, and Little River United Church of Christ, in Annandale, by spray-painting swastikas and hate speech on the buildings' exteriors and surrounding properties.
Mahone's arrest was part of an investigation initiated by the Northern Virginia Community College Police on March 20 for anti-Semitic flyers that were posted on the school's campus.
Local police were alerted around 7 a.m. on Tuesday that swastikas and hate speech had been spray-painted on the grounds of the two religious centers. They believe the buildings were defaced between 1 a.m. and 4 a.m. Tuesday.
Jeff Dannick, the executive director of JCCNV, said he was "deeply disturbed" by the vandalism, adding that the timing of the attack was especially unsettling.
"During Passover, when the Jewish community around the world is celebrating a time of freedom for our people as well as those who are affected by hate today, a crime like this heightens the reason that organizations like our own exist to bring communities together through messages and actions of peace, acceptance and inclusion," Dannick said in a statement on Tuesday.
Despite the hateful nature of the vandalism, which was the first anti-Semitic attack against JCCNV in 27 years, Dannick remains optimistic about the center's future and said he's "very confident" in the ability of the FBI and local police to conduct thorough investigations into the matter.
"I don't feel like we're in danger per se, but I feel like we're in very, very confusing and frightening times," Dannick said. "We're determined to maintain [JCCNV] as a warm and welcoming place. We're not going to be deterred from continuing to do what we do."
"I don't feel like we're in danger per se, but I feel like we're in very, very confusing and frightening times."
Little River United Church of Christ was defaced during Holy Week in the days leading up to Good Friday and Easter. The Reverend David Lindsey said the vandalism was "heartbreaking" but not terribly surprising, given the church's progressive stance on social issues and its long history of inclusivity.
He said the exterior classroom walls of a preschool were desecrated, as well as several other areas of the property. Someone spray-painted over a banner that read "Honor God. Say NO to anti-Muslim bigotry" with the words "Jesus knows no traitors."
"To me, saying 'no' to bigotry sounds pretty reasonable," Lindsey said. "But saying anything in support of Muslims and, in some cases, in support of the Jewish community, will cause folks with white supremacist or Nazi sympathies to target you for an attack."
A power-washing company began removing the graffiti on Tuesday, and dozens of volunteers came to the church Wednesday to help clean.
Not even Jared Kushner, President Donald Trump's son-in-law and close confidant, is immune from the apparent surge in anti-Semitism. He's been targeted by internet trolls in a wave of online attacks since assuming more responsibility in Trump's administration.
A community vigil at the church, in coordination with JCCNV, is scheduled for Saturday at 7:30 p.m. All are welcome to attend, Lindsey said.
"Not that you ever want anything like this to happen, but there's some hope in the midst of this that we'll build deeper bonds of community," Lindsey said. "God's love is for everyone. ... Attacks like this are not going to stop us."
This story was updated with news of Dylan M. Mahone's arrest.
Popular in the Community