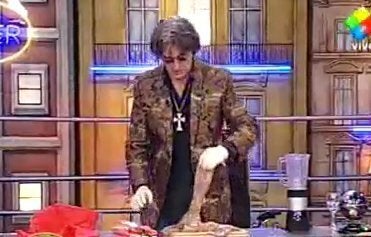 Furious with Paul the "psychic" octopus' astonishing 100% World Cup prediction rate, an Argentine TV presenter has gotten his revenge by slaughtering another octopus on the air and then liquifying its remains in a blender. On a recent episode of Argentina's "Un Mundo Perfecto" program, host Roberto Pettinato -- said to be a Howard Stern-like shock jock -- dubbed his tentacled victim "a Nazi" before hacking off its head and then placing hunks of the carcass into a blender. The audience, many of whom had blamed Paul for Argentina's World Cup exit following their 4-0 loss to Germany, winced and howled in derision.
According to The Sun, Pettinato growled, "Your moment has arrived, little Nazi octopus," while slowly lowering the animal into the appliance.
As for Paul, he was fortunately safe at home at Germany's Oberhausen Sea Life Aquarium, where he is reported to have "retired" following the conclusion of this year's World Cup, which he had accurately predicted as a victory for Spain.
See video of the octopus' grisly fate here: