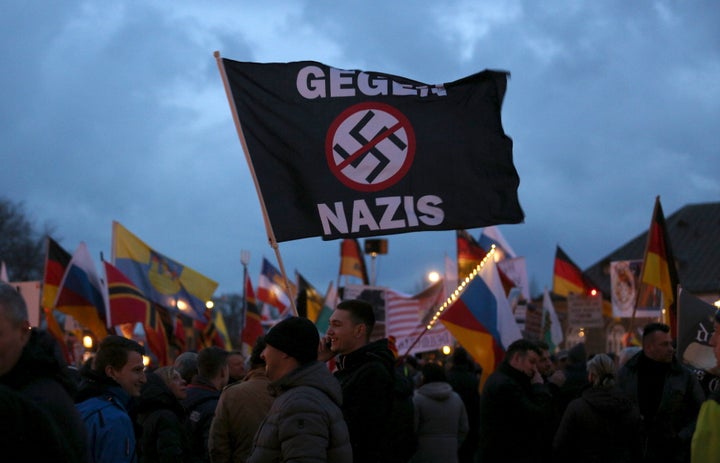 WASHINGTON ― Stormfront, a prominent neo-Nazi internet forum, came back online on Friday, more than a month after its domain registrar shut the site down in the wake of the deadly white supremacist rally in Charlottesville, Virginia. The site returned just in time for users to coordinate meet-ups at a white supremacist conference in Tennessee last weekend.
Internet companies are not legally required to regulate hate speech. They typically take a neutral approach to the content on the sites, arguing it is not their role as private companies to police it. But they are facing increasing public pressure to curb the spread of racist, misogynistic and anti-LGBTQ content online. After the Charlottesville rally, several internet infrastructure companies stopped doing business with white supremacist sites, in some cases effectively shutting them down. They argued that incitement to violence violated their terms of service, the rules users agree to follow.
Stormfront founder Don Black said in August that when domain registrar Network Solutions pulled the site's domain, it also blocked him from transferring the domain to another provider. He later spoke with an attorney for Network Solutions who "agreed to unlock the domain name so we could transfer it," Black told HuffPost on Tuesday. "So we did, amicably, at least for now." He registered the site with Tucows, another major domain registrar.
Reg Levy, Tucows' director of compliance, said she first learned Stormfront was registered with her company when HuffPost contacted her seeking comment. "As Tucows rarely sells directly to the public but more often through resellers, who sell directly to consumers, stormfront.org's owner is not our direct customer," Levy wrote in an email.
Internet service companies generally do not comment on individual users, but records show that Network Solutions is still providing Stormfront with privacy protection services, allowing the individual who registered Stormfront's domain to hide his or her identity. "That's just temporary, though," Black told HuffPost. "I am moving." Cloudflare, a tech company that offers protection from distributed denial-of-service (DDoS) cyberattacks from hackers, is also providing services to Stormfront, according to public records. Stormfront "may or may not continue with that," Black said.
Network Solutions and its parent company did not respond to requests for comment, and Cloudflare declined to comment on Stormfront in particular. Levy, Tucows' director of compliance, said in an email that her company "finds racism and its proponents detestable; nevertheless, we are not the arbiters of free speech and we believe strongly in due process."
Tucows, Network Solutions and Cloudflare have all previously cut off services to hate sites in the face of public pressure.
Black said regulation from internet service providers is a recent phenomenon. "It took them 22 years to realize that we were in violation of their terms of service," he said of Network Solutions. He owns a number of domains with different registrars, among them martinlutherking.org, whitenationalism.com and whitesingles.com, the last of which redirects to Stormfront. He also owns derekblack.com, formerly the website of his now-apostate son, "in case he ever wants it back."
"I never had any problems with any of" the domains, said Black, who ascribes the registrars' newfound unease to a "polarized, deeply divided" country that is "perhaps on the verge of a civil war, almost."
"I've never in my life seen anything like this, and we're kind of caught up in the middle of it," said Black, who declined to reveal the Tucows reseller with whom he has an account. "All part of the fun, I guess."
In August, Tucows announced it was removing its domain privacy protection services to the Daily Stormer, another website started by a neo-Nazi. That website had recently published a post disparaging the woman killed at the Charlottesville rally. "We felt this domain clearly violated our privacy service terms of service by inciting violence," Tucows said at the time, referring to the Daily Stormer.
"I woke up in a bad mood and decided someone shouldn't be allowed on the Internet," Matthew Prince, the CEO of Cloudflare, wrote at the time. "No company should have that power."
Underscoring Prince's point, Cloudflare hasn't publicly denounced Stormfront ― the oldest internet Nazi forum ― and currently provides DDoS protection services to the site. Stormfront has been using Cloudflare's services since at least May 17, 2016, according to Kyle Wilhoit, a senior threat researcher at Domain Tools, a cybersecurity group. Service was paused on Aug. 26, the day after Stormfront went offline, and resumed on Oct. 1, two days after the site returned, Wilhoit said.
Cloudflare finds the content on some of the sites it has serviced to be "repugnant," Vanessa Royle, a spokeswoman for the company said, declining to comment specifically on Stormfront. But the company's CEO made clear that the "tough decision" to cut off the Daily Stormer "will not set a precedent for our policy moving forward," she added.
Network Solutions faced pressure to cut ties with Stormfront even before the Charlottesville rally. Since June, the Lawyers' Committee for Civil Rights Under Law has been urging Network Solutions' parent company, Web.com, to terminate Stormfront's domain registration, arguing that Stormfront had violated the parent company's policy against racism and discrimination. Network Solutions put a hold on Stormfront's domain in late August, effectively kicking it offline, though the company did not publicly explain the reason for doing so.
While free speech advocates are concerned about the potential ramifications of tech companies governing online content, anti-hate groups would rather have Stormfront gone. "It's just sort of a cesspool in which these people stew in and then some go on to commit violence," said Heidi Beirich, who works at the Southern Poverty Law Center, a nonprofit that tracks hate groups. "From our perspective, less of this propaganda is better."
Stormfront users are clearly happy to be back. "I was about losing my mind trying to find a replacement for Stormfront, but thankfully the #1 Far-Right Nationalist website is alive and kicking again," one user wrote.
Popular in the Community