A neo-Nazi group plans to join anti-abortion activists in Knoxville, Tennessee, on Sunday for a rally against the Women's March in that city.
Matthew Heimbach, a leader of the the Traditionalist Worker Party — a racist and anti-Semitic white nationalist hate group that advocates for the creation of a white ethno-state — has called on his "comrades" to march on Knoxville to "take a stand for life, against the hordes of those who would empty the cradle of our nation."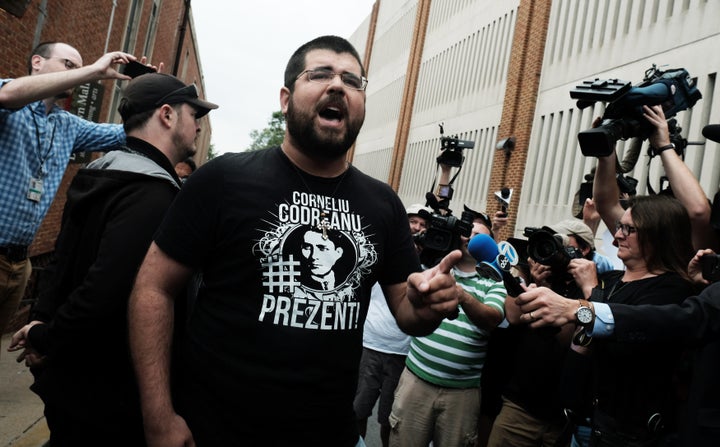 "As the defenders and advocates of women and our children, the Traditionalist Worker Party is taking a stand in Knoxville Tennessee on Sunday January 21st against the proposed feminist march and in support of the March for Life being held the same day," Heimbach wrote in a Jan. 12 blog post on the Traditionalist Worker Party site.
"Any movement that doesn't defend the sanctity of life is not a movement worth having," the post read. "If we are to build a free nation for our children, we must first secure life for our children."
"Feminism and abortion are opposed to life in every way," he added. "The gift of having children is a blessing for woman, and the entire nation, and it should be promoted as truly sacred."
Heimbach — whose activism has earned him the nickname "The Little Fuhrer" — told Newsweek he expects 50 or 60 fellow white nationalists to make the trip to Knoxville, though that could be an exaggeration.
However many turn up, they won't find a very welcoming reception. The anti-abortion activists behind the March To Life rally have denounced the group's plans.
"Any group or individual that promotes white supremacy or other dehumanizing world views, are not in tandem with the position of Tennessee Right to Life on the value of every person's dignity and life," Ed Albin, a Tennessee Right to Life leader, wrote in a Facebook post this week. "Our organization's march has a single agenda to support the rights of mothers and the unborn, and we don't agree with the violent agenda of white supremacists or Antifa."
Antifa — the loose and decentralized network of anti-fascist and anti-racist activists known for sometimes violently confronting neo-Nazis — are expected to greet Heimbach and his crew in Knoxville.
In a statement on It's Going Down, a platform for anti-fascist activism, two local anti-racist organizations, The Holler Network and Nashville Anti-Racist Action, laid out their reasons for confronting Heimbach and his "horde of human garbage followers":
The TWP and other white supremacist groups view Southeast Appalachia as an ideal region for a white separatist movement, and they prey upon rural and semi-rural areas to build their base. But their claims to Appalachia fly in the face of centuries of resistance to white supremacy and settler colonialism that are woven into these hills and rivers. From indigenous resistance to militant maroon communities, to multiracial labor strikes and prisoner uprisings, to the very existence of tight-knit black and brown communities across these hills, we know Appalachia has never been and will never be their all-white vision- as long as we continue to resist. So join us! Bring your love, solidarity, and rage to Knoxville on January 21st and help us take this trash the fuck outta East Tennessee!
Meanwhile, the organizers of the Knoxville Women's March — one of many such marches being held in cities across the country this weekend to protest President Donald Trump and sexism — have changed the route of their march, citing concerns over the neo-Nazis coming to town.
According to a report in KnoxNews.com, local law enforcement will keep Women's March participants and those protesting them in separate areas. There will also be a security screening process: Bags will be checked and no weapons or bottles will be allowed.
There's reason to be alarmed. Over the last year, white supremacists — emboldened by Trump's ascendance to the White House — have engaged in violence at multiple rallies across America, most infamously in Charlottesville, Virginia, where a neo-Nazi drove his car into a crowd of counter-protesters, killing anti-racist activist Heather Heyer.
Heimbach was an organizer of a large "White Lives Matter" rally in Tennessee in October. He and some 200 neo-Nazis, white nationalists, Klansmen and other assorted racists and fascists marched through the town of Shelbyville, where they were met by a significantly larger group of counter-protesters.
When Heimbach spoke into the megaphone at the event, his anti-Semitic diatribe was drowned out by counter-protesters blaring Martin Luther King Jr.'s "I Have A Dream" speech over a much superior sound system.
That night, Heimbach and and his neo-Nazi buddies harassed and then fought an interracial couple at a Nashville bar. Police were investigating.
CORRECTION: This article originally stated 200 neo-Nazis marched through the town of Murfreesboro. The march actually took place in Shelbyville.
America does not do a good job of tracking incidents of hate and bias. We need your help to create a database of such incidents across the country, so we all know what's going on. Tell us your story.
Popular in the Community