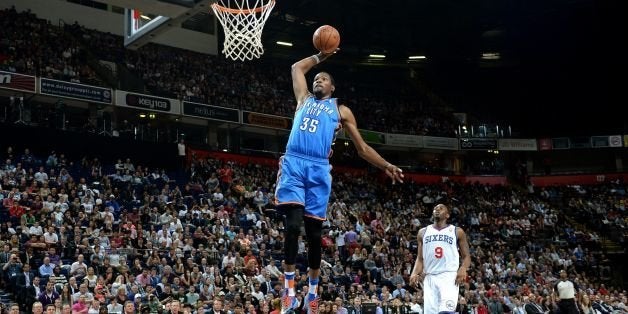 Should the NBA prevent young men from earning a living playing basketball?
The debate has raged around the question ever since the league implemented the famed "one-and-done" rule in 2006, stipulating that players must play a year at the college level before they can go pro. Critics of the rule argue that society doesn't prevent 18- to 20-year-olds from working for money, so why should the NBA? Others will point to the fact that golfers and tennis players have no limits on when they can turn pro, and baseball players are routinely drafted out of high school. On the other side, supporters question whether or not high school seniors and college freshmen are actually ready for the rigorous demands of NBA life.
Newly minted NBA commissioner Adam Silver has his own theory about the age limit. "I would like to continue to make my case to the union as to why a minimum age of 20 would be better for the health of the NBA and all of basketball," Silver told The Huffington Post. "Increasing the minimum age from 19 to 20 remains high on my list."
Increasing the minimum to 20 is the equivalent of requiring two years of college ball. While plenty of stars have developed into high-caliber players despite just one collegiate season -- think John Wall, Kevin Love, Derrick Rose, Carmelo Anthony and Kevin Durant -- there is undeniably a downside. Hoops purists will tell you that with the annual influx of one-and-done's, the on-court product has suffered. They argue that college programs are also damaged because player development is severely lacking.
"It tarnishes what we're trying to do as coaches; it tarnishes the idea that kids are here to get an education," Colorado coach Tad Boyle told USA Today. "It just does. People know it. That's why there are so many people it upsets, and people don't like it. I don't know of any person I've ever talked to who says, 'I like the one-and-done.'"
Since the rule was instituted in 2006, 57 players who were one year removed from high school have been drafted by NBA teams. Less successful players include Tiny Gallon, Josh Selby, Daniel Orton and Donte Green. But the NBA draft can lead to busts regardless, so it's difficult to quantify how much the rule plays a role.
Silver thinks that the result of just one year in college is less-ready leaders for the NBA, both on and off the floor.
"I believe it is in the interest of the players' union and the league to raise the age minimum," he said. "I also believe college basketball would be better off. And [while] we don't have ultimate responsibility for college basketball, I think even in terms of the self-interest of the NBA, we would be a better league. The so-called one-and-done is bad for college and is bad for the NBA."
And yet Silver, who attended college-basketball powerhouse Duke as an undergrad, is not some dictator mindless of other opinions. "I understand both sides of the issue," he added. "The argument as to why these young men should have the ability to play professionally, directly out of high school. And I think there are some very fair arguments on the other side."
Ask 10 random fans about this issue and you may just get 10 different answers. Settling on the one right answer may be impossible, but Silver and the NBA have made it clear in which direction the debate is heading. Just remember -- either way, the details of any new rule have to be collectively bargained by the NBA and its players' union.
Email me at jordan.schultz@huffingtonpost.com or ask me questions about anything sports-related at @Schultz_Report and follow me on Instagram @Schultz_Report. Also, be sure and catch my NBC Sports Radio show, Kup and Schultz, which airs Sunday mornings from 9-12 ET, right here.
Related
Popular in the Community