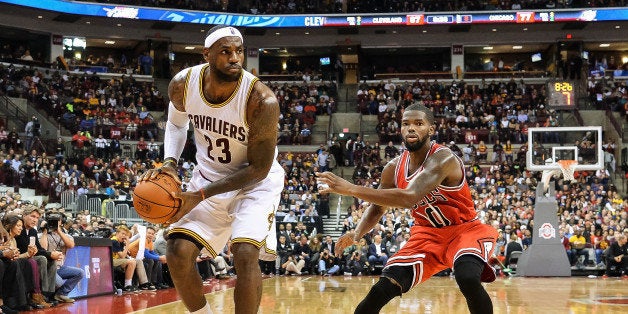 The NBA season is just about a week away, so this is an exciting time for all NBA fans to come up with their own hypotheses about what'll take place this season. It's been an offseason to remember, as Kevin Love and LeBron James make up a new "Big Three" in Cleveland, an entire pool of talented rookies have infused the league with energy, and with the now-duo of Chris Bosh and Dwyane Wade plotting their mutiny against a King who turned his back on them. There are new faces in new places, and old faces in old places. There are favorites and there are underdogs. This is the NBA, and this is why we love it!
Here are my picks for this year's NBA Regular Season Awards.
MVP: LeBron James (Cleveland Cavaliers)
Okay, okay. Real original, I know. As you may know, the NBA MVP is voted on by members of the media. Therefore, winning the award most of the time comes down to two factors: statistics (on-court production), and narrative (a storyline that may extend off the court). LeBron will have both. Without having to mention his incredible consistency over the course of his career, you can pretty much pencil King James in for 23-plus points, six-plus rebounds, and six-plus assists per game this season. Couple that with the fact that he returned home to Cleveland in the offseason, and will likely improve the team's mark of 33-49 from last season by around 20-or-so games, and he will walk away with this award with no close second-place finisher... since Kevin Durant will miss the first month and a half of the season while recovering from a broken foot.
Rookie of the Year: Jabari Parker (Milwaukee Bucks)
Originally, I was going to go with either Andrew Wiggins or Nerlens Noel here, but the recent news of Parker primarily playing the power forward position intrigues me. At that spot, he will be undersized defensively, but at the offensive end, he will be able to have his way against his opposition, especially on the perimeter and by using his lateral quickness to get to the rim. Unlike both Wiggins and Noel, Parker is the face of his franchise, and will likely be the focal point of what the team tries to do on the offensive side of the ball. Wiggins spent much of his freshman season at Kansas as a complimentary player, and not the primary option on the court. On a much-revitalized Timberwolves roster, Wiggins will likely play a similar role. Noel, who missed all of last season with a knee injury, should be ready to go, but would be a risky pick, due to that injury. Parker will win the award, perhaps not because he's the most talented, but because he will be given the most freedom and thus shoot and create with more volume than any other rookie.
Most Improved Player: Victor Oladipo (Orlando Magic)
This is a toss-up for me between Derrick Favors, Darren Collison, and Victor Oladipo, but I'm going with Oladipo for one main reason: he reminds me of Dwyane Wade. Not just by the eye test, though. Check this out: in his rookie season, Wade averaged 34.9 minutes, 16.2 points, 4.0 rebounds, and 4.5 assists per game. What did Oladipo do? Put up 13.8 points, 4.1 rebounds, and 4.1 assists per game in 31.1 minutes. Playing nearly four minutes less per game than Wade, Oladipo put up very similar numbers. He actually shot better from three-point range and from the free throw line than Wade did in his rookie season as well. After one year of figuring the league out, Wade put up 24.1 points, 5.2 rebounds, and 6.8 assists in 38.6 minutes per game during his second year, and if Oladipo comes even close to that, he will be the NBA's Most-Improved Player.

Coach of the Year: Michael Malone (Sacramento Kings)
This may surprise you, but I believe the Sacramento Kings will make the NBA playoffs in a tough Western Conference this season. A struggling franchise that hasn't made the playoffs since the 2005-2006 season, the Kings have gone six-straight seasons with 28 or less regular season wins. However, center DeMarcus Cousins will establish himself as one of, if not the, best center in the NBA this season, Rudy Gay will continue his consistent play, rookie Nik Stauskas will knock down shots from the outside, Ben McLemore will continue to progress, and Darren Collison will take over at point guard and give the city of Sacramento something they've been waiting for: they NBA Playoffs. Role players like Derrick Williams, Jason Thompson, Ramon Sessions, Ray McCallum, Reggie Evans, and Carl Landry add to a very deep roster for Coach Malone to mix-and-match with in certain situations.
All-NBA First Team
G Russell Westbrook (Oklahoma City Thunder)
G James Harden (Houston Rockets)
F LeBron James (Cleveland Cavaliers)
F Anthony Davis (New Orleans Pelicans)
C DeMarcus Cousins (Sacramento Kings)
All-NBA Second Team
G Chris Paul (Los Angeles Clippers)
G Derrick Rose (Chicago Bulls)
F Blake Griffin (Los Angeles Clippers)
F LaMarcus Aldridge (Portland Trail Blazers)
C Dwight Howard (Houston Rockets)
All-NBA Third Team
G Stephen Curry (Golden State Warriors)
G DeMar DeRozan (Toronto Raptors)
F Carmelo Anthony (New York Knicks)
F Kevin Durant (Oklahoma City Thunder)
C Al Jefferson (Charlotte Hornets)
Are you pumped for the NBA season to start? Head over to Tradesports.com to play daily fantasy sports where you can be a fan again!
REAL LIFE. REAL NEWS. REAL VOICES.
Help us tell more of the stories that matter from voices that too often remain unheard.