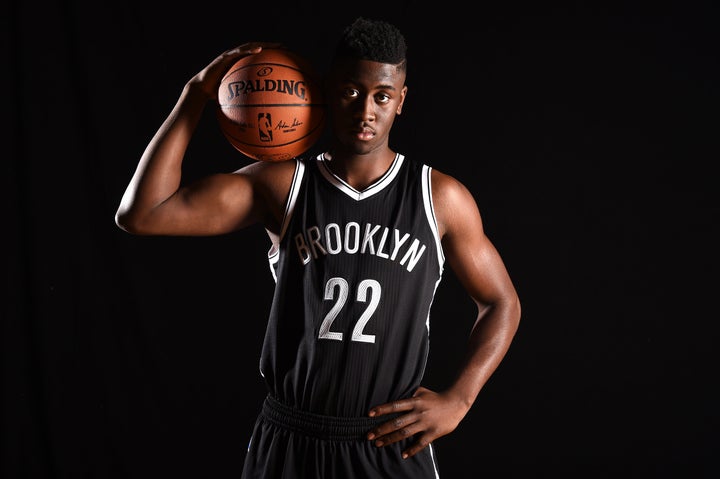 Caris LeVert entered the University of Michigan in 2012 as a three-star prospect. The school was his only Power Five offer, and LeVert was a relative afterthought compared to the program's star players who joined that year, including future pros Trey Burke, Tim Hardaway Jr., Mitch McGary, Nik Stauskas and Glenn Robinson III.
But just three years later, LeVert ― selected 20th overall in June's NBA Draft ― is poised to become one of the league's top young players. In fact, a lingering health question was the only reason he wasn't selected in the lottery, after he endured three foot fractures in three years of college.
At 6-foot-7 and with a staggering 6-foot-10 wingspan, the Columbus, Ohio, native represents the new age, prototypical NBA wing. LeVert can legitimately guard three positions ― a skill few possess ― and he can score as well.
In 15 games as a senior last year, he averaged nearly 17 points while converting 45 percent from distance. Better yet, LeVert offers remarkable versatility as a playmaker and is a consistent wing rebounder, averaging five assists and five rebounds per game.
The modern NBA game, more so than ever before, rewards that versatility. Can you create matchup problems? And better yet, can you solve matchup problems?
Golden State's Draymond Green is a great example of this new setup. An unconventional four or even five man for the Warriors, Green ― like LeVert ― doesn't so much have a "position." Green is often employed as a center with one lineup, only to assume point-forward duties with another. LeVert doesn't have the ability to play as many spots on both ends as the All-NBA Green, but he offers a similar skill set. 
And aside from No. 1 overall pick Ben Simmons, the 22-year-old LeVert may have been the most dynamic two-way player in the entire draft class. From an offensive standpoint, he is an effective isolation player and expanded his pick-and-roll game every year in college, a valuable asset in itself. Teams that have capable pick-and-roll wings ― think the Warriors (Klay Thompson), Rockets (James Harden), Raptors (DeMar DeRozan), Clippers (Jamal Crawford) and Blazers (C.J. McCollum) ― become extremely difficult to defend in the half-court, and in turn are some of the league's top flight offenses.
We certainly cannot expect the same out of the Nets, as the team has gone into complete rebuilding mode, shipping off all of their previously valuable assets save for center Brook Lopez. But the good news for LeVert is that recently minted head coach Kenny Atkinson will employ an up-tempo, motion-based offense ― a far cry from the plodding style of former coach Lionel Hollins.
LeVert excelled playing in a similar style in college for John Beilein, a creative offensive mind who loved to get his athletes out in space, while also relying on ball movement and dribble-drive in the half-court.
And LeVert, to his credit, is hardly lacking in confidence.
REAL LIFE. REAL NEWS. REAL VOICES.
Help us tell more of the stories that matter from voices that too often remain unheard.