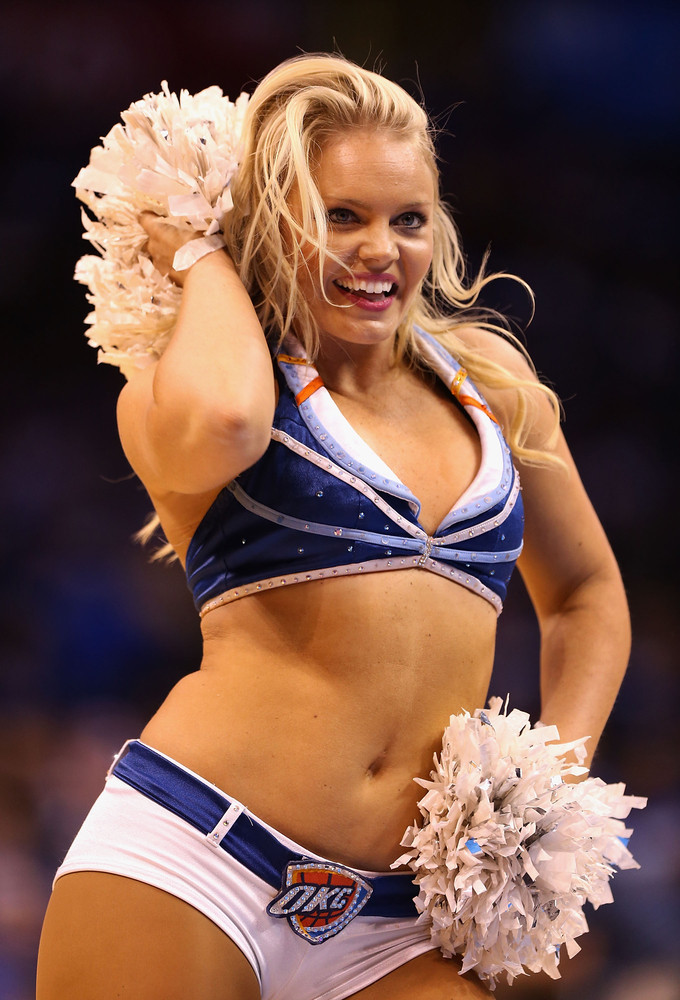 OKC cheerleader Kelsey Williams performs during Game One of the Western Conference Quarterfinals of the 2013 NBA Playoffs against the Houston Rockets at Chesapeake Energy Arena on April 21, 2013 in Oklahoma City, Oklahoma. (Photo by Christian Petersen/Getty Images)
"[If] she's comfortable wearing that tiny outfit and dancing for NBA fans, then good for her," Crawford wrote, according to NY Daily News. "Besides…not every man likes women to be toothpick skinny. I'd say most men prefer a little extra meat on her bones. Am I right?"
However, despite this concession, a poll attached to Crawford's blog post -- which was pulled from the CBS Houston website earlier this week -- encouraged readers to judge Williams' figure. (A cached version of Crawford's post is still available here.)
The backlash to Crawford's post was swift, with many readers expressing outrage at the blogger's comments.
"It's articles like this that lead young women and girls to anorexia and bulimia," one reader wrote, according to the Daily News. Other commenters reportedly called for the blogger to be fired.
Netizens have also taken to social media sites like Twitter to offer support to the OKC cheerleader.
"You are beautiful and perfect the way you are," wrote one fan on Sunday.
Williams herself has spoken out on Twitter in response to Crawford's post, later also thanking her fans for their encouragement:
Related
Popular in the Community