The NBA Draft has come and gone ... just not necessarily the way we had envisioned it taking place. It was a shock to many that Anthony Bennett was drawn first by Cleveland -- the first-Canadian born player ever to be taken in that slot. While Bennett is certainly an intriguing prospect, the selection was the byproduct of a draft sorely lacking star power. Ironically, Thursday's pick was David Stern's last draft as commissioner. Stern -- who will step down Feb. 1 after three decades on the job -- has built this league up with electric stars, starting with Michael Jordan in the mid-80s and ending with LeBron James today. Nerlens Noel, whom many had tabbed as the likely top selection, fell to the sixth pick, while Boston Celtics' stalwarts Paul Pierce and Kevin Garnett were dealt to Brooklyn. Making matters even stranger was the fact that rising star Jrue Holiday was traded from Philadelphia to New Orleans and will now team up with Anthony Davis on that team.
Still, this particular class is loaded with quality -- and perhaps even a few All-Stars as well -- so let's take a look at my draft grades for all 30 franchises.
I don't love Anthony Bennett -- in fact he could wind up being a massive bust -- but Nerlens Noel is a huge project and not worthy of the top pick either. Bennett is one of the most talented players in this draft, and -- despite the weight concerns -- the thought of him playing the three alongside Tristan Thompson and Kyrie Irving is very interesting. Don't forget about Sergey Karasev either, who is already a pretty darn good player and could be a mid-teens scorer from the two two-guard spot. Cleveland wanted Karasev going into the draft, and he can play right away. Finally, former Arizona State star Carrick Felix makes this roster as a defensive ace who can impact a game playing 5-10 minutes a night.
Victor Oladipo is as can't-miss that this class offers. At worst, he's a winning two-way player. At best, he's Russell Westbrook lite. While Orlando is devoid of talent in a big way and Ben McLemore is a more talented off guard, the former is an awesome athlete and defender, and his winning attitude will help immediately.
I'm biased because I love Otto Porter Jr., and quite honestly, teaming him up with Bradley Beal and hopefully John Wall long-term is a tremendous boon. Porter -- who has ZERO ego -- is a superb two-way player and natural three man who drastically improved his perimeter jumper during his sophomore year at Georgetown. I also don't buy into the fact that he can't become an All-Star one day either. Glen Rice Jr. in the second round is also a guy worth watching for. He put up huge numbers last season in the D-League after being kicked off the Georgia Tech team. He can score the ball and rebound his position quite well.
Cosy Zeller went from being a surefire top three pick to a potential late lottery guy. He was ultimately the fourth pick for Michael Jordan's Bobcats. Zeller would be very well-served playing with a natural pick-and-roll point, and thus far, Kemba Walker doesn't appear to be that guy. I thought Ben McLemore would have been a terrific fit here, but Zeller is a quality big man and elite athlete who should enjoy a productive, if not spectacular, ten-year career.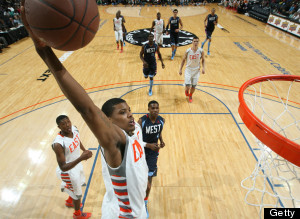 Ricky Ledo is a wildcard but an extremely talented one at that, whose scoring punch will really help Dallas. (Getty Images)
Marcin Gortat is signed for just one more year, and recently minted GM Ryan McDonough has always been a big fan of Alex Len's game. After all of the chatter for Len potentially going first overall, I think five is a good spot for him. Remember, this is a kid who just turned 20 years old, who has been in the United States for just two years and has already put on 40 pounds of muscle. Archie Goodwin, who went 29, is also now a Sun after a trade. He's very interesting, but equally raw and undisciplined.
Incredible job by New Orleans to acquire Jrue Holiday for Nerlens Noel and a couple picks. Holiday -- whom I've loved since his UCLA days -- is a premier player already, and -- as you might know -- I think Noel could wind up being one of the real disappointments of this draft. The pick-and-roll combination of Holiday and 2012 first overall pick Anthony Davis will be lethal. One note to consider is that Holiday's rookie contract is up, and come next season, he enters into a four-year, $41 million extension. Pierre Jackson, by the way, whom the Pelicans also got from the 76ers, will be a nice addition -- he is an explosive guard who can fill it up. The 2014 first-round pick is 1-to-5 protected -- making it a redeeming element for this team because of how incredible that draft could be. Think Andrew Wiggins, Pelicans fans!
Ben McLemore might be the most gifted player in the class and instantly fills a need for the Kings. There is also the matter of second-round pick Ray McCallum Jr., a natural point guard out of Detroit who could become a terrific third guard. Excellent night for the new owners of this organization.
Kentavious Caldwell-Pope is one of the premier pure shooters we've seen come out in a while. He thrives coming off screens, but has also shown the ability to be a big-time on-ball defender. This pick is clearly a confidence boost to Brandon Knight at the point guard slot, because KCP is a pure two guard. Don't forget about second-rounder Tony Mitchell either, who slipped because of attitude concerns and a general lack of productivity at North Texas. Mitchell though, is a sensational talent who very well could be the steal of this draft. Good get with Louisville guard Peyton Siva late in the draft; he could be a nice change-of-pace guy for Detroit.
Shabazz Muhammad probably went about where he should at 14, and Minnesota really needed to add scoring punch ... but I just don't see it. Muhammad -- who was the top overall recruit in the country one year ago -- has a robotic game inside the 3-point line and isn't the natural scorer we thought he would be. That being said, the T-Wolves were dead last in 3-pointers last season. I do like the Gorgui Dieng pick; he's a tough and willing defender who can make the 16-foot jumper as well.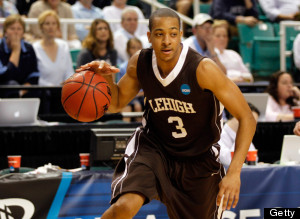 C.J. McCollum is a terrific combo guard and will give the Blazers another dynamic scorer alongside Damian Lillard in the backcourt. (Mike Ehrmann/Getty Images)
Portland Trail Blazers: A+
I absolutely love C.J. McCollum, who will help 2012 Rookie of the Year Damian Lillard because of his rare combo guard abilities. Watch out for former Cal guard Allen Crabbe as well, whom Portland nabbed from the Cavs. He's a big-time scorer with elite size at 6-foot-6 with a 6-foot-11 wingspan, and he can fill it up from the outside. Former Kansas center Jeff Withey -- who broke the Big-12 record in blocks -- should instantly help LaMarcus Aldridge as well.
I hate trading assets for unknown commodities, and that is exactly what the 76ers did with All-Star point guard Jrue Holiday. Nerlens Noel is a major project, and point guard Michael Carter-Williams is another intriguing talent who screams bust. The future first-rounders could be nice, though.
Adams is the heir apparent to Kendrick Perkins, who has been awful the past two seasons. A brute-forced 7-footer, the concerns about him being so green offensively are irrelevant because of how much offensive firepower the Thunder has. Adams is already a terrific defender, but perhaps offers little happiness to OKC fans because this is the pick GM Sam Presti got in the James Harden deal. There is also the matter of Andre Roberson, whom OKC dealt for as well. He's a sabermetrics guru's dream and should stick around as a productive two-way player.
I'm not a big fan of Shane Larkin -- whom Dallas traded with Atlanta to acquire -- but I do see the appeal. He's a spark player who can play a little off the ball as well. And remember, Darren Collison is set to be a free agent and unlikely to be signed again. I do, however, love the move to get Ricky Ledo -- he sat out during his one season at Providence, but is nevertheless a big-time scorer who will add firepower right away to this team. So much of this draft for the Mavs depends on if Mark Cuban is able to land Dwight Howard.
Trey Burke is the best true point guard in this draft and will excel in screen-and-roll because of his basketball acumen and overall feel. Yes, his size is a concern, but Utah really needed a lead guard and Burke will start right away. French center Rudy Gobert, who is 7-foot-2 and is on the team thanks to a trade with Denver, is shockingly soft and not a good fit whatsoever. Giannis Antetokounmpo, the 18-year-old from Greece, is an incredible two-way talent who could emerge as one of the best players out of this draft. (AP)
Giannis Antetokounmpo is just an awesome talent who could wind up being a really, really good NBA player ... in three years minimum. The Bucks, like the Celtics, are in pure rebuilding mode, but that's okay. Antetokounmpo has a Kevin Durant-type of body in terms of his size and length. Nate Wolters is a super smart, highly capable point guard with the size to play off the ball as well. Remember, Monta Ellis is gone and Brandon Jennings is a free agent whose going to want max money. Love this draft for the deer.
GM Danny Ainge is clearly in rebuild mode. Paul Pierce and Kevin Garnett have been shipped to Brooklyn, but for what? Ridding himself of Jason Terry's contract is a plus, but there is no guarantee that the three first-round picks (2014, 2016 and 2018) from Brooklyn will be in the lottery. Inheriting Gerald Wallace's sizable contract offers zero cap flexibility as well. From a drafting perspective, Kelly Olynyk is a nice stretch five-man who is very skilled, but I do worry about a lack of aggressiveness. Overall, a very confusing night for Boston, I thought.
Dennis Schroeder, the German point guard, is one of my favorite players in the entire draft. I've been comparing him to Rajon Rondo because of the similar size and length, but like Rondo, he has excellent instincts in the open floor and incredible hands and feet on the defensive end. Mike Muscala, the big man from Bucknell, was an excellent addition because he is a pure rebounder with skills to boot. Lucas Nogueira is an excellent shot-blocker and rim protector. He desperately needs to add bulk to his narrow frame, but you could do a lot worse at 18.
I really like the Tony Snell pick. He's not as refined as some of the other 2s in this draft, but this is a prospect with great size at 6-foot-7 and the potential to be a really solid two-way guy for the Bulls. Luol Deng won't be around too much longer, and Snell is a major athlete to run the floor with Derrick Rose. Erik Murphy -- the Bulls' second-rounder -- is a prototypical stretch four-man who I also like.
Aside from Pierce and Garnett, don't forget about Mason Plumlee, a major athlete who runs the floor incredibly well and competes every night. The Nets, in a flash, become one of the most dangerous teams in the East.
Solomon Hill was a pretty huge reach at 23, but nevertheless is a pretty refined two-way player who fits the DNA of this Pacers team. He is a highly intelligent player who can handle the ball and potentially defend two positions really well as a pro. He also makes a lot more sense assuming Danny Granger doesn't return after next season.
Assistant GM Allan Houston told me he thought the Knicks would find somebody they liked at 24. Sure enough, they did. Hardaway Jr. really improved during his time at Michigan. His ability to shoot the ball, both off screens and as a pull-up guy, will be a welcome sign for the Knicks -- especially with J.R. Smith opting out of his deal. With J.R. Smith opting out of his deal, first-round pick Tim Hardaway, Jr. could play major minutes for the Knicks as a rookie. (AP Photo/David J. Phillip)
Reggie Bullock surprised a ton of people when he announced he was turning pro, but he actually fits in really well with this roster. Bullock -- who grew up playing with Chris Paul -- is an excellent and slim defender who can fill it up with a smooth shooting stroke. He should be able to contribute right away. Interesting pick for Doc Rivers to work with, especially with Matt Barnes entering free agency.
Denver traded former Virginia Tech guard Erick Green, who led the nation in scoring and will stick around as a third guard. Although Green's not a special athlete, he does possess an elite, NBA-ready skill.
Surprise, surprise! The Spurs went with a draft-and-stash European in French power forward Jean-Charles, who reminds me some of Kawhi Leonard because of his remarkable defensive ability and sheer physicality. This is a name to remember three years down the road.
Despite not having a first-round pick, I thought Memphis really hit on Jamaal Franklin, a 6-foot-6 swingman out of San Diego State. The Grizzlies have built this roster based on versatility and toughness, two things that Franklin has in spades. He is a more polished version of Quincy Pondexter.
The Heat did not have a pick, yet may have hit lightning in a bottle with Long Beach State's James Ennis, whom it acquired in a trade from Atlanta. Ennis is a superior athlete and potential lockdown defender who will fit right into the Miami program.
Golden State Warriors: Incomplete
The Warriors entered a draft without a first-round pick for the first time since 2000, only to trade for Nemanja Nedovic, a Serbian shooting guard with tremendous athletic ability and some nice defensive ability. Likely a draft-and-stash prospect though.
The Rockets didn't have a first-round pick and are seriously in the running for Dwight Howard, but I love the Isaiah Canaan pick. He may very well be the best pure shooter in this class, and he led the nation in clutch scoring last season. A 2,000-point scorer at Murray State, he represents solid value in the second.
It is going to be a tumultuous summer on Title Town with Dwight Howard. The Lakers grabbed Duke big man Ryan Kelly late in the second round. He's a stretch four-man who I would expect to make this roster because of his shooting ability.
Email me at jordan.schultz@huffingtonpost.com or ask me questions about anything sports-related at @Schultz_Report. Also, be sure and catch my NBC Sports Radio show, Kup and Schultz, which airs Sunday mornings from 9-12 ET, right here.
REAL LIFE. REAL NEWS. REAL VOICES.
Help us tell more of the stories that matter from voices that too often remain unheard.