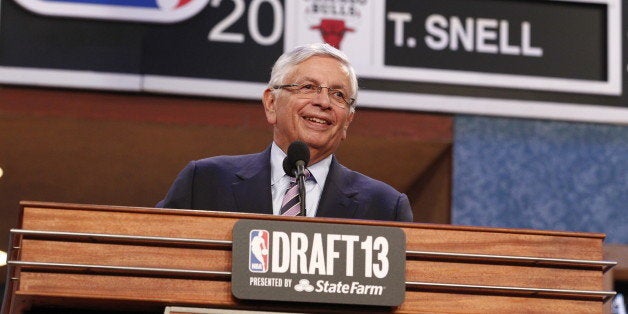 Now that the order of the Lottery is set for the June 26 NBA Draft, the teams picking 1-14 (the non-playoff teams) will digest game film and scouting reports, conduct interviews and workouts, and talk to coaches, teachers and babysitters (wait, no, that's me...first child coming in October). You wouldn't spend $10 million on a stock without knowing everything there is to know about the company and these organizations work the same way. These kids are investments. Some take their teams into the black and others become part of the reason why teams stay in the red.
I looked back at the last 14 NBA Drafts and went pick-by-pick, 1-14, to determine the best and worst selections at each of those positions. This is solely based on what they've accomplished in the league, not who was picked later that turned out to be better than a guy picked higher.
Comments are welcome. Debate is encouraged.
The best picks 1-14 of the last 14 NBA Drafts
1 - '03 LeBron James (Cavs) over '04 Dwight Howard (Magic) - LeBron is on the short list of the best #1 picks in league history, while Dwight is not. Remember LeBron's white suit?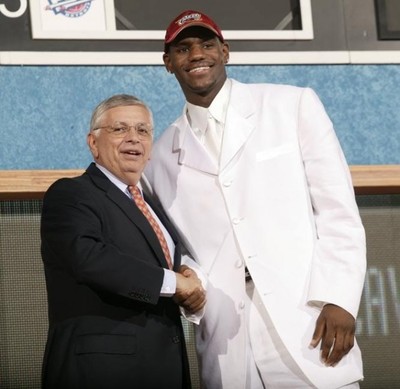 Long story short, in a story I've told before, that night as a college intern for NBA Entertainment, I tapped Donald Trump on the shoulder to let him know that he had misidentified Maverick Carter as LeBron to the woman he was with. He looked at my credential and thanked me.
2 - '07 Kevin Durant (Sonics) over '06 LaMarcus Aldridge (Bulls) - this pick was first traded by the Knicks in '05 as a future first-rounder in a deal that ended up landing the Bulls Joakim Noah in '07 and bringing Eddy Curry to New York. Aldridge was dealt on Draft night to the Blazers for NCAA Tournament lottery winner Tyrus Thomas and Viktor Khryapa. '01 Tyson Chandler (Clippers) also got serious consideration for the Aldridge slot.
3 - '01 Pau Gasol (Hawks) over '03 Carmelo Anthony (Nuggets) - Pau was traded that night with Brevin Knight and Lorenzen Wright to Vancouver for Shareef Abdur-Rahim and Jamaal Tinsley.
4 - '05 Chris Paul (Hornets) over '03 Chris Bosh (Raptors) - '08 Russell Westbrook (Sonics) got me thinking for a moment here for Bosh's spot.
5 - '03 Dwyane Wade (Heat) over '08 Kevin Love (Grizzlies) - Love was traded that night to the Wolves with Mike Miller, Brian Cardinal and Jason Collins for O.J. Mayo (the 3rd pick in the '08 Draft), Marko Jaric's inexplicable contract, Greg Buckner and Antoine Walker.
6 - '01 Shane Battier (Grizzlies) over '06 Brandon Roy (Wolves) - Roy was traded to the Blazers for Randy Foye who was taken with the next pick by the Celtics and deals to Minnesota for garbage. Michael Lewis wrote a New York Times piece about Battier in 2009.
7 - '09 Stephen Curry (Warriors) over '04 Luol Deng (Suns) - Deng was traded that night to the Bulls for a gentleman named Jackson Vroman and an '05 1st round pick that turned out to be Nate Robinson. As for Curry at 7, I feel worse for Minnesotans over this than I do because of the winters. Jay Bilas didn't think the Wolves taking Jonny Flynn after Ricky Rubio, over Curry, was a bad idea (:55 mark)
8 - '06 Rudy Gay (Rockets) over '00 Jamal Crawford (Cavs) - Gay was traded to the Grizzlies with Stromile Swift, strongly in the mix for worst #2 of the last 14 years, for Shane Battier. Crawford was part of the worst NBA Draft of all time.
9 - '02 Amar'e Stoudemire (Suns) over '07 Joakim Noah (Bulls) - Not an easy choice to go with Amar'e over Noah, but he was Rookie of the Year, plus a 6-time All-Star and 5-time All-NBA selection.
10 - '01 Joe Johnson (Celtics) over '10 Paul George (Pacers) - The Celtics made the best and worst list with back-to-back picks that year, and then traded Johnson to the Suns at the deadline that year for Tony Delk and Rodney Rogers, who combined to average 15 ppg in the playoffs that ended in the Eastern Conference Finals against the Nets. Johnson will get strong Hall of Fame consideration, seriously.
11 - '11 Klay Thompson (Warriors) over '06 J.J. Redick (Magic) - I went back and forth on this. J.J. has reinvented his game and Klay will continue to develop his, but Redick's best season doesn't touch what Klay did this year.
12 - '07 Thaddeus Young (Sixers) over '03 Nick Collison (Sonics) - You think Collison has been in the league a lot long than LeBron, don't you?
13 - '01 Richard Jefferson (Rockets) over '11 Markieff Morris (Suns) - RJ got shipped that same night to the Nets for Eddie Griffin (on the 'worst' list below). I was in the building when RJ did this to Kevin Willis in the '03 Finals. As far as that trade, on the court, Griffin was the laziest young star I ever saw play while in high school.
14 - '01 Troy Murphy (Warriors) over '12 John Henson (Bucks) - Would you rather Al Thornton, Earl Clark or Kris Humphries? Didn't think so.
The worst picks 1-14 of the last 14 NBA Drafts
1 - '07 Greg Oden (Blazers) over '01 Kwame Brown (Wizards) - 105 total games played for Oden and unfortunately, that's the only stat that matters. Meanwhile, Kwame played 22 games for the Sixers two seasons ago and made nearly $65 million over his career. That actually may be the only number that matters.
2 - '09 Hasheem Thabeet over '03 Darko Milicic (Pistons) - Darko did get a ring before both LeBron and Wade.
4 - '00 Marcus Fizer (Bulls) over '10 Wesley Johnson (Wolves) - Torn ACLs ended Fizer's career who averaged 11 ppg and 5 rpg in his first and only two healthy seasons in the league.
5 - '02 Nikoloz Tskitishvili (Nuggets) over '06 Shelden Williams (Hawks) - It's spelled just the way it sounds. He won a title with Mike D'Antoni in Italy that year he was drafted and then the NBA happened. It's a good thing Shelden graduated from Duke and married Candace Parker.
6 - '09 Jonny Flynn (Wolves) over '02 Dajuan Wagner (Cavs)- '11 Jan Vesely (Wizards) is trying. I saw Wagner put up 38 shots as a HS sophomore at the '99 Donofrio Classic at the 450-seat Fellowship House of Conshohocken, PA and thought that he had 'it.' Here's what he had in 2012. And Flynn?
7 - '01 Eddie Griffin (Nets) over '00 Chris Mihm (Bulls) - The late Eddie Griffin had a solid first two seasons in the league for the Rockets , but alcoholism got the best of him and eventually took his life at the age of 25.
8 - '08 Joe Alexander (Bucks) over '04 Rafael Araujo (Raptors) - Alexander played a handful of games in the D-League this year and was a 2011 D-League All-Star, but his NBA career was a far cry from the postseason he put together as a junior at West Virginia. It's hard to believe there was a worse career at #8 than Araujo, but given that the BYU Brazilian started 75 games, he survives.
9 - '06 Patrick O'Bryant (Warriors) over '03 Mike Sweetney (Knicks) - When you're 7' like O'Bryant and grab more than five rebounds just twice in a career, that'll wrap it up. David West went 18th in 2003, but this exercise isn't about the woulda shoulda coulda.
10 - '06 Mouhamed Sene (Sonics) over '11 Jimmer Fredette (Bucks) - Sene averaged 2.2 ppg, 1.6 rpg, 0.5 bpg in 47 games for the Sonics/Thunder and Knicks. Jimmer was a must-watch at BYU. We all wanted him to shoot every time he touched the ball wherever he was on the court. The Bucks sent him to Sacramento on Draft night as part of a 3-teamer with Charlotte, and despite flashes of Jimmer, he didn't get any run with the Bulls in the playoffs this spring. Even though I have Jimmer here, I still think he ends up hitting big shots for a contender at some point during his career. That could be in Europe, but big shots are big shots.
11 - '05 Fran Vasquez (Magic) over '10 Cole Aldrich (Hornets), '07 Acie Law (Hawks), '01 Kedrick Brown (Celtics) - Would it have been better for the Magic to take Sean May? The next year they went "safe" with Redick. They new he wasn't staying in Durham. The #11 pick was killer from '80-'93: Kiki Vandeweghe, Fat Lever, Derek Harper, Kevin Willis, Reggie Miller, Nick Anderson, Tyrone Hill, Terrell Brandon, Robert Horry, and Allan Houston.
12 - '05 Yaroslav Korolev (Clippers) over '04 Robert Swift (Sonics) - No set of 11-12 picks have played fewer combined games (at least since 1980) than Vasquez and Korolev (34, all by Korolev). Todd Fuller and Vitaly Potapenko may be the most regrettable 11-12 picks from '96 given that they went ahead of the 13-14-15 trio of Kobe, Peja and Nash. Swift's story is just sad.
13 - '02 Marcus Haislip (Bucks) over '05 Sean May (Bobcats) - Haislip averaged 24 ppg in China this year and there's video of him landing a punch in a game a few years back (:34 second mark). Oddly enough, the four years he played in the NBA, the teams he played for went to the playoffs. May was destroyed by injuries starting in his rookie season which was a shame because he averaged nearly 12 ppg and 7 rpg in '06-'07, including a 32pt night against the Magic. That same night, his teammate Adam Morrison scored 22. What could have been.
14 - '00 Mateen Cleaves (Pistons) over '05 Rashad McCants (Wolves) - May was named Most Outstanding Player of the '05 Final Four winning the title with McCants at UNC. However, McCants did date Khloe Kardashian. Cleaves earned the same honor (MOP, not Kardashian boyfriend) five years earlier at Michigan State before going onto play for Pistons, Kings, Cavs, Sonics, in Russia and Greece, Huntsville, Fayetteville and Bakersfield.
A career in sports has given me the opportunity to travel the country to do play-by-play for games in Reading, PA to Olean, NY and report from Super Bowls, Final Fours, World Series, NBA Finals and Stanley Cups. In order to make the most of those experiences, I enjoy getting to taste the local flavors, so I'll end each post with a food recommendation and please pass yours along to me as well.
City: Pittsburgh
Event: My cousin Jesse's wedding
Restaurant: Pamela's Diner (Strip District location)
www.pamelasdiner.com
Plate: Blueberry Hotcakes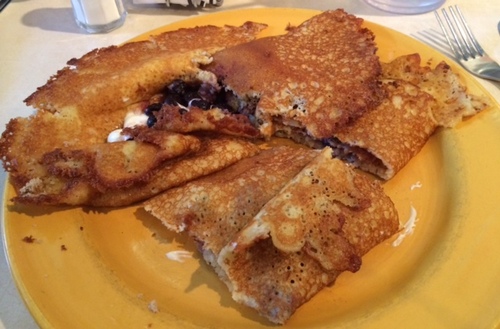 Rolled and stuffed perfectly crisped edged pancakes stuffed with blueberries, brown sugar and just the right amount of sour cream. These flapjack treasure chests are topped with whipped cream, but that's not for me, so hold the whipped cream. Pamela's is an institution in the 'Burgh where my Dad grew up and in this location, one of his elementary school class photos is blown up on the wall. I wanted to have him stand next to it and take a picture, but that would have involved too much maneuvering. Next time. I've never had a bad pancake at Pamela's, but these were the best. They're thin enough to hold the roll, but thick enough to stand alone on a bite if you didn't want any filling. The line is always out the door, but always worth the wait.
Calling all HuffPost superfans!
Sign up for membership to become a founding member and help shape HuffPost's next chapter