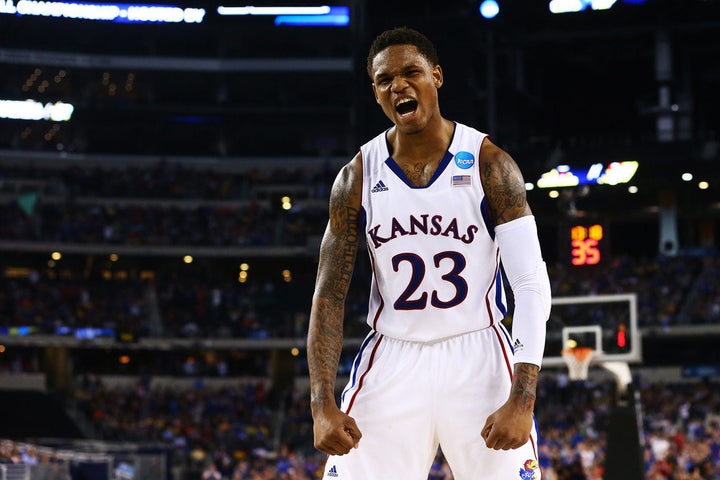 History has taught us a lot of lessons about March Madness, but none is more important than how greatly the tournament can affect potential NBA draft prospects. Sure, five or six games -- or even one game -- is a small sample size, but a stellar NCAA Tournament can drastically improve positioning (see Kemba Walker in 2010), or inflate it (Corey Brewer in 2007).
Here are 10 players from this March who have hurt, helped or maintained their stock, because hey, it's never too early to get ready for mock drafts.
1) Trey Burke, SOPH, PG, Michigan -- FALLING

The consensus national player of the year struggled to regain the same rhythm offensively in March, shooting a woeful 35 percent during the tournament. Even in scoring 24 against Louisville, Trey Burke showed he lacks an elite first step and has a hard time getting his shot off. Very few 6-foot point guards make it in the NBA and, while Burke is almost certainly a lottery pick, his size has to be a question mark.
2) Cody Zeller, SOPH, PF/C, Indiana -- FALLING

Cody Zeller just doesn't play very big. He's not long and despite a sturdy 6-foot-10 frame, he has a strange propensity to play really low to the ground when he has the ball. This is a rather weak draft class so should he declare, Zeller is probably a top 10 guy, but his stock has fallen considerably.
3) Marcus Smart, FR, PG, Oklahoma State -- HOLDING STEADY

After a brilliant freshman season, Marcus Smart -- whom I really like -- was absent against Oregon when the Cowboys were upset in a 12-5 game. He's bullish and extremely strong in the lane, but the lack of a perimeter jumper (29 percent 3s), could hurt his stock. And, as one Western Conference scout pointed out to me, he is rather slow.
4) C.J. Fair, JR, F, Syracuse -- RISING
Syracuse lost to Michigan in the Final Four, but C.J. Fair was the only reason the Orange were in the game. The silky smooth left-handed Fair has a tremendous touch around the hoop, and a la Chris Bosh, is highly deft shooting the ball out to the three, where he converted 49 percent of his tries this season. Should he declare, Fair is a likely top 10 pick.

5) Kelly Olynyk, RS JR, C, Gonzaga -- FALLING

Kelly Olynyk -- the WCC Player of the Year -- validated scouts' concerns against both Southern and Wichita State when he struggled against quicker and more athletic players, despite his massive size advantage. The 7-footer shot just 16-37 from the floor during the Bulldogs' two tourney games.

6) Gorgui Dieng, JR, C, Louisville -- RISING

Gorgui Dieng continued to display a wonderfully retooled jump shot and even hit one coming off a down-screen against Michigan. He's a tremendous shot blocker (2.5 per game) and led the Big East in rebounding as well.
Oklahoma State freshman point guard Marcus Smart could be a lottery pick should he turn pro. (Getty Images)

7) Ben McLemore, RS FR, SG, Kansas-- HOLDING STEADY

Ben McLemore -- the draft's potential top overall pick -- didn't seem especially comfortable at times, but continued to battle through a shooting slump that saw him go 0-8 in the two Kansas wins. He's a terrific scorer and awesome talent though, and eventually it showed; he went for a cool 20 in the Sweet 16 loss to Michigan.
8) Mason Plumlee, SR, C, Duke -- HOLDING STEADY

One of the most improved players in America, Mason Plumlee was superb in the dance, shooting 60 percent from the floor. If he works out well, he has a great shot to come off the board in the teens of June's draft.
9) Khalif Wyatt, SR, G, Temple -- RISING

Khalif Wyatt was marvelous for Temple, scoring 31 points in each of the Owls' tournament games. His dynamic shot-making off the bounce and natural playmaking ability have this 6-foot-4 guard eying the mid-to-late first round of the draft.

10) Cleanthony Early, JR, F, Wichita State -- RISING

I think Cleanthony Early is likely coming back for his senior season (he's played just one year of D1 basketball), but Early's rare inside-out ability is a coveted talent in the NBA. He saved his best for Louisville, when he totaled 24 points and 10 rebounds. Early is another guy that should impress in pre-draft workouts because of his overall athleticism and measurables.
Email me at jordan.schultz@huffingtonpost.com or ask me questions about anything sports-related at @Schultz_Report.
Popular in the Community