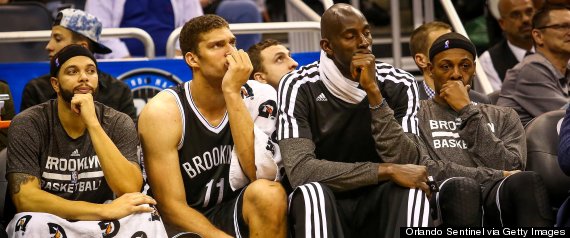 The NBA season is still very young, and some teams are out to a great start, while others have stumbled and show no signs of getting back on their feet. Indeed, the Eastern Conference in particular seems to have tripped over its own shoelaces.
Rookie head coach Brad Stevens walked into a buzz saw. The Celtics are in full rebuilding mode. They aren't exactly tanking, but then again, rookie Kelly Olynyk is averaging 23 minutes a night alongside Jared Sullinger and the trigger-happy Jordan Crawford (both also averaging 20-plus minutes). Jeff Green is the team's go-to option, and Jeff Green is not a go-to option in the NBA.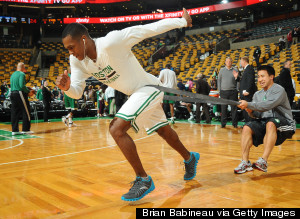 Point guard Rajon Rondo continues to rehab his ACL amid trade rumors. (Getty Images)
The real question is if, and when, All-Star point guard Rajon Rondo will play this season. Rondo, who tore his ACL in January, is the team's best asset. Recent rumors suggest he may be used as trade bait for Iman Shumpert. On the one hand, Rondo is talented and young enough at 27 to build a team around, or to make a good one great. But then he is also coming off major knee surgery and has struggled in the past with authority.
The Nets are an inherently flawed team, and have a bunch of one-on-one scorers and a point guard who still wants to get his. If Deron Williams embraces the pick-and-roll game and a pass-first mentality, as Jason Kidd once did, he could average double-digit assists and still score 16 points a game. But that's not Williams' style. Kevin Garnett's mere presence was supposed to improve a laughable defensive unit that ranked 23rd in field goal percentage against last season. Garnett, though, has yet to impose his will on opposing offenses. The 3-7 Nets, who are tied with New York for the second-worst record in the Eastern Conference, are surrendering more than 102 points per game and are third-worst in 3-point defense.
No Green Thumb In The Garden
Madison Square Garden may have enjoyed a major facelift, but the 3-6 Knicks are 1-5 at home. They are exhibiting a woeful combination of selfish play and lack of defense, allowing opponents to shoot a healthy 46 percent. The injury to ace paint protector Tyson Chandler hurt a lot, but the team is no better from an offensive standpoint. It currently ranks 25th in points per game, and Carmelo Anthony is shooting 42 percent from the floor.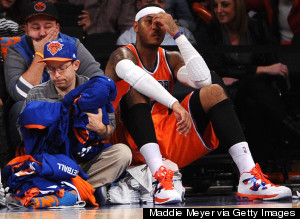 Knicks forward Carmelo Anthony watches as his team loses by 20 at home to Atlanta. (Getty Images)
Meanwhile, J.R. Smith, last year's Sixth Man of the Year, seems lost since returning from knee surgery, and is shooting a career-worst 28 percent, including a 3-18 performance against Atlanta. It's never good to panic before Thanksgiving, but now's the time. The Knicks were shellacked by San Antonio and lost to Charlotte, both at home, and recently surrendered 40 points in the first quarter to Minnesota. They even lost to lowly Detroit for the first time in two years.
Then again, perhaps things on the court are better than in the back office, with owner James Dolan's guarantees, his personal vendetta against the Knicks City Dancers, and a good, old-fashioned Twitter feud.
The Kyrie Irving-led Cavs were a trendy sleeper pick in the East. But after stumbling to a 4-7 record, the team's inability to score has become alarming. With Irving running the show, the team ranks 27th in the league in points scored. But still worse, Cleveland ranks 29th in points per possession, per NBA.com. Second-year shooting guard Dion Waiters looks like the same high-volume shooter, and the team has little to no offensive flow in the half-court.
The Unrealized Potential Of Anthony Bennett
Perhaps Cleveland's biggest disappointment is Anthony Bennett, who has had a disastrous start to his NBA career. Playing just 12 minutes a night, the rookie has looked out of position at both forward spots and has lacked the scoring touch (he shot 53 percent as a freshman at UNLV) that helped make him the top overall pick last June. It's far too early to call Bennett a bust, but he's shooting 14 percent from the floor and appears to lack conditioning.
Email me at jordan.schultz@huffingtonpost.com or ask me questions about anything sports-related at @Schultz_Report and follow me on Instagram @Schultz_Report. Also, be sure and catch my NBC Sports Radio show, Kup and Schultz, which airs Sunday mornings from 9-12 ET, right here.
Support HuffPost
The Stakes Have Never Been Higher
Related
Popular in the Community