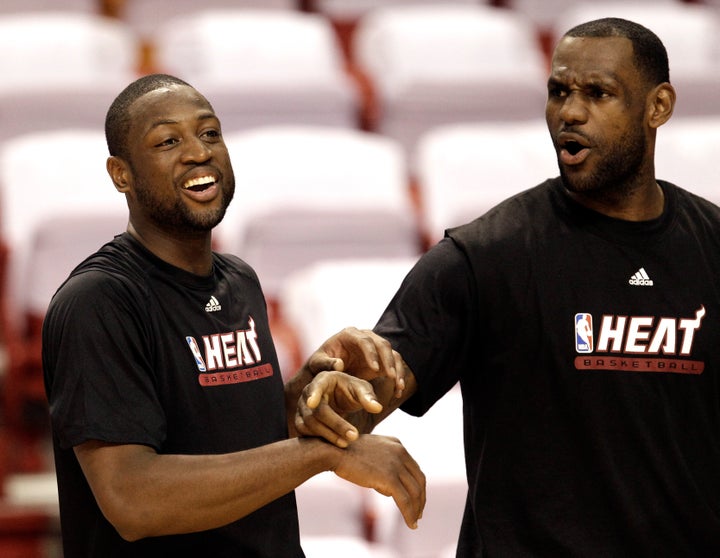 Note: Listen to my Finals breakdown on Sporting News national radio and Watch as I discuss the series with Noah Coslov of Cinesport.
In terms of sheer entertainment value, a Dallas-Miami Finals should be pretty special. Three of the best players in the league -- all future Hall of Famers -- will be playing. And that doesn't even include Jason Kidd, who at 38 years old will become the oldest point guard ever to start in The Finals. It's safe to say David Stern is salivating.
But if you're looking for a rematch of 2006, you might as well stop now.
Miami, of course, is a totally different team. But so is Dallas. This year's Dallas squad is far more resilient than the 2006 team. Jason Terry and Dirk Nowitzki are the only holdovers and Dirk has gotten tougher and better, scoring at an all-time high efficiency and -- for the first time in his career -- consistently punishing smaller defenders. His inability to score against smaller defenders after all was a key component as to why the Mavs lost to the Heat in 2006 and why 8th-seeded Golden St. upset them during the 2007 playoffs.
Further, with Rick Carlisle, the Mavs have now have a coach tailored to their style. Avery Johnson's strategy of clear out for Dirk at all costs was effective but also predictable and stagnant.
While the Heat have struck gold with its offense, it's the other side of the ball that has separated them from their midseason woes. That defense is the first of my keys to the series:
1). Miami's perimeter defense vs. J.J. Barea
Miami has said it will treat Barea like Rose. That sounds insane, but it's not. Barea -- despite his small stature -- actually does a lot of the same things Rose does. He is lethal when operating the pick-and-roll as a passer, driver and 3-point shooter. The key for Miami is to funnel him away from the basket and use its abundance of length and quickness to block his normal passing lanes and shot opportunities.
2). Udonis Haslem and Chris Bosh vs. Dirk Nowitzki
Haslem was tremendous during the '06 Finals on Dirk, forcing him into contested jumpers away from the basket. When I went back and watched film, it was amazing just how physical Haslem was able to get with Nowitzki. Every shot was a challenge and every dribble took effort. All in all, Haslem held Dirk to 31 percent shooting when guarding him.
Bosh, for all the criticism he's taken, is a very good defender. In addition to the "hard show" he has perfected (another key component to limiting Barea), Bosh does a terrific job of using his length and lateral quickness to hamper elite scorers. He didn't guard Dirk much this season, but when he did, Nowitzki shot just 6-14 from the floor and drew just two fouls, both of which were in transition.
LeBron James is another option for Erik Spoelstra, but only in limited bursts. In late-game scenarios when the Heat must have a stop, James could defend Dirk. His combination of power and speed held Rose to 1-15 shooting in the Eastern Conference Finals. Dirk is a tougher matchup because of his size and shooting ability, but using James as a different look down the stretch could be the difference for Miami.
3). Who else is going to score for Dallas?
My biggest problem all season for the Mavericks has been the lack of a No. 2 scorer. Terry has been that at times, as has Peja Stojakovic, Barea and even Shawn Marion, who has revitalized his career and was fantastic on both ends against Oklahoma City. Still, none of these guys are legitimate second options on a consistent basis. This was a problem for Chicago as well. Luol Deng and Carlos Boozer are solid players, but neither could provide enough of a safety valve to free up Rose. Even when Boozer scored, very little of his offense was in crunch time. Against an elite defense like Miami, I worry that Dallas has the same problem.
4). Chris Bosh must play BIG, literally
Aside from his defense, Bosh's ability to control the glass and score could be the difference. His rebounding prowess -- especially on the offensive end -- destroyed Boston and severely hurt the Bulls. Perhaps even more importantly, Bosh must be consistent with his jumper to soften up the Dallas zone in the middle. In their two regular season matchups (both Dallas wins), the Mavs employed a ton of zone defense to force LeBron and Dwyane Wade away from the basket. If Bosh can hit his patented array of 15-foot jump shots, that will allow more driving lanes and kickout opportunities for Mike Miller and James Jones, both of whom could play crucial roles in this series.
Miami in six. I realize that most of the basketball world would love to see Dallas get a title. Ultimately, this may be the last chance for Kidd and Dirk, but the overall speed and power of the Heat is simply unbeatable. Joel Anthony is emerging as a shutdown help defender, Miller is finally producing, and absolutely nobody -- particularly a slower team like Dallas -- can guard this team in transition.
I will say this though, but only to appease Mavs fans. Yes Kidd is 36 and Dirk is 32, but Carlisle did a wonderful job of limiting their minutes throughout the season, with both playing the least amount of minutes in their careers. Many people have made a fuss about Dallas' old age, but I'm not sure how much it will matter.
Even still, I have to take the heavily maligned Big 3.
Email me or ask me questions about The Finals or anything else on Twitter at @206Child for my upcoming mailbag.
Calling all HuffPost superfans!
Sign up for membership to become a founding member and help shape HuffPost's next chapter