 The NBA Finals are as much about matchups as they are about superstars. How will San Antonio coach Gregg Popovich counter Miami's ability to spread the floor with Chris Bosh? Can Heat coach Erik Spoelstra find a way to contain Spurs point guard Tony Parker in the half-court? The Spurs and the Heat faced off at this time last year, with the Heat ultimately prevailing. Here are the ways each team can emerge victorious this time around.
...if it can control the Spurs' transition attack and force Parker and Tim Duncan to really work for offense. What sometimes gets lost in the shuffle is just how efficient the Spurs are in the open floor. As I wrote previously, this is not your older brother's San Antonio team. With Duncan having slowed down and the jet-quick Parker running the show, Pop wants his team to control the tempo. In fact, for the first time during its Big 3 era, the team has ranked in the top 11 in pace during each of the past three seasons. But despite its Herculean defensive efforts against Indiana in the Eastern Conference Finals, the Heat remain an average defensive team that ranked 15th in opponent field goal percentage this season. Clearly, LeBron James and company have discovered the "on" button in the playoffs, but stopping an offense as high-powered and well-run as San Antonio's is another story.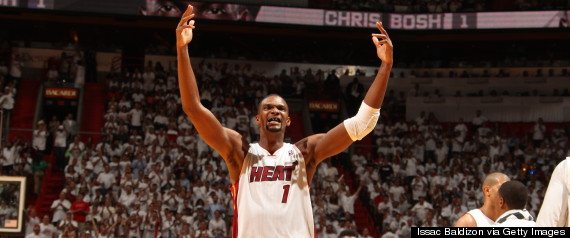 Spoelstra -- as he did during the 2013 finals -- will turn to his small lineup by inserting Shane Battier at the four and using Bosh as his center. Both players are apt at spreading the floor, but it's Bosh whose role is most important. If he can consistently make shots, than both Duncan and Tiago Spittler will be forced away from the basket, naturally creating driving lanes for James and Dwyane Wade.
...if it can force Miami to run offense and consistently score late in the shot clock. Miami is a momentum team, and there is a domino effect to how it wins: More east buckets lead to broken-down, overly-rotated defenses and wide open looks.
The Spurs, however, are an elite defensive team and one of the league's best at preventing easy scoring chances. Why does this matter so much? Because when the better defensive team also has the home court advantage in the finals -- which the Spurs will -- it goes on to win nearly 87 percent of the time (13-2), per ESPN Stats & Info.
Statistics don't lie, but at the same time, defending the Heat requires superb levels of individual and help efforts because of how LeBron creates opportunities for himself and for everyone else. Typically, Popovich likes to lay off him and force open jumpers. In addition, after shooting a career-best 55 percent from the floor this year, Wade has excelled during Miami's fourth straight finals run. Wade, 32, is also coming off a terrific series against the Pacers (who ranked first in team defense in the regular season) and is shooting a splendid 39 percent from 3 in the postseason and 6 percent better on jumpers than last postseason. Don't forget, either, that Miami ranks first in both effective field goal percentage and true shooting percentage in the playoffs.
The Spurs are gunning for their fifth title under Pop, something that would only add to one of the game's all-time dynasties. The Heat, for their part, are hoping for a third straight title, something that has happened only five other times in the history of the league. Furthermore, for the first time in more than three decades, the finals' format is shifting back to 2-2-1-1-1, a potential boon for top-seeded San Antonio. Meanwhile, in yet another odd twist, if the Heat win, it means former No. 1 pick Greg Oden will in fact "earn" a championship ring before Kevin Durant.
In terms of the basketball, after meandering through a surprising seven-game series with Dallas in the first round, the Spurs have found the magic touch. Duncan and Parker have been very good, and perhaps just as importantly, the 36-year-old Manu Ginobili, who endured a miserable finals against Miami, has been looking spry, averaging over 14 points while shooting over 38 percent from distance -- both of which are better than his regular season averages. And even with the Spurs' defensive proficiency, that is precisely the type of offensive balance the team will need to avenge 2013. Doing so will create ample opportunities for the ancillary -- but equally important -- role players. It means open looks for sharpshooters Danny Green and Marco Belinelli, and it means more play-making for Boris Diaw and Patty Mills, all of whom have combined to help the Spurs attain the best net rating of overall efficiency in the postseason.
On the flip side, Miami's offense is such a lethal combination of skill and speed that the Spurs -- who have never lost Game 1 of the finals -- will be constantly tested, both in transition and the half-court. Let's just assume that LeBron will get his standard 25-plus and 8 assists. But will Wade continue his assault on the rim? Will Bosh not merely make shots but also rebound and at least bother Duncan in the paint? Moreover, how quickly will both coaches be willing to go small and big? Who will dictate matchups? If we go back to Games 6 and 7 of last year's finals, it was Spoelstra. And Pop probably hasn't forgotten it.
Email me at jordan.schultz@huffingtonpost.com or ask me questions about anything sports-related at @Schultz_Report and follow me on Instagram @Schultz_Report. Also, be sure to catch my NBC Sports Radio show "Kup and Schultz," which airs Sunday mornings from 9 to 12 EST, right here.
REAL LIFE. REAL NEWS. REAL VOICES.
Help us tell more of the stories that matter from voices that too often remain unheard.