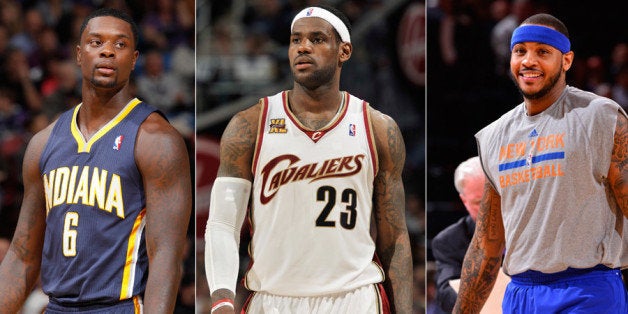 With megastars and mega money, NBA free agency perhaps has eclipsed the regular season itself in terms of pure excitement. Rumors run wild, as players are overpaid, underpaid and everything in between. And while LeBron James mania has taken over the league, there are plenty of other important moves -- not just Carmelo staying in New York -- that are sure to impact next season.
Let's take a look at free agency's winners and losers.
The Cavs' giant gamble to re-attain hometown star LeBron James came to fruition. It was a rather unconventional approach -- Cleveland fought off the pressing urge to make short-term moves -- and the team now has the 29-year-old LeBron to team up with three No. 1 picks, including Kyrie Irving and Andrew Wiggins. Whether Kevin Love ends up a Cavalier remains to be seen, but this has been a remarkable turn of events for one of basketball's seemingly moribund franchises. And we haven't even gotten to recently minted head coach David Blatt, who walks into his first NBA gig in style.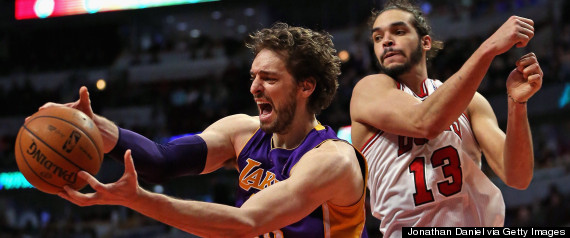 The Bulls dodged a bullet when Carmelo Anthony re-signed with the Knicks, and then they proceeded to go out and get Pau Gasol from the Lakers. Assuming Gasol is healthy (he has vertigo issues), his value remains as a splendid passer and pick-and-pop big. Chicago inks a solid deal, signing the 34-year-old Spaniard to a three-year, $22 million-plus contract with a player option. Assuming Derrick Rose is healthy again, Gasol -- who can play both the four and five spots -- will team up nicely alongside him, All-Star center Joakim Noah and Taj Gibson.
Flying more under the radar was Chicago's move to sign 23-year-old Montenegrin forward Nikola Mirotic, a 2011 first-round draft pick. The contract is worth $17 million over three years as part of the mid-level exception, and gives Chicago a fantastic 3-point shooting big (46 percent in Spain's highly competitive ACB League last year).
The Hornets are clear free agency winners -- signing Lance Stephenson means that much. He didn't receive the colossal offer he had hoped for, but the 23-year-old instantly becomes the focal point of Charlotte's offense, playing a two-man game with talented power forward Al Jefferson. Something was clearly wrong in Indiana, because Stephenson turned down their offer of more money, but the Pacers' loss is the Hornets' gain.
Isaiah Thomas to the tune of four years and $27 million may turn out to be the heist of free agency. Thomas averaged more than 20 points last season -- albeit for Sacramento -- plus the Suns will still have an opportunity to go out and get Kevin Love. They have an embarrassment of riches at point guard right now (remember, they drafted Tyler Ennis), but that's not the worst thing in the world either.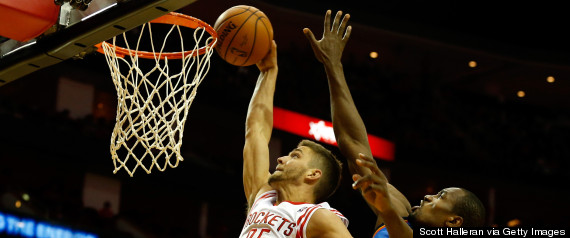 Houston foolishly elected not to match Dallas' three-year, $46 million deal on Chandler Parsons (above), a former second-round pick who will now earn about $15 million a year -- a 1,500 percent raise from his rookie deal. A terrific playmaker from the small forward position, Parsons will become a legitimate second option behind Dirk Nowitzki (who re-signed on the super cheap). He gives the Mavs another ball handler, and one who just happens to be 6-foot-9. One of the game's premier offenses also acquired a former Finals hero in center Tyson Chandler, who will improve Rick Carlisle's entire defense.
The 30-year-old Bosh seemingly pulled a fast one on the entire city of Houston and on NBA circles everywhere by re-signing for the max in Miami. Bosh has repeatedly said that he enjoys winning more than the spotlight, but in turning down four years and $88 million from the Rockets, it would appear that the latter got the better of him. There is also the matter of getting $118 million and staying in South Beach -- and the fact that sans LeBron in the Heat lineup, Bosh's scoring average increased more than six points, per ESPN Stats & Info. (Last season, he averaged a mere 12 field goal attempts per game.)
I'm cheating a little bit here, given how free agency ties in with Boston's wonderful draft. The Celtics re-signed 23-year-old combo man Avery Bradley for four years, $32 million. Between Bradley and Marcus Smart, the sixth pick in the draft, head coach Brad Stevens possesses a lightning-quick backcourt that can really defend. We can only speculate about the uncertain future of point guard Rajon Rondo, but if Rondo is not dealt, Boston will have the league's quickest trio of guards that also can put a ton of pressure on opposing defenses.
Pat Riley lost the best player on the planet and then gave Chris Bosh the max. That's a rough summer for anyone. How GM Daryl Morey lost out on both Chris Bosh and Chandler Parsons is beyond me. Forget about Carmelo for just a moment. Bosh re-signing with Miami makes sense because of the cash, but Parsons' deal not being matched is a spectacular display of ineptitude by Morey. Morey could have paid less than $1 million next season for Parsons, but he declined that option. Parsons is a phenomenal playmaker who spreads the floor extremely well for James Harden and Dwight Howard. By letting him walk and attaining Trevor Ariza from Washington, Morey acquires a less-gifted version of Parsons. Ariza has long been known as a defensive ace, but Parsons offers more offensively and is still only 25 years old.
Perhaps Morey's statement to KBME-Am 790 in Houston sums it up best: "The contract (Parsons) got...the Mavericks are a smart organization; they obviously wanted to get him...that structure of that (contract) is literally one of the most untradeable structures I've ever seen." Morey did not match solely because the contract is untradeable? That's a joke.
Gordon Hayward is a nice player and one I've always really liked, but matching a $63 million contract over four years puts the Jazz in a really tight spot moving forward. This is a talented young team, with bigs Enes Kanter and Derrick Favors, along with guards Trey Burke and Dante Exum. It drafted Rodney Hood, who can do a lot of the same things and may become a better version of Hayward.
In the twilight of his career, the 35-year-old Bryant is sans Pau Gasol, playing alongside Nick "Swaggy P" Young in the backcourt, and running pick-and-roll with Jordan Hill! Super. Congratulations to the Knicks for re-signing this generation's version of Bernard King! In 10 seasons, Carmelo has been out of the first round twice. He has led the league in scoring while winning a total of three postseason series. Phil Jackson, a basketball maestro of unquestioned genius, shockingly gave Anthony the max, thereby ensuring his team's inability to make the necessary winning moves going forward.
The roster remains in decent shape, assuming Al Horford is back to 100 percent. However, it's becoming a joke how much this organization struggles to attract free agents. And we're not even talking about marquee guys. Nobody wants to play in Atlanta.
Under the rudderless leadership of management, Sacramento's big move was to nab veteran point guard Darren Collison. More importantly, the Kings lost free agent Isaiah Thomas, who averaged more than 20 points in his third year in the league. Oh, and they have two shooting guards now too.
Indiana lost another series to Miami while simultaneously watching its All-Star center Roy Hibbert forget how to play basketball. A perimeter duo of Paul George and Lance Stephenson could have been devastating for the next decade. Losing Stephenson is just a killer, any way you slice it up.
The same ill-timed logic goes for the Pistons as well, who signed 3-point specialist Jodie Meeks away from the Lakers for three years, $19.5 million. Actually, that sounds even worse when you say it out loud.
Email me at jordan.schultz@huffingtonpost.com or ask me questions about anything sports-related at @Schultz_Report and follow me on Instagram @Schultz_Report. Also, be sure and catch my NBC Sports Radio show, Kup and Schultz, which airs Sunday mornings from 9-12 ET, right here.
Calling all HuffPost superfans!
Sign up for membership to become a founding member and help shape HuffPost's next chapter