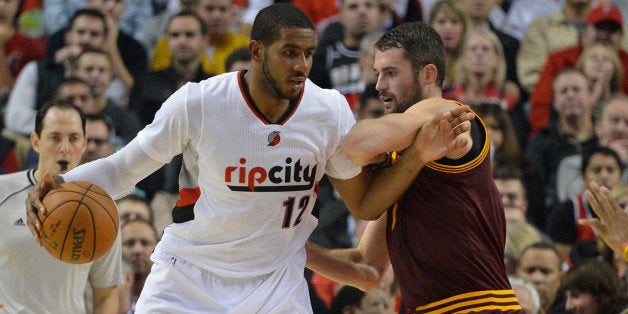 If the NBA Draft is a full-on crapshoot (read my winners and losers here and my interview with Karl-Anthony Towns here) then we might as well call free agency a poker game. Why? Because teams have a better idea of who's who at this point, although second and third contracts have a way of changing players. Fit is often just as important as talent, and the right system can make or break a player. As we will examine, that hardly excuses teams of making costly mistakes.
The 2015 free agency may be one year removed from the LeBron James saga, but with two of the league's premier power forwards, Kevin Love and LaMarcus Aldridge, opting out, there remains star power. Free agency begins July 1, and unlike the draft, it lasts more than just a few hours on primetime television. Here are the five most important questions as we get set for the league's second season.
Are The Lakers On Their Way Back?
Kobe Bryant returning to the lineup isn't the only good news in Tinseltown. Armed with a future superstar in point guard D'Angelo Russell -- the second pick in the draft -- the Lakers also have an abundance of cash. The two obvious targets are the former UCLA product Love, 26, and Aldridge, 29, both of whom can come in right away and help propel them back to sustained postseason runs. The beauty of both these guys is the ability to stretch the floor and play the two-man game. Both thrive in pick-and-roll because of their passing and shooting, but also because of their sound footwork and capacity to make tough catches. That has to be a huge selling point with Russell, whose prodigious passing talent draws comparisons to Jason Kidd and even Magic Johnson.
As I've reported, Aldridge -- who is from Dallas and went to Texas -- is highly unlikely to become a Laker. The two best bets are Dallas and San Antonio, with the Spurs having an edge. Don't forget either that Texas doesn't have a state income tax, surely an added bonus for a contract this large. Aldridge, an All-Star for four consecutive years, averaged a career-high 23.4 points and 10.2 rebounds while leading Portland to the playoffs last year. San Antonio's patented side pick-and-roll action with Tony Parker -- which vanquished Aldridge and the Blazers during the 2014 postseason -- would be an easy marriage.
All may be well in Lakerland even if Love or Aldridge doesn't sign: the Lakers will get $25 million when Bryant's "loyalty" contract expires next season, not to mention the added funding of a raised salary cap (see below).
Does Marc Gasol's Market Value Even Matter?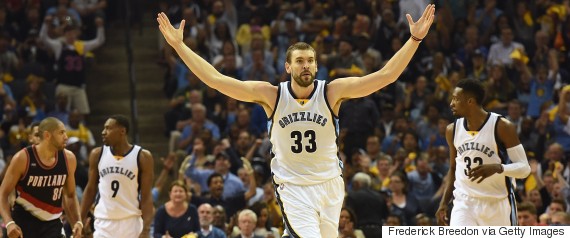 The NBA's best center will earn his final big contract at 30 years old, right smack in his prime. Gasol, who averaged a career best 17.4 points last year for a playoff Memphis squad, will draw interest from several teams, likely including the Lakers and Spurs. The general consensus, though, is that in all likelihood, it will be the Grizz resigning Gasol, despite him being unrestricted. Gasol has lived in Memphis since his teenage years, he's comfortable there and the team has weapons around him. The physical Zach Randolph can bang with other 4s and even 5s, and a terrific pick-and-roll triggerman in Mike Conley aids in Gasol's offensive prowess.
What Happens To The "Other" Big?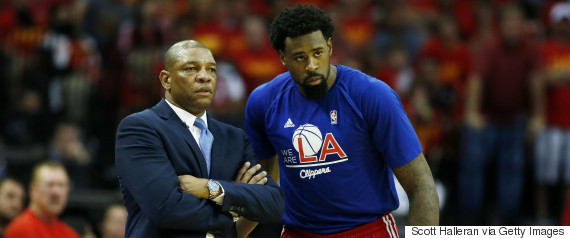 Dare we sleep on Los Angeles Clippers' Third-Team All-NBA center DeAndre Jordan, the NBA's leader in field goal percentage at 71 percent? The 26-year-old had a career year -- free-throw woes and all -- and has become one of the game's elite shot blockers and finishers. While the market for Jordan isn't as robust as Love's or Aldridge's, we can expect him to field a series of offers. Having already dealt 7-footer Spencer Hawes, vice president and head coach Doc Rivers -- prone to questionable decision-making -- appears to be banking on Jordan's return. Presumably, part of that stems from the fact that the Clippers can offer more years -- and more cash -- than anyone else. Then again, Dallas appears to be a front-runner for the unrestricted Jordan, given that the Mavs have two sizable deals coming off the books in center Tyson Chandler and disgruntled point guard Rajon Rondo. If the Clips cannot retain Jordan, it would be a massive blow for Blake Griffin and Chris Paul, whose patented "Lob City" would be cut in half.
Is D-Wade Leaving South Beach?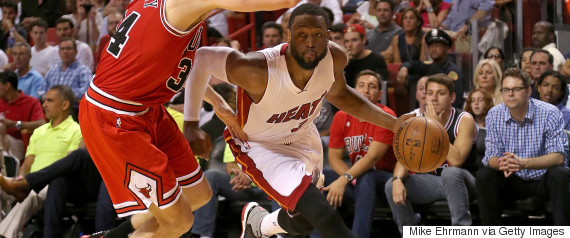 In a pretty bare market for guards, a rickety Dwyane Wade is one of the best available. The 33-year-old may only give you 50 games, but realistically, how many guys on the open market are more dynamic on both ends? Sans LeBron, Wade averaged a healthy 21.5 points, albeit on 47 percent shooting, the third lowest clip of his marvelous 12-year career. After opting out of his player option, Wade -- who was scheduled to earn more than $16 million next season -- is now believed to be seeking three more years, averaging $16 million, according to ESPN.com.
If he chooses to stay, however, help is on the way. Team president Pat Riley stole Justise Winslow with the 10th pick, giving Wade an immensely gifted perimeter running mate that Mike Krzyzewski -- who has coached them both -- even went so far as to compare to Wade. Ideally, Winslow can both alleviate some of the defensive and offensive onus, but also absorb some of Wade's minutes. The other matter for the future Hall of Famer to consider is free agent point guard Goran Dragic, a Third-Team All-NBA performer whom Riley shrewdly acquired at the trade deadline (see my deadline winners and losers) and who will surely command a five-year deal.
"I feel confident that this is where he wants to be," Riley said recently. "He stated that when we traded for him. He knew how much we gave up for him. And he wants to be here. He let me know that in the exit meeting."
A splendid playmaker who has shown the capacity to go off the ball as well, the efficient Dragic (17 points, 5 assists on 50 percent shooting in 26 games with Miami) can presumably make life easier for Wade moving forward because of his versatility. All in all, Riley has a pretty decent roster if he retains the Slovenian, given his found gold in former D-League center Hassan Whiteside. The continually solid, if not spectacular Chris Bosh -- locked up on a max deal last summer -- gives the Heat a formidable, rangy front line that can create a litany of problems. Presumably, Wade would want to remain in Miami in the measly Eastern Conference, and he may ultimately think that staying put gives him the best chance to go for a fourth ring. Regardless, this is the last marquee contract of his career, so the decision holds that much more weight.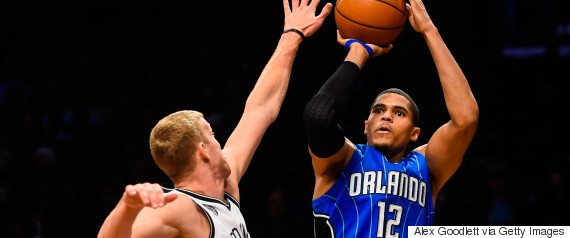 It's not a matter of if, but when. The annual barrage of inflated contracts is as much a part of free agency as anything. Sorry, Knick fans, but remember salary albatrosses Jerome James and Eddy Curry? Washington was burned when it gave Gilbert Arenas a six-figure deal, and don't forget Philly ponying up $80 million to Elton Brand for his middling numbers on sorry teams.
Circumstances are different for every team: a GM might think he's one piece away from contending. Or, he might have such an abundance of cap space that it's worth taking a chance on a sizable deal, even if he's overpaying. Or better yet, his evaluation of a player might be completely wrong. With the cap set to expand considerably for the 2016-17 season, we can expect to see more of the same colossal-failure free agent signings. And, in this specific class, there are several prime candidates, two of whom are especially worth highlighting.
Orlando's Tobias Harris (above), 22, has been floated as a potential max guy with Detroit or Boston. Harris is a fine young player and he should command a hefty deal -- maybe with the Lakers or Knicks -- but giving the max to a guy who put up decent numbers for a terrible Orlando team seems like an awful lot.
Another young forward expected to get max money is Cleveland's Tristan Thompson, who emerged in the playoffs as a terrific offensive rebounder, capable defender and an adequate finisher around the rim. In other words, the 24-year-old is a nice asset to have as part of a winning core. But has Thompson ever displayed any sort of a skill set to suggest he can become a reliable go-to option or shot blocker? This may be more of LeBron flexing his muscles given the extensive reports that he wants Thompson -- a former top-five pick -- back for the long haul. Any bargaining chip the Cavs front office may have had is long gone.
Calling all HuffPost superfans!
Sign up for membership to become a founding member and help shape HuffPost's next chapter