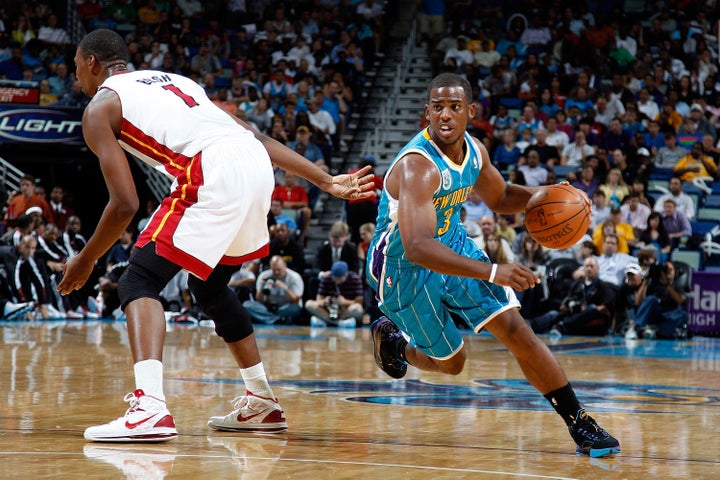 Good news for you little markets... You'll be making a lot more money!
Unfortunately, as far as competing with the big teams, they're still going to be them and you'll still be you, for a while or, possibly, forever.
Whether it was overdue or the owners were due that much, they redressed the economic balance once and for all. Of course, there was a price -- and, as usual, it was their non-economic demands that would have leveled the playing field for the small markets.
To get their $3 billion over 10 years, the owners caved on the system issues that would have stopped superstars from joining hands and heading for glamour markets, settling for restrictions including a more punitive luxury tax -- although that won't start for another two years.
So for at least two seasons, the rich will also make a lot more money, while becoming even more unassailable!
Last fall, the creaking Lakers and Celtics, who were out of moves with few tradable pieces and no cap room, made out like bandits with cheap players from a mile-long list of free agents (Shaquille O'Neal, Jermaine O'Neal, Delonte West, Steve Blake, Matt Barnes, Theo Ratliff.) With Shaq complimenting Kendrick Perkins, the Celtics, the NBA's most physical team with Kevin Garnett their only player over 6-9 in stocking feet, became truly menacing. They were 33-9 when Shaq's hip "locked up" in a win over the Wizards. Unfortunately, he played four more games, they finished 23-17 with Nenad Krstic taking over at center, and there went their menace. None of the Lakers' additions panned out, and there went the defense of their back-to-back titles.
In the good news for both... It's not over!
It's like when the Germans bombed Pearl Harbor, as John Belushi's Bluto Blutarsky noted in "Animal House," running out of the room and challenging his Delta brothers to follow him. Those who learn the lessons of NBA history are about to see them again, as that Spanish guy said, more or less.
Once again, the cachet of old powers like the Lakers and Celtics, and younger, more powerful teams like the Bulls and Heat, gives them first pick of an even longer list of free agents like Caron Butler and Shane Batter, as amnesty takes prohibitive price tags off, say, Brandon Roy. That is, the big teams will pluck from this long list -- after seeing whether the Dwight Howard and Chris Paul situations will play out on the fast-track.
It was clear everyone's first call would go to Orlando and New Orleans, seeking the prize 2012 free agents. What wasn't clear was that either would be available.
The Magic still thought of itself as a winner, no matter how badly it screwed itself up with its Vince Carter deal, and hoped to win Dwight back. Paul wasn't expected to go anywhere until the Hornets were sold... to the NBA, which bought out George Shinn for $320 million ($11 million each from 29 owners), seeking $400 million.
When rumors (Paul for Rajon Rondo; Paul for Eric Gordon, Mo Williams and Minnesota's No. 1 pick next spring, which the Clippers own) started flying, I called them "garbage" or "moronic" in a tweet. I can't remember exactly which, but I typed them both out at one time or another. So much for my perfect season.
I then learned from a GM that the Hornets were taking offers for CP3. A day later, Magic GM Otis Smith signaled he was open to trading Howard.
Insiders still expect the DeVos family, whose indecision cost them Shaq in 1996, to try to win Dwight back, as the team moves into its new arena, preparing to host the All-Star Game. If, or when, Paul and Howard move, it'll almost certainly be somewhere big and/or glamorous.
(The qualifier is for the Clippers and Nets, who are in huge markets, aspire to cachet but to this point remain late night comics' fodder.)
ESPN's Chris Broussard, who has a good track record on the thoughts of Leon Rose/CAA clients (LeBron James, for one), reported Paul -- another Rose/CAA guy -- won't sign an extension in Boston, where the present is tenable but the future murky.
CAA, a new player on the agency scene as far as the NBA is concerned, has already made a major impact, pushing clients to glamour markets (Carmelo Anthony to New York, the Heat big three to Miami.)
Whether the Lakers will offer one of their 7-footers remains to be seen.If Howard is available, Jim Buss, who now has the say, would probably move Andrew Bynum, his oft-injured fave.
It remains to be seen if the Lakers will offer Andrew for CP3.
I would, and as far as Bynum was concerned, I was always the Jim Buss of the Laker press corps.
Bynum would average 20-10 standing on his head in New Orleans if he stays healthy, but he never has.
Since the Lakers need a great point as much as a great center, trading 'Drew for CP3 is the percentage play... with Pau Gasol held back to offer for Howard at the trade deadline.
As for the comers, they're about to get better.
LeBron James and Dwyane Wade had dead wood masquerading as rotation players, but Heat president Pat Riley is about to upgrade those slots.
The precocious Bulls started 10-8, finished 52-12 and made the East Finals with no shooting guard who could shoot (Keith Bogans) or defend (Kyle Korver).
Whether it's Jason Richardson, Nick Young, O.J. Mayo (restricted free agent), or a forward like Caron Butler, with Luol Deng moving to guard, their starting lineup will soon have one more shooter.
What this means for superbly-managed Oklahoma City, the new king of the small market teams, remains to be seen. Personally, I don't think the Thunder's time is yet. Now to see who goes where, and if the Thunder ever has a time.
Mark Heisler is a regular contributor to SheridanHoops. His columns appear each Monday.

REAL LIFE. REAL NEWS. REAL VOICES.
Help us tell more of the stories that matter from voices that too often remain unheard.