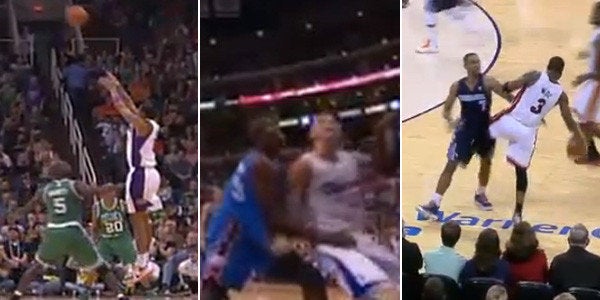 Aside from inadvertently contributing to the genesis of the #GroinAltercation hashtag, the NBA's decision not to suspend Oklahoma City Thunder center Serge Ibaka for a low blow to Los Angeles Clippers forward Blake Griffin was notable because it appeared inconsistent with discipline doled out for similar transgressions.
In the fourth quarter of a nationally-televised Thunder-Clippers game on Sunday, Ibaka appeared to intentionally strike Griffin as they battled for position under the glass. Regardless of intent, Ibaka's right hand hit Griffin in the groin, sending him tumbling to the floor. After an official review of the play, Ibaka was assessed a flagrant 1 for the foul. Even at the time, fans and media on Twitter wondered why it hadn't been a flagrant 2, resulting in an ejection.
NBA executive vice president for basketball operations Stu Jackson announced on Tuesday that Ibaka would be fined $25,000 for the play. The flagrant 1 was also upgraded to a flagrant 2. That Ibaka was spared a suspension, caught the attention of LeBron James.
In December 2012, Jackson announced that Dwyane Wade would serve a one-game suspension for "flailing his leg and making contact with the groin" of Charlotte's Ramon Sessions. Just a few weeks prior to the Wade-Sessions incident, Sacramento Kings center DeMarcus Cousins was suspended on game for hitting Mavericks guard O.J. Mayo in the groin area.
In an incident similar to Cousins' low blow, Celtics star Kevin Garnett reached out and struck Phoenix's Channing Frye in the groin in 2011. KG was ejected, but wasn't fined or suspended. Conspiracy theorists should note that the Celtics' next game was against the Lakers and televised by ABC. Just hours after it was announced that he would not be suspended, Ibaka and the Thunder faced off against the Lakers on Tuesday night on TNT.
Was Ibaka's cheap shot markedly less egregious than those that landed suspensions? If so, why did the NBA upgrade the foul to a flagrant 2? Was Ibaka's history considered? Is it possible that the NBA ignored #GroinAltercations so that full-strength teams would face the Lakers on national television for #BasketballReasons? Or, more mundanely, is the league just maddeningly inconsistent when it comes to punishing fouls?
Going back to 2008, Milwaukee's Royal Ivey was suspended three games for punching Chicago Bulls center Aaron Gray in the groin. Here are some of the of the other low blows that have been delivered during NBA games, ranging back to 2006, and the punishments they resulted in.
PHOTO GALLERY
NBA Groin Shots
REAL LIFE. REAL NEWS. REAL VOICES.
Help us tell more of the stories that matter from voices that too often remain unheard.