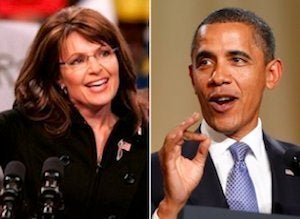 Barack Obama has proven that he has a sweet left-handed jumper, but with news that he's going to appear in the new "NBA Jam" video game alongside other political powerhouses, some might be starting to wonder: how will the President dunk on Sarah Palin?
According to a recent ESPN interview with EA Sports' Trey Smith, creative director of "NBA Jam," players will be able to find out that and a whole lot more:
EA Sports' new "NBA Jam" game for the Wii is about to top them all, however, as in addition to a hidden team of Beastie Boys, there is an unlockable team of Democrats, featuring President Barack Obama, Joe Biden, Bill and Hillary Clinton, and Al Gore, as well as a team of Republicans that includes George W. Bush, Sarah Palin, John McCain and Dick Cheney.
So, Smith told ESPN, don't be surprised to see Vice President Joe Biden dropping a "Big F-ing Dunk" on Dick Cheney -- or something like that:
It's an arcade title, it's over-the-top, you catch on fire and do flips 40-feet in the air, and I think one of the secrets that makes up the pure joy of "Jam" is surprise. It's surprising the player. It's about surprising everyone with what the players can do on the court like smashing the backboard and catching on fire, and those moments of surprise where the game just takes you on a trip. That goes along with the secret characters as well.
According to Smith, Sarah Palin's "beehive haircut" and "helicopter dunk" are just the beginning of the unique features for the politician characters:
And just like we have the dunk faces of the NBA players where we grabbed high-resolution pictures of their game faces, we did the same thing with the politicians. We found these pictures that showed off the emotion of all of these politicians, and some of them are classic. Dick Cheney has the Darth Vader snarl. Obama makes some great faces, and the politician dunk faces are some of the best dunk faces in the entire game.
Calling all HuffPost superfans!
Sign up for membership to become a founding member and help shape HuffPost's next chapter