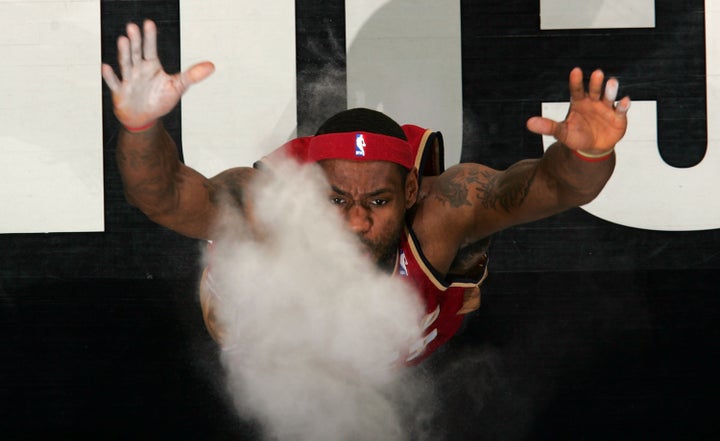 NBA attendance could catch up to pre-lockout numbers faster than it takes LeBron James' pregame chalk toss to settle. That's because fans seem to easily forget sports labor disputes. Fans are so willing to pardon, they almost give banks hope that customers will erase the memory of that little meltdown in 2008.
"It's always a quick recovery," said Dave Berri, a Southern Utah University sports economist and author of the book and blog, "The Wages of Wins." "Fans do not hold a grudge."
Now that the NBA owners and players have reached a tentative agreement to end the lockout and begin a shortened 66-game season on Christmas Day, the question emerges how quickly recession-beaten and disenchanted spectators will return to the game. Despite an average of $48 a ticket and a wave of bad press about both sides during the bargaining, the comeback is expected to be swift.
The last three major-league stoppages show that the relief of seeing our favorite sports after an absence overwhelms any sense of betrayal. It's no contest, really.
The National Hockey League's locked-out, canceled season of 2004-05 generated an immediate surge in attendance the next year players took the ice. In 2005-06, 25 of 30 teams reported increased attendance, with the Pittsburgh Penguins' patronage growing by more than 33 percent, the Pittsburgh Post-Gazette reported.
"My own personal observation is that hockey never even broke stride," said Rod Fort, a University of Michigan sports economist who wrote extensively about hockey's rapid recovery. The NHL will have to count on its loyalist base again when its contract with the players expires before next season.
"Fans are rightfully indignant during the lockout, and we hear nationwide claims they are finished spending another dollar on the sport they love," Fort said. "And as soon as play starts, they're back in full force."
If the NBA's last play interruption in 1998-99 is any barometer, fans won't be gone long. The 1997-98 season, featuring the Chicago Bulls' last NBA title with Michael Jordan, produced a per-game crowd average of 17,135. The lockout-shortened season's average shrank slightly to 16,738 and began climbing again to 16,870 in 1999-2000. The one permanent loss the NBA suffered was in the broadcast arena. Driven by Jordan's cross-culture appeal, the 1997-98 finals earned an all-time high Nielsen rating of 18.7, meaning it was viewed by 18.7 percent of American households with television. The ratings plummeted to 11.3 for the championship series between the Knicks and Spurs during the lockout-shortened 1998-99 season, and have never recovered. Much of that, however, could be attributed to Jordan's second retirement.
A public relations expert whose firm once represented former Knicks players Allan Houston and Jalen Rose predicts less spectator resistance this time around for the NBA. Ronn Torossian, president of the 5WPR agency, gives fans 60 days -- tops -- to fully resume their patronage. "Pro sports in this country is a religion, and it's not going anywhere anytime soon," he said.
We asked the NBA how quickly it expected to restore its attendance, but a spokeswoman said the league could not comment until the new agreement was officially ratified.
At least the NBA didn't jettison its postseason, like Major League Baseball did in 1994. After a labor impasse wiped out the World Series, some historians declared that the national pastime was saved by the home run race between Mark McGwire and Sammy Sosa in 1998. Berri and Fort dismiss that as a myth of Casey at the Bat proportions.
Many observers make the mistake of comparing post-strike attendance to 1993 (70,257,938 total, 30,964 per game), but that was the year the Colorado Rockies and Florida Marlins entered the league. The novelty and additional games in made-for-football stadiums resulted in the biggest crowd surge since 1946, Berri explained, so any season soon after would pale in comparison. The truth is, per-game attendance in 1996 (26,510), the first full season after the strike, had climbed back to 1992 levels (26,529). Baseball has lingering attendance and TV ratings problems, but tracing them to a board-room standoff 17 years ago may be a little far-fetched. (The sport reached a five-year collective bargaining agreement last week to avoid lockouts and strikes for the time being.)
To end its latest labor war, the NBA will have the advantage of opening on Christmas Day, a holiday the league has adopted as its regular-season showcase. That means an expectant national TV audience. Fans will be able to open gifts and watch a triple-header featuring a rematch between 2011 NBA finalists Miami and eventual champion Dallas. Berri said he believes the ratings will soar higher than last year's Christmas telecast.
For the record, ABC's airing of the Lakers and Kobe Bryant against the Heat and James on Dec. 25, 2010, attracted a 6.4 rating, a 45 percent increase over the previous season.
An improvement will be a slam dunk.
"America is a very forgiving place and Americans don't have a long memory," Torossian said.
Calling all HuffPost superfans!
Sign up for membership to become a founding member and help shape HuffPost's next chapter