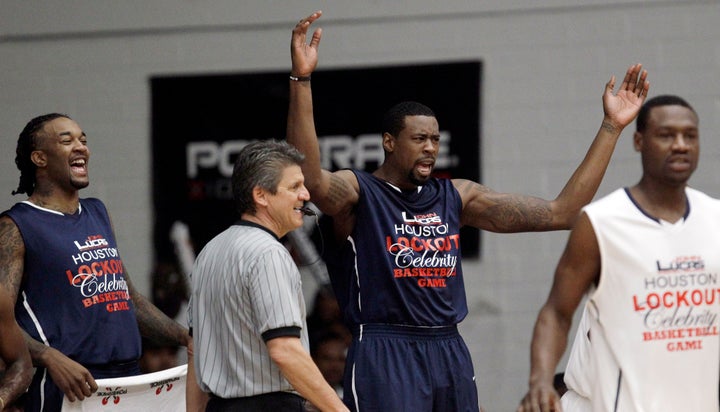 Imagine a pro-basketball league that operated in the style of NASCAR. Instead of drivers, teams roll into town for the big competition, earning more prize money the higher they finish. Then they move on to the next city and play another tournament. All, of course, with a big TV contract to sweeten the deal.
Rodney Fort, a University of Michigan sports economist, has seen the future for locked-out NBA players, and it does not involve geographically-locked franchises. What he calls his NASCAR business model travels the same road as the pro golf tour and Ultimate Fighting Championship -- sports that migrate.
"If the players use their imaginations, they won't create the same pro basketball association," he said.
NBA team owners and players have stopped and started contract talks after hundreds of games were already canceled, jeopardizing the entire season. The only moves the players are making now are in court, launching antitrust suits. They had threatened to start a league of their own, so here's a novel chance to keep the cash and skills flowing.
This means Kobe Bryant, LeBron James and all of the rest getting their assets in gear for a barnstorming of playoff intensity from New York to Shanghai, Fort envisions. The current 82-game grind of an NBA regular season could morph into 20 round-robin brackets before fresh fans each week.
The games wouldn't be charity exhibitions, as the players are staging now. Or Harlem Globetrotter goofs. These are for-profit games that count between established clubs. Teams could vie for an end-of-season points award for more money, just like NASCAR drivers do.
Fort figures a schedule could be arranged in a month. It would be no more complicated than booking U2 on a world tour, he said. A traveling league avoids potential fights with NBA owners over existing arena contracts and keeps a clamp on fixed costs.
Players could part-own the teams. "NBA players probably have enough seed capital to put up their own league capital," said Jim Foster, founder of the Arena Football League. "Take the risk and earn the reward."
In a season-stopping labor standoff that is the first in major sports since the NHL canceled its 2004-05 season, NBA players and team owners are fighting over how to split $4 billion in revenue. Take half of that -- $2 billion -- as a league-wide earnings standard, Fort suggested. Divide that by the amount of teams -- say the current 30 -- and you come up with a per-team cap. Offer base salaries, incentivize the pay scale (points, rebounds, steals, league revenue, etc.) and offer standard increases for every year of service. Let the superstars earn superstar appearance fees in each town (a reality in many sports) and the big endorsement bucks from their sponsors. There's no reason for Nike and Adidas to stay on the sidelines.
"Think about how cool this would be," Fort said. "If they're playing the same number of games every year, there's no reason they couldn't make more money."
If we take Fort's NASCAR idea one step further, the monetary distribution could mimic the racing organization's. Like drivers, teams would be under contract with a sponsor and share between 25 percent and 50 percent of the tournament prize winnings. The team owner would then use the rest of the sponsor money to offset travel costs and staff salaries.
The TV deal will work itself out because the demand for live sports entrainment is "nearly insatiable," Fort said. But players will need a seasoned promoter. Sports-packaging companies like IMG exist for such undertakings, the economist continued.
Deciding who's the boss could be the trickiest issue. Foster believes the league should be a single profit-sharing entity, with one front office hiring team managers employed by the league. The indoor football entrepreneur's greatest regret was allowing his league to stray from its original one-for-all structure to let individual team owners on board. The AFL has struggled since, and Foster is no longer involved. "You can fire a bad manager, but you can't fire a bad owner," he explained.
Gary Davidson, who founded the American Basketball Association and World Hockey Association -- which merged with the NBA and NHL respectively --
-- said a new basketball league should be composed of individual franchises. "It's physically impossible to have one office hire 18 coaches and 18 general managers, or whatever the numbers might be," he said. Letting players have the deed to a central body could also spell disaster, he added. "Kobe Bryant when he's 60 will still own 20 percent of the league. It can't work that way." Besides, Davidson asserted, the league would need a nonparticipating authority who can "put the hammer down" when conflicts arise.
Davidson said courting more fan involvement through an IPO might work. Raise, say, $1.5 billion. But the former sports startup king worried that fans would not buy shares in a community league. They need a distinct team allegiance, like the Green Bay Packers have. The Packers are the only publicly held major sports team in the country. Its latest offering, in December, will be selling shares at a forecast $200 a pop. Davidson couldn't envision someone in Portland, Ore., for instance, investing in an entire league that didn't have a team in Portland.
However the players proceed with an alternative venture, they should get a judge's approval first, according to one prominent sports attorney. "I think the main thing is to make sure that the current contract the players were under wouldn't be binding," said Scott Andresen, a sports law professor at Northwestern and Columbia College-Chicago. "I think that's something that you would want to get through a judicial determination. It's too much time, effort and money and liability to just hope for the best."
Then lace 'em up and play, NASCAR style.
Related
Popular in the Community