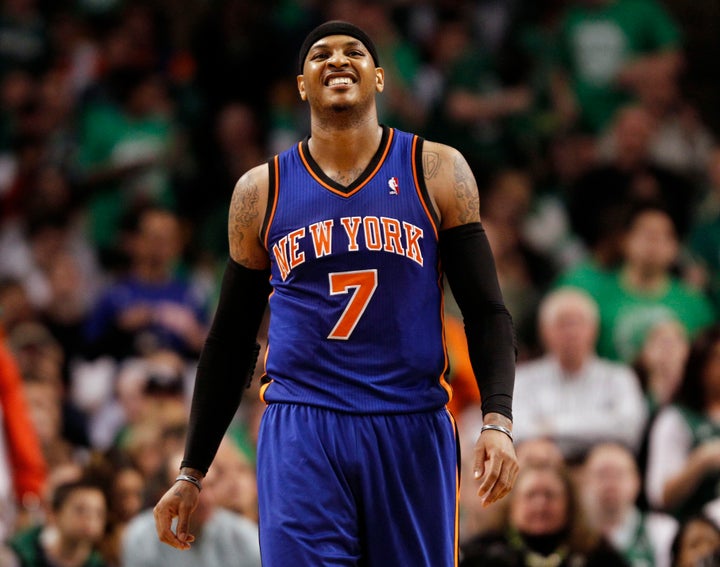 The NBA lockout is official and fans everywhere are gasping for air. The league is coming off one of its best finals of the past decade and the highest rated draft in 15 years, so feeling sad that we won't see pro basketball until January is only natural.
During the last lockout in 1999, many players came back completely out of shape. All Stars like Shawn Kemp -- in the prime of his career at 29 years old -- became a cautionary tale and never regained the explosive prowess that once made him so great.
While Kemp actually averaged 20.5 points during the shortened 1998-99 season, he did so on a dreadful Cleveland team that still wore these uniforms. During his final four NBA seasons and still relatively young, he averaged just 9.3 points and 5.5 rebounds.
Without further ado, here are my candidates to endure the Kemp syndrome, although most of them haven't reached the apex of the league as he did.
DeMarcus Cousins (8/1): D-Cuz is a big boy and we know the kid can eat. Coming out of college he had a 16.4 percent body fat (one of the highest numbers ever) and the lack of conditioning was a major concern. In just his one NBA season, his immaturity almost got him sent down to the D-League. While he was effective, he was also heavy, even for his bulky 6'11" frame. A few too many cookies and bowls of ice cream could set him off well beyond the 300-pound range and into the sacred Eddy Curry territory.
Marreese Speights (5/1): Speights is a talented player with a soft touch every big man covets, but that's not the only part of him that is soft. His body is also soft, as in softer than Charmin. I think he could win this race; I really do. He's got the look of Joey Chestnut who just happens to be 6'11", 255 pounds.
Glen Davis (15/1): "Big Baby" has struggled through the years with weight problems. In college, he looked more like a left tackle than an NBA power forward. To his credit though, he's kept the weight off and become a viable player in this league. Any other summer, I'd probably have the odds much higher, but he's in a contract year, and can ill afford a summer of Krispy Kremes.

Zach Randolph (10/1): Every fall when the NBA season returns, I expect Z-Bo to have exploded. Perhaps he sort of does and then fights the weight back off during training camp. Next season he won't have such a luxury. Having just been extended by Memphis, Randolph no longer has the ammo necessary to avoid his sleight of empty calories. I've said all along the lockout destroys a team like Memphis, an upstart with young talent in the West. Part of the reason for this stems from my massive (pun intended) concern with Randolph's BMI. It would really be a shame too: Just last year, Randolph earned his first All-Star game appearance and helped the Grizz reach the second round of playoffs. Since he joined Memphis, they've become the only NBA team to average at least 50 points in the paint over the last two seasons.
Raymond Felton (20/): Felton has always been a thicker point guard so don't be surprised if he comes back 15-20 pounds heavier than normal. What's odd is he's a push-tempo guy as well one who thrives on the break. Felton's one of those rare NBA players who, even when he's in shape, doesn't really look it. Portland gave up Andre Miller to nab him on draft night; perhaps they weren't thinking about such a tantalizing possibility?
Deron Williams (8/1): I had this slotted at 5/1, but with the news of D-Will going overseas to play in Turkey alongside Allen Iverson until the lockout ends, chances are he keeps himself relatively fit. Then again, that Turkish kabob can be dangerous for Williams, easily one of the biggest point guards in the league.
Dejuan Blair (8/1): Blair once admitted to gaining 20 pounds during the season from eating "Whataburger." The man with no ACLs has the naturally thick body type that makes it easy for him to put on weight. Oliver "The Big O" Miller better watch out.
Carmelo Anthony (40/1): At first glance, this may seem preposterous. After all, how can one of the NBA's brightest young stars be on such an appalling list? However, forget about the name pedigree, and look at the facts. Anthony is a big, big dude; as in 6'8", 230 big (or so he's listed). He's never really been in superior shape. Even last season, when he averaged 25.6 points, it seemed like he was playing with an extra 10-15 pounds. Like Davis, he's playing for a contract, and a sizeable one at that, even with the new CBA looming. Anthony likes to party and with that New York lifestyle now at his full disposal, watch out for him to transform into, (wait for it) ... "Carmarshmelo."
Shaq 1/5: I know, I know he's retired, but he's been plagued by weight issues for the better part of the past decade. From 2007-2011, the big fella grew out of shape and played in an average of 44.3 games. His production plummeted as well. For the first time in his career, his scoring fell below 20 points, totaling a six year average of 11.7 points and under 7 rebounds. He will always be the tumult of celebrity. O'Neil has already been sworn is as a reserve police officer (how cool would it be to be pulled over by Shaq?!) and has said he wants to get his doctorate, which is highly admirable.
But wow, without the daily regiment of basketball, imagine what will happen to him? Seriously, look at this picture from Blue Chips (a criminally underrated film in my opinion). When The Big Aristotle was a rookie, he had a respectable 12.2 percent body fat clip. Imagine what he is now ... and, what he could be within a year or two.
Related: WATCH my interview on MSNBC's The Daily Rundown discussing the NBA Lockout.
READ my full breakdown of the lockout from the perspectives of both the players and the owners.
Email me or ask me questions about anything NBA lockout related at @206Child for my upcoming mailbag.
Plus, check out my brand new HuffPost sports blog, The Schultz Report, for a fresh and daily outlook on all things sports.
Popular in the Community