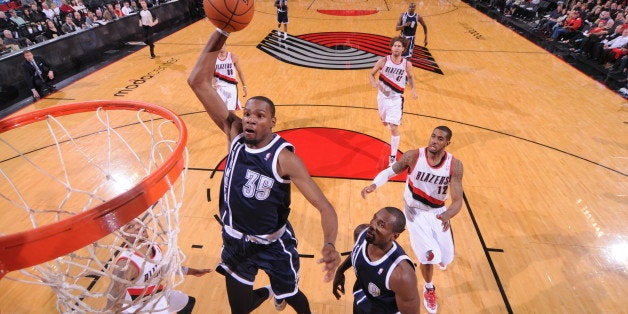 The NBA season has reached its midway point, and here's what we know: Miami and Indiana are on a collision course in the Eastern Conference, and the potential LeBron James-Paul George matchup has hoops fans salivating because George is that good. In the West, there are legitimately six teams we can make a case for: Oklahoma City, San Antonio, Golden State, Portland, Houston and the Clippers. And, if the second half of the season is as entertaining as the first was, we are in for a real treat.
With that in mind, let's take a look at my midseason awards.
MVP: Kevin Durant, Oklahoma City Thunder
It's hard to believe that Durant has yet to win an MVP, but that ends this season. The 25-year-old scoring dynamo is enjoying the most productive and efficient year of his career, averaging over 31 points per game to lead the league. Moreover, he's shooting 51 percent (also a career best) from the field and leads the NBA in Basketball-Reference.com's player efficiency rating and win shares. Perhaps most impressive though, is how he's kept the Thunder afloat with injured All-Star Russell Westbrook. Rookie of the Year: Michael Carter-Williams, Philadelphia 76ers
As poorly as Philadelphia has played, consider that the 76ers lost 10-11 games with him out of the lineup. MCW has not been overly efficient (40-29-70 shooting splits), but his ability to score (17 points), facilitate (7 assists), and defend (2 steals) has validated Philly trading Jrue Holiday on draft night. Carter-Williams is only 22 years old. While he'll get better at operating pick-and-roll while controlling a game even when he's not scoring, he is clearly the Rookie of the Year right now.
Defensive Player of the Year: Roy Hibbert, Indiana Pacers
For this award, Houston's Dwight Howard makes a case, as does Hibbert's teammate, Paul George. But 7-foot Hibbert has been truly dominant in the middle all year. And it's not just the shot-blocking either, though he certainly does that (third in the league). Indiana -- which ranks first in defensive efficiency -- relies on lightning-fast rotations and help defense. Hibbert has surprising good lateral movement and is a willing helper, something we don't see a whole lot of in today's NBA. The Pacers are my pick to upend the Heat and win the championship this season, and Hibbert's defensive presence is a key reason why.
Coach of the Year: Terry Stotts, Portland Trail Blazers
Indiana's Frank Vogel and Phoenix's Jeff Hornacek both make valid cases here, but Stotts has transformed a lottery team in Portland into a title contender. In a league that saw just eight franchises win titles during the David Stern era, that is almost unheard of. The 36-16 Trail Blazers are an offensive juggernaut that lead the league in scoring with 106 points per game. Stotts' "flow" offense is remarkably efficient, and with over 100 plays and sets, equally as difficult to prepare for. Most Improved: Lance Stephenson, Indiana Pacers
What Stephenson has done in four short years is nothing short of magnificent. After slipping to the second round of the 2010 draft, the 6-foot-5 swingman has morphed from deep reserve into near All-Star. Stephenson -- who was at one time the No. 1 high school recruit in America -- has significantly improved every element of his game. His scoring has increased from 8.8 to 14.1, his rebounding average from 3.9 to 7.2 and his assists average from 2.9 to 5.3. His versatility on both ends of the floor has been crucial to Indiana's success.
Sixth Man of the Year: Reggie Jackson, Oklahoma City Thunder
The Clippers' Jamal Crawford and the Spurs' Manu Ginobili make strong cases here too, but Jackson has stepped into a real starring role for the Thunder during the Westbrook injury. A gifted scorer who can play on and off the ball, the former first-round pick has averaged a healthy 14 points, 4 assists and 4 rebounds while helping shoulder a bulk of the scoring load from Durant on a nightly basis. The key for Jackson actually winning this award is how he responds to running the team when Westbrook returns and when he's not on the floor with Durant.
Executive of the Year: Neil Olshey, Portland Trail Blazers
This goes right back to Aldridge, who had long been thought of as a guy who wanted to be dealt. Olshey went out and traded for center Robin Lopez in the offseason so he could allow Aldridge to be a true four-man -- his best and most comfortable position. Olshey's reward? "LA" has averaged a career-best 24 points and 12 rebounds while making a strong case for first-team All-NBA.
Correction: A previous edition of this article stated both Roy Hibbert and Reggie Jackson as the Sixth Man of the Year. Hibbert is now correctly stated as the Defensive Player of the Year.
Email me at jordan.schultz@huffingtonpost.com or ask me questions about anything sports-related at @Schultz_Report and follow me on Instagram @Schultz_Report. Also, be sure and catch my NBC Sports Radio show, Kup and Schultz, which airs Sunday mornings from 9-12 ET, right here.
REAL LIFE. REAL NEWS. REAL VOICES.
Help us tell more of the stories that matter from voices that too often remain unheard.