Paul George can still see it clearly: his mom at the door, ready to walk him and his sisters to school in the morning... and then, when school let out in the afternoon, there she was again, waiting to walk them home.
The NBA superstar also recalls his mom teaching him to ride a bicycle. He remembers trips to the park. He smiles and laughs at memories of her joining him on a basketball court, chasing down his makes and misses then passing the ball back to him.
Those were the good times, which lasted until he was 6.
Then came the bad times, when Paulette George's days of doing "all the normal stuff a mom does" came to a crashing halt. Two blood clots triggered a stroke, leaving her practically bedridden for two years and paralyzed on her left side to this day.
Paul sees those scenes clearly, too.
"I remember every moment of it," he said. "I was always there on hospital visits, right by her bed. When she got a hospital bed in our home, I would lay in my bed right next to her. I was there. I saw all of it."
On Sunday, on Mother's Day, Paul and the Indiana Pacers will take on the Washington Wizards in a playoff game. Paulette will watch eagerly, perhaps even taking a moment to connect the dots on how far each of them have come in their own struggles.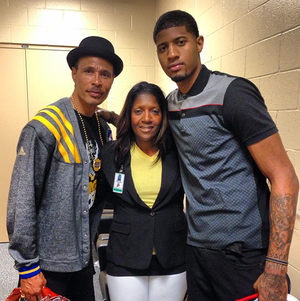 NBA All-Star Paul George (right) with his mom, Paulette, and dad, Paul
Fueled by her family's love and patience, Paulette persevered to forge a new life as a stroke survivor. She's proven that this terrible disease -- the fourth-leading killer of Americans and a leading cause of adult disability -- is treatable and beatable. Now she's sharing her story to inspire others.
Paul is among those she's already inspired. A late-bloomer physically, he faced naysayers and doubters throughout his rise to the NBA, ultimately pulling off the rare feat of being hailed as an elite talent only after arriving at the highest level of his sport.
Last year, he made the All-Star team for the first time and won the league's Most Improved Player Award. This year, he not only returned to the All-Star Game, he was the captain of the Eastern Conference team. More importantly, he's the best player on one of the NBA's best teams, a status validated recently by the Pacers giving him a contract for the most years and dollars allowed by league rules.
"I've always been underrated, and that always drove me to stay in the gym, to work hard and to continue to push myself the same way my mom had to fight through her adversity," he said. "Whenever I feel like I've had a bad day, I think about my mom and it just strengthens me. I've got to keep going hard for my momma."
Paulette was a fit, active, stay-at-home mom when her world came crashing down at age 37. What started with a headache-like pain on the right side of her head turned into several hours of vomiting. Then came a tingling sensation that rose from her toes to her knees to her arms until she was totally paralyzed.
"I could look at people, but that was the most I could do," she said. "I lost everything."
Confused over the source of her problems, a doctor gave her less than 24 hours to live. Eventually, doctors discovered the culprit: stroke.
Nearly 800,000 people have a stroke each year, and stroke kills someone about every four minutes. Although Paulette had under control major risk factors like blood pressure and cholesterol, African-Americans have nearly twice the risk for a first-ever stroke than white people, and a much higher death rate from stroke.
Recovery was long and slow. Their house in Palmdale, California, became like a hospital room, with a bed, wheelchair and commode chair. Paulette couldn't speak or do much for herself, yet being home -- surrounded by family -- made her feel safe.
"Happiness is medicine, too," she said.
Daughters Portala and Teiosha did much of the household duty, with Paul pitching in where he could. Eating dinner at the table, seated in her wheelchair and using her one good hand, was a milestone. Ditching the wheelchair for a walking cane was even bigger.
"It's been emotional, depressing, because I'm not the way I used to be and I can't do the things I used to," Paulette said. "But I've learned my limitations. I know what I can do, what I can take, my exhaustion level. I try to deal with life as it is. I have that will to fight."
With his career taking off, 24-year-old Paul is eager to share his fame with his mom, giving her a larger platform to spread awareness on how to prevent and beat stroke. That's what led them to the American Heart Association and the American Stroke Association.
At the NBA All-Star Game, it was Paul's idea for the American Heart Association to be among two beneficiaries of the East's prize money from the Saturday night skills challenges; buoyed by his performance in the dunk contest, the squad earned $500,000. Paul and Paulette also will soon be teaming on a public-service announcement with the American Stroke Association through the Ad Council.
Sharing their story now is timely, as May is American Stroke Month, a time to encourage learning the warning signs F.A.S.T. -- Face drooping, Arm Weakness or Speech difficulty means it is Time to call 9-1-1.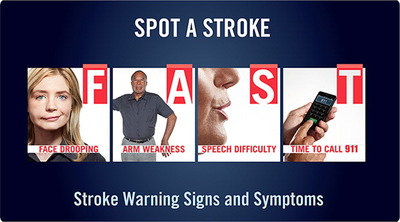 "She always tells me that she really would love to do something big, and I want to make it happen," Paul said. "Telling her testimony of what she's been through is really her passion. I feel like she was put in a position to be able to use her voice, and I want to be an extension of her voice to really get that out there."
Each of them have a wonderful story worth celebrating this Mother's Day. Add in the joys provided by Paul's sisters, and there's even more for the Georges to savor.
"The harder you work, the better it gets," Paulette said. "The happiest part of all is that we're always together as a family -- and that I'm still here and blessed to enjoy all that."

Popular in the Community