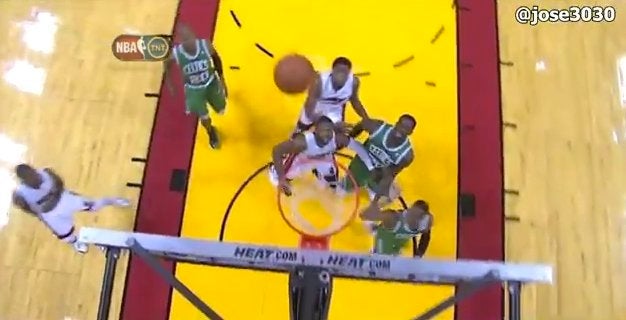 NBA playoff games every night 'til 11:00, 11:30, midnight. Then an hour of analysis and replays, of scrolling blogs and dissecting box scores. And that's on nights my guys win.
When they lose I sit numbly and stuff myself with junk food. What a workout.
Either way, I fall into bed at about 1 a.m..
But hey, this is the NBA playoffs, and I live in Boston, home of the storied Celtics. Nuff said.
OK. On alternate nights I do get to relax a bit, scout the Western Division, marvel at the athleticism of the Oklahoma City Thunder. They seem about to dismantle a San Antonio team that had won 20 straight games and taken a 2-0 series lead before the Thunder ran three straight.
But on Monday, Wednesday, Friday, Sunday, today -- the nights of Celtics-Heat -- the tension builds from my morning shower. The Celtics and Heat are knotted at 2-2. Could our guys really conceivably... win? Beat that arrogant, three-time MVP? You know, LeBron. Find themselves in the Finals?
Gotta scan the sports pages. Look for an edge. Is Chris Bosh going to come booming back tonight? Can Ray Allen keep playing on those bone-chip-filled ankles? Can the Celtics anemic bench score any points on the road? Are we really this close to the impossible?
Forget the fact that I grew up a New Yorker and an avid Knicks fan (boo). If you live in Boston for a while, your blood turns green. Honest. Sports aren't part of this city. They are this city. And the Boston Celtics are its greatest franchise -- the best the game of roundball has ever known. It's the franchise that Red (Auerbach) built and there are 17 banners flying in the rafters to prove it. Today's team carries the legacy of Russell and Cousy, Bird and the Chief. It's home of the first of the contemporary "Big Three" teams.
I love Paul Pierce, Kevin Garnett and Ray Allen. But don't kid yourself. This year's team leader is Rajon Rondo. Without him, the Celtics would be nowhere.
Rondo can be hot-tempered, outspoken and occasionally obnoxious (guys are not supposed bump referees or kick opposing players while lying on the court). He's also a magician with a basketball. Even the original Magic (as in Johnson) said so himself the other night on TV. And suddenly this guard who steals balls and rebounds from bigs and smalls alike is shooting like Michael Jordan. Well, not quite. But 44 points? In one game? In the playoffs? Check the box score from game two.
Or pinch me. The Celtics lost that game in overtime. Yet here they are, tied 2-2 going into game five. This a team that lost two guys to heart conditions in the same season. A team that lost perhaps its best defender (third-year man Avery Bradley) before this round. A team whose starting stars are 36 (Garnett), 36 (Allen) and 34 (Pierce), respectively. A team with a thin bench that on good nights scores maybe 12 or 15 points total. A team whose hometown, bigfoot columnist, Dan Shaughnessy of The Boston Globe, announced on the paper's front page before the series against Miami began that the Celtics would be lucky to win one game -- one! Here's how that column started:
This might be bad.

This might hurt.

The party is over for the Morgan Freeman Five, the Duct Tape Five, or whatever you want to call the ancient warriors who patrol the court for the Boston Celtics. The Tomato Cans from Atlanta and Philadelphia have been beaten. It's now time for serious basketball and there will be green blood when this next round is over.
It was deflating, but I couldn't protest too loudly. These are the guys, after all, who barely squeezed past the eighth-place Philadelphia 76ers in seven games.
Let's admit it: It will still take something of a miracle for this Celtics team to win another championship (Have you been watching the Thunder? Whew!). But these guys have now shown us they just might beat Miami, a team of swagger but no championship ring to show for it.
Regardless, for weeks now, the Celtics have given Bostonians every right to root and dream even as national NBA analysts and hometown sports reporters dissected their aches, their age and their weaknesses.
Watching their games has felt a bit like bungee jumping, or life as a yo-yo. An awful lot of up and down. But it's a hell of a lot of fun, too.
Whether or not the Celtics win or lose this series. Whether or not they knock off the Miami Heat in-game six or lose badly at home, ending it all, I hope the entire TD Garden rises and erupts in applause.
By professional sports standards, these guys are old. They played injured and carted off the injured all season. At the All-Star break it wasn't absolutely clear they'd even make the playoffs. They've had every excuse to go quietly into the twilight.
Instead, they've played their butts off. Which is why they just might still be around come next week. That and a guy named Rajon Rondo.
REAL LIFE. REAL NEWS. REAL VOICES.
Help us tell more of the stories that matter from voices that too often remain unheard.